"Discover the Ultimate Negotiation Powerhouse: Our Premium PLR Product, Negotiating Essentials – Theory, Skills, and Practices"
Are you searching for a high-quality PLR product that will empower your clients and customers with the art of negotiation? Look no further! Introducing our exceptional PLR product, "Negotiating Essentials – Theory, Skills, and Practices." This comprehensive guide is designed to turn your customers into master negotiators, equipping them with the knowledge and skills necessary to thrive in both their personal and professional lives.
Here's a sneak peek at the invaluable knowledge your clients will gain from this PLR ebook:
In-depth Understanding of Negotiation: Your customers will learn the fundamentals of negotiation, including its core principles, various strategies, and techniques. They will discover the psychology behind negotiation and the key factors that influence successful outcomes.
Practical Application: This PLR product offers real-world examples and scenarios, teaching your customers how to apply their newfound negotiation skills in various situations, such as purchasing a car, buying real estate, and handling family disputes.
Effective Communication: Your clients will learn the art of using words, body language, and eye contact to their advantage during negotiations. They'll understand the importance of active listening, asking the right questions, and conveying their message with clarity and confidence.
Business Negotiation Skills: This guide delves into the crucial role negotiation plays in the business world. Your customers will learn how to put their negotiation skills to work in their businesses, whether they're dealing with suppliers, customers, or employees.
Developing a Negotiation Mindset: Your clients will discover how to make negotiation a habit, overcoming any fears or discomfort they may have. They'll also learn how to identify and overcome potential stumbling blocks that could prevent them from becoming expert negotiators.
By offering this private label rights product to your customers, you can generate additional revenue streams, attract new clients, and retain your current customers. Sell it as your own, use it as a lead magnet, create blog content, or incorporate it into coaching sessions and courses. The possibilities are endless!
Here are just a few of the many benefits of selling our PLR product:
Expertly Crafted Content: Our PLR product is written by experienced professionals with a deep understanding of negotiation theories, skills, and practices. Your customers will benefit from their expertise, and you can trust that they are receiving top-quality information.
Save Time and Effort: Creating high-quality content from scratch can be time-consuming and costly. With our PLR product, you can skip the hassle and focus on what you do best – growing your business and providing value to your customers.
Increase Customer Satisfaction: Our PLR product is designed to provide your customers with valuable knowledge and practical skills that they can apply in various aspects of their lives. By providing them with such an invaluable resource, you'll enhance their loyalty and satisfaction with your business.
Get your hands on this negotiation skills PLR product today and unlock the door to success for you and your customers. Don't let your competitors get ahead of you!
Salespage Snapshot: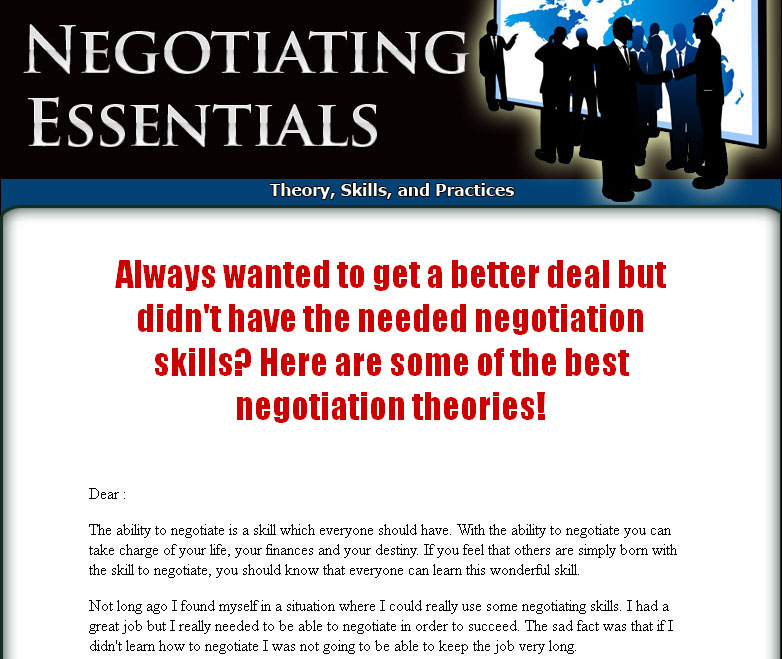 >>> Click Here To View Full Sales Page…
Sample Content Preview
How to negotiate with your landlord about problems
Being a tenant is not always easy for everyone. It is a situation that you sometimes have to deal with carefully. It is not always easy to get things done the way that you want them or to have them accomplished in a timely manner. It is necessary at times to compromise certain things and deal with them as they go. Negotiating is something that a tenant may have to do so that they get what they need.
Negotiating with a landlord about certain problems is going to be one goal that you have to know about. Learning how to talk and how to get what you want is going to be important. Having the ability to learn and use your resources to get what you are looking for is something that you have to be willing to do. Not all landlords are so eager to give in to certain things. This is the reason why it is important to negotiate in the right direction.
Problems can happen to any property at any time. It makes no difference if you rent or own. However, if you are renting you should not be expected to pay for certain problems that are not your fault. For example, if your heat goes out of if you have a constant leak in your roof, you need to call on the landlord to have these repairs fixed. However, if you are the cause of the problem such as breaking a window, you may be responsible for fixing the damage that you have caused.
Getting your landlord to fix your problems may not always be so easy. Of course, it is their job to fix any reported problems in a timely manner. If they do not you may have the right to turn them in to the housing authority and they may face serious trouble if they do not comply with your requests. However, if the problems are minor, they may have more time to worry about getting them repaired.
Get Your Copy Today!
This PLR ebook is a comprehensive guide designed to turn customers into master negotiators, equipping them with the knowledge and skills necessary to thrive in both their personal and professional lives. The ebook covers negotiation theory, skills, and practices, and includes sample content on how to negotiate with a landlord about problems. The product includes an ebook, sales page, ecover, and keyword list, and comes with a license that allows the buyer to become the author and edit the content.
Take advantage of this amazing PLR product now and experience the incredible benefits for yourself and your customers. Give your clients the power of negotiation, and watch as their lives transform for the better!
Other Details
- Ebook (PDF, DOC), 103 Pages
- Salespage (HTML)
- Ecover (PSD, JPG)
- Keywords List (TXT)
- File Size: 2,629 KB
License Details:
Yes - Can become the author
Yes - Can edit the contents
Yes - Can be broken down into articles
Yes - Can be used as web content
Yes - Can sell
Yes - Can be included into a paid package
Yes - Can be used as a bonus
Yes - Can be added to a paid membership
Yes - Can be used as a PDF or eBook and collect leads for opt-in
Yes - Can sell basic or master resell rights
Yes - Can sell private label rights
Yes - Can be published offline
No - Can give away private label rights
No - Can be added to a free membership