Salespage Snapshot: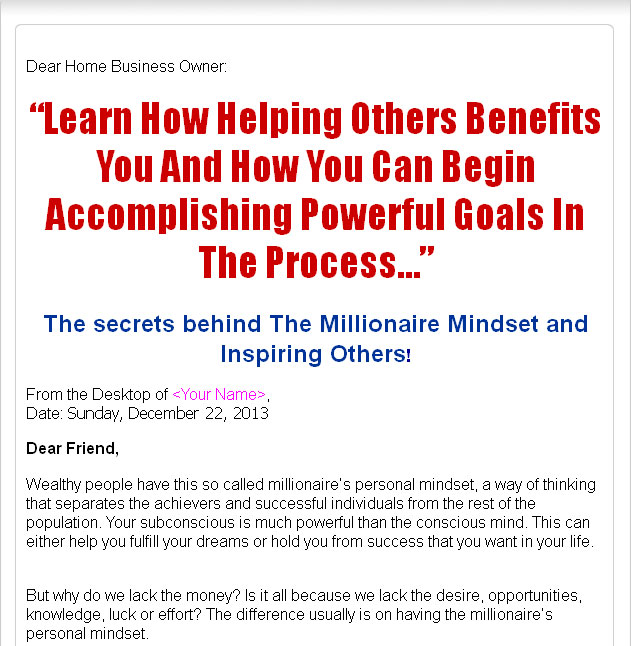 >>> Click Here To View Full Sales Page…
Table of Contents
Chapter 1:
Business Opportunities – What are the Qualities of a Great Business Opportunity?
Chapter 2:
Where to Look for Business Opportunities?
Chapter 3:
Successful People Aren"t Born Successful; They Understand and Accept New Opportunities
Chapter 4:
Why We Should Always Be on the Move!
Chapter 5:
Identifying Great Business Opportunities and Acting upon Them
Chapter 6:
Does Opportunity Knock Twice?
Chapter 7:
Using the Internet to "Discover" Your Business Opportunities
Chapter 8:
Listening to an Opportunity Is Not Enough; You Have to Put It in Action
Chapter 9:
Inspiring People to Help You Reach Your Goals
Sample Content Preview
Successful People Aren't Born Successful; They Understand and Accept New Opportunities
No one is born successful. When we are born we even don't know how to spell successful, knowing its meaning is something quite far-off. As and when we grow up, we begin chipping in efforts to turn our lives into successful lives. Some of us do achieve the success that we have thought about, but that doesn't come without a great deal of effort.
One of the most important ingredients in becoming successful is to have a vision, a dream. If you don't know how to dream, you will most probably not achieve anything in life. Some people are afraid to dream, thinking they would be terribly frustrated if they don't achieve their goals. But the fact is that if you don't dream, you probably won't get it. Great people dreamed of flying, going to moon and so on… you see now that we can fly, we can go to moon.
In this age when people are thinking how to build gadgets that can turn objects and even people invisible, it is quite unwise to restrict one's thoughts. What do you dream about? Probably you dream about having a great business or buying a home or a car of your own. In the light of all the achievements that people have made, do you think all this is as difficult as you think? This shows there is nothing impossible in this world you if you do it the right way, if you take initiatives and plan it properly.
Just take the example of Bill Gates, our favorite example actually. Practically the whole world today uses his Microsoft products, not realizing that these products belong to a person who is a computer dropout. Take a look at Facebook. It started as a college project and has today made a revolution in the field of social networking. How can we not talk about Google, which started in a dingy office and today it dominates our online world. All these successes have been achieved in just a few short years!
So, don't lose hope, hold on to your big dreams and try to achieve them. The simple steps that you need to take are hard work, and to be there at the right time and the right place. Follow this and no one can stop you from reaching your goals. Plan things properly on paper before executing them. Make milestones for yourself and give yourself rewards once reach there.
Summary
Success rarely comes to people who wait in the wings for things to happen to them. It happens to people who stay on the move.
Why We Should Always Be on the Move!
I have seen thousands of people failing in their lives due to only one reason, i.e. they don't take action. Let's say you have $10 million but you don't know how and where to use them. The amount becomes worthless to you then. So, if you have resources, information and business plan, make it a point to execute them then. Don't just keep them on paper.
Some people work very hard during the initial stages of their business, but if they don't succeed early on, they stop. You must know that success most probably won't come instantly. You need be dedicated and sometimes work for years to get real success. But some people get demotivated very soon. Most of these people have not planned for the worst and they don't have back up plans. Keep all these things ready and keep working on your plans and you will see that you move closer to success.
Failure is not the only reason why people stop working. In some people, overconfidence becomes the primary culprit. These are the people who succeed early on, but then they become overconfident about their achievements, which even makes them complacent. They start thinking they have achieved everything and now they don't need to do much, but the fact is we should never stop and should always be on the move to achieve more and more success.
Then, there are other kinds of people who just keep dreaming, keep thinking they will do one thing or the other, but the fact is that we only have to execute those plans and not to just keep thinking about them. Everyone can dream but only those people who work hard can achieve those dreams.
Summary
It isn't enough to just listen to your opportunity's call. You have to act upon it.
Identifying Great Business Opportunities and Acting upon Them
There should be a formula to make a great successful business and plan to take action on that formula which should be executed properly by acting upon them.
There are a few things you need to take care which help you to take action on your plan.
Always expect for the best
Create your work plan on paper
Dedicate yourself to work and complete the task on time
Make milestones for your plan
Make schedules for daily, weekly and monthly task and don't miss them
Always keep an backup plan which keeps you still in the business
Sometimes we work very hard but at the end of the day we are not satisfied with our work and if we see properly will find that no outcome has come. This happens if you work without a plan. So always make a complete plan on paper.
Give yourself targets and gifts too. We always need some kind of motivation to keep our self in business with good standing. Let's say you had to complete a task by tomorrow evening but you complete it in the morning itself, then give yourself some reward. This rises your opinion of yourself, which is very important.
Plan your task with backup plans , say you are not able to complete the task on time for any reason then should have plan what to do to cover the time.
Always prioritize your tasks. Sequence them in the order of their importance. There should be a "must-do task" for daily or weekly basis. This gives you a chance to complete your important work at least in a week and don't miss.
If you don't know how to make a plan, get help from professionals such as accountants and other financial experts, but don't start without a plan. 90% of businesses fail because they don't have a plan on paper. At the same time, implementing the plan is of supreme importance as well.
Other Details
- 1 Ebook (DOCX, PDF), 42 Pages
- 1 Salespage (HTML)
- Ecover (JPG)
- File Size: 808 KB