Salespage Snapshot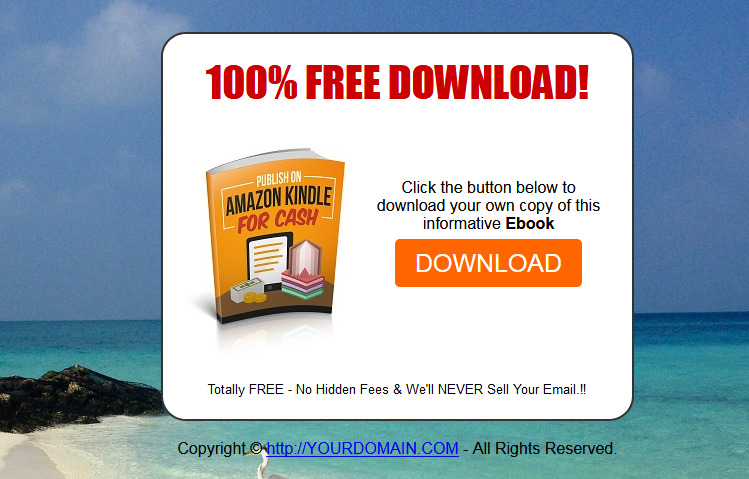 >> Click Here To View Sales Page...
Table of Contents
1 PROCLAIM YOURSELF AN AUTHOR! . 3
FIND THE PROFITABLE TOPICS FIRST …….. 4
THE DAILY NEWS ….. 4
BESTSELLER AND HOT LISTS …… 5
POPULAR DISCUSSION GROUPS .. 6
GOOGLE TOOLS ……. 6
SOME PROFITABLE, CLASSIC, TOPICS FOR YOU .. 8
NOW, SIGN UP! ……. 9
2 THE PROFESSIONAL WRITER …….. 10
ORGANIZATION …. 11
LAYOUT CONSIDERATIONS ….. 13
FINALIZING THE PREVIEW ….. 16
3 RIGHTS AND PRICING . 17
RIGHTS …….. 18
WHAT IF I WANT TO TERMINATE MY ACCOUNT? …….. 20
PRICING …… 20
HOW DO YOU GET PAID? …….. 21
WHAT ABOUT TAXES? …. 22
4 AFTER PUBLISHING COMES MARKETING 24
ONLINE INTERNET MARKETING ……. 25
YOUR AUDIENCE MATTERS ……. 25
PLACES YOU WANT TO JOIN TO MARKET YOUR EBOOK ……. 26
BLOGGING COMMUNITIES ……. 26
SOCIAL NETWORKING SITES …. 27
OTHER TYPES OF MEDIA SITES . 29
5 STRATEGIES TO PROFIT WITH KINDLE ….. 31
AMAZON ASSOCIATES …. 32
SPEAKING OF LINKS… … 32
GET PEOPLE TO REVIEW YOUR EBOOK…… 34
ON THE SUBJECT OF GHOSTWRITERS ……. 35
WRITE UP A BUSINESS PLAN .. 36
Sample Content Preview
BESTSELLER AND HOT LISTS
Some of the biggest ecommerce sites offer bestseller and hot lists for their visitors. These are to help them find deals or topics that are immensely popular and can tempt them into buying them. For you, those same lists can help you figure out what topics are selling best on the Internet market.
Amazon.com has their own list of bestsellers for the Kindle too. You just go to the Kindle Store at http://www.amazon.com/b?ie=UTF8&node=133141011. From there, you can look for bestsellers under the "Kindle Books" button. It will automatically list the bestselling books, as shown by the drop-down box on the right side of the screen entitled "Sort by" and it should say "Bestselling." If not, then just choose that option from the drop-down list to sort by bestselling books. Amazon.com also has a feature called Listmania, where anyone who visits can create a list of their favorite books. Check out the Kindle favorites by typing that into the search engine and choosing "Listmania" as the source of the search. It will come up with a number of different people's lists and give you an even better idea of the types of genres and stories that people favor in the Kindle platform, specifically.
Even though you are selling on the Kindle, it doesn't mean you can't check other resources for the best market topics. If you know of blogs or commercial websites that get lots of traffic in a market niche you are considering, check them out. They will often have "most viewed" or "hot topics" listed. The more discussion on a particular topic, the more the odds are that people are willing to pay to seek more information about this topic.
POPULAR DISCUSSION GROUPS
Another place to get some interesting topics for an ebook are discussion groups online. Yahoo! Groups tends to be the favorite, although Google Groups is not that far behind. You don't have to spend an inordinate amount of time researching and reading posts on these groups. What you want to know most of all are which categories in these groups have the most members. These are the popular groups and a rich source of content ideas for your next ebook. Yahoo! Groups is located at: http://groups.yahoo.com.
GOOGLE TOOLS
Once you start doing your research, you may find that non-fiction is far more popular online for ebook topics than non-fiction. The reason for this is that there are many business professionals, computer geeks, and hobbyists online. So, if you want to start off with a bang, concentrate on finding a non-fiction topic that many people would be interested in buying.
In particular, "how to" topics are immensely popular. They are even popular as search terms. If you want to know what how to topics are being searched for most, go to the Google Adwords Keyword Tool online at: https://adwords.google.com/select/KeywordToolExternal.
Once there, just type in the words "how to" and verify the image of letters that proves to them you are a person and not a machine. Then, click the button and it will come up with a list of topics that start with the words "how to." Can't be simpler than that, right? Well, while you're there be sure to research other profitable keywords that might have a high CPC value and low competition. This you can do by asking it to Show the CPC column. These extra keywords will come in handy when you are ready to submit the manuscript to Kindle.
Well, now you have some good ideas of search terms using "how to" that people have been querying in the last month that may work for you as topics. But, how popular will they be next month? What kind of staying power do they have? Well, you can also use another Google tool to determine if the "how to" topic is a flash in the pan or a genuine gold nugget. This tool is called Google trends, and it will give you a snapshot of activity in a specific timeframe that you choose, even categorized by countries. This is a quick way to see if the trend for that topic is decreasing or increasing over time and just how many people are interested in that topic. You can find Google Trends here at: http://www.google.com/trends.
SOME PROFITABLE, CLASSIC, TOPICS FOR YOU If you just want a good idea of some topics to start off with, and you're not too picky, there are always a set of classic topics that do well in Internet sales. They are the following: • Beauty Who doesn't want to be more beautiful? This can range from topics that include special diets, cosmetic procedures, natural remedies for unsightly beauty problems, and products that can keep the signs of aging at bay.
• Health And Fitness This is pretty much all about the wellness industry. It can cover some very serious diseases and conditions or go to the other extreme where you just want to keep your memory as you age. Special exercises also fit into this category.
• Tourism Almost everyone has a dream to vacation in some exotic locale. When they can't get there by dreaming, the Internet is the next best thing. If you have some unique knowledge on the travel industry that can make this dream become a reality, instead of remaining virtual, you will attract readers.
• Finance In these drastic economic times, there is a large market for people trying to manage their money either to avoid foreclosure, find profitable investments, or simply to make ends meet. You can be the one to show them how to do this, and the nice thing is that this is a classic topic that never goes out of style.
• Business If you know how to create a business, work from home, or even just topics that improve business functioning, then you have a ready market. In bad times, more people are interested in having a home business on the side, but in good times, there are more successful business people looking to get an edge on their competition. So, either way, you have readers.
As you can see, there are plenty of niches that can be profitable. If they happen to be in your area of expertise, all the better! You write the book then, otherwise, send it to a ghostwriter who can research and write an informative, and relevant, ebook that will represent you professionally to the readers of the Kindle platform. NOW, SIGN UP!
Once you have the manuscript in hand, with a topic that is sure to please, you want to sign up to the Kindle Platform to declare yourself an author and submit the manuscript. Amazon.com makes this process really easy for people who are already signed up to their Amazon.com website, whether as an associate or a regular customer. You just use your sign in information at http://dtp.amazon.com/mn/signin and it will let you in! It will take you to the dashboard where you can start to submit your manuscript.
Other Details
- 25 Articles (TXT)
- 1 Ebook (PDF), 39 Pages
- 1 Squeeze Page (HTML)
- 2 Ecovers (PNG)
- Year Released/Circulated: 2018
- File Size: 1,927 KB
License Details:
[YES] Can sell and keep 100% of the sales.
[YES] Can edit the squeeze page.
[YES] Can be bundled into another paid package and sell at a higher price.
[YES] Can be used as a bonus to another product you are selling.
[YES] Can be sold in a Dime sale event.
[YES] Can be added into a paid membership site.
[YES] Can pass on the Master Resell Rights privilege to your customers.
[YES] Can be given away for free AGAINST an email address (lead generation)
[NO] Contents of the product can be edited, modified or altered.