Salespage Snapshot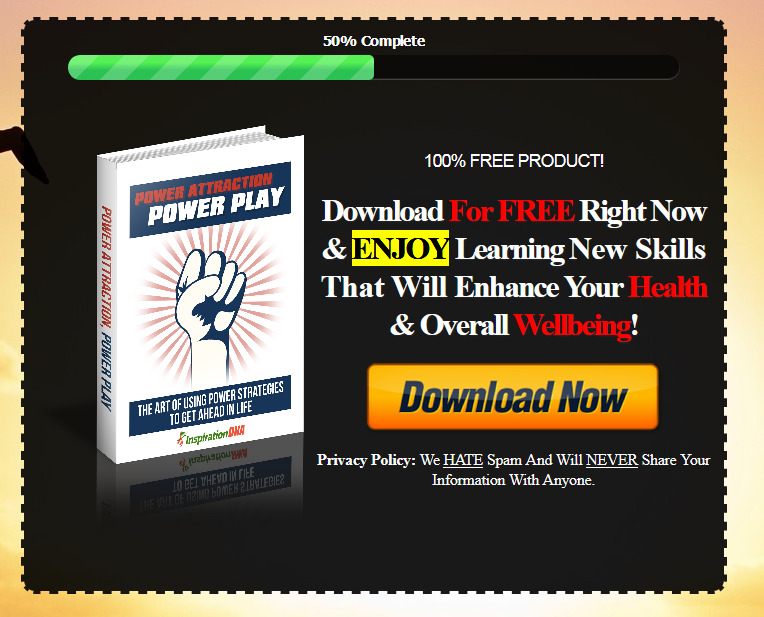 >> Click Here To View Sales Page...
Table of Contents
Forward
Chapter 1:
The Dominating Rationale
Chapter 2:
Regulating Your Powers
Chapter 3:
Practical Action
Chapter 4:
Training The Subconscious
Chapter 5:
Law of Attraction
Chapter 6:
Achieving Desires
Wrapping Up
Sample Content Preview
Chapter 2:
Regulating Your Powers
Man is ever in search of strength. It's the strong man that wins. It's the man with might that scales the heights. To be strong is to be excellent; and it's the privilege of greatness to satisfy each desire, each ambition, each need. But strength isn't for the few alone; it's for all, and the way to strength is simple. Go this very minute to the mountaintops of the strength you now possess, and whatever might happen don't come down.
Don't weaken under hardship. Resolve to stay as strong, as determined and as highly enthused during the darkest night of hardship as you are during the brightest day of prosperity. Don't feel disappointed when matters seem disappointing. Keep the eye single upon the same bright future regardless of conditions, circumstances or events. Don't lose heart when matters go wrong. Continue undisturbed in your original firmness to make all things go right. To be overcome by hardship and threatening failure is to lose strength; to always stay in the same lofty, determined mood is to perpetually grow in strength. The man who never breaks when matters are against him will become stronger and stronger till all things will delight to be for him. He will ultimately have all the strength he might desire or require. Be forever strong and you'll forever be stronger.
Taking Command
Whenever you think or whenever you feel, whenever you speak, whenever you act, or whatever might be happening in your life, your supreme idea ought to be that you're above it all, superior to it all, and have command of it all. You merely must take this higher ground in all action, thought and consciousness before you may control yourself and direct, for practical purposes, the forces you have.
Consequently, "the ego", the soul and the individuality being one, is just as important as anything that might be said hereafter in connection with the application of the forces in man to practical action. when we learn to recognize that we, naturally, occupy a position that's above mind and body, this part of the subject will be found more interesting than anything else, and its application more fruitful.
We may define individuality more fully by stating that it's the invisible man and that everything in man that is invisible belongs to his individuality. It's the individuality that initiates, that controls or directs. Consequently, to control and utilize a force in your own system, you have to understand and develop individuality.
Your individuality must be made clear-cut, determined and positive. You have to constantly recognize what you are and what you wish, and you must constantly be determined to secure what you wish. It's individuality that makes you different from all other organized entities, and it's a highly developed identity that gives you the power to stick out , and it's the degree of identity that you possess that determines what position you're to occupy in the world.
If you see a man or woman who's different, who appears to stick out, and who's something vital about them that no one else seems to have, you've somebody whose identity is highly developed, and you likewise have somebody who's going to make their mark in the world. Take two individuals of like power, ability and efficiency, but with this difference. In the one identity is highly developed, while in the other it isn't.
You know directly which one of these two is going to reach the greatest places in the world of accomplishment; and the reason is that the one who possesses individuality lives above mind and body, thereby being able to command and direct the forces and powers of mind and body.
The person, however, whose individuality is weak, lives more or less down in mind and body, and rather than controlling mind and body, is constantly being affected by everything from the outside that might enter their consciousness.
Whenever you find someone who's doing something worthwhile, who's creating an impression, who's moving forward toward greater and better things, you find the individuality strong, positive and highly developed. It's therefore absolutely essential that you give your best attention to the development of a strong, positive identity if you wish to succeed in the world.
A negative or weak individuality commonly gets only what others decide to give, but a firm, strong, positive, well-developed individuality, in reality controls the ship of their life and destiny, and eventually will gain possession of what they want.
To develop individuality, the first crucial is to give "the ego" its true and lofty position in your mind. Whenever you consider yourself, consider yourself as being and living and acting in the masterful attitude. Make each desire positive, each feeling positive, each thought positive, and each action of mind positive. To make your wishes distinct and positive, you'll also tend to give strength and positivism to your identity.
A useful technique is to picture in your brain your own best idea of what a strong, well-developed identity would be, and then consider yourself as becoming more and more like that. We gradually grow into the likeness of that which we consider the most. Therefore, if you've a really clear idea of a highly developed individuality, and think a lot of that individuality with a strong, positive want to develop such an individuality, you'll gradually move towards that.
In brief, whatever we do in trying to control and direct the powers we possess, we have to enter the deeper life of those powers, so that we can get full control of the undercurrents. It's the way those undercurrents flow that determines outcomes, and as we may direct those currents in any way that we want, we naturally conclude that we may secure whatever outcomes we want.
Other Details
- 1 Ebook (PDF), 36 Pages
- 2 Graphics (PNG)
- 1 Salespage (HTML)
- Year Released/Circulated: 2017
- File Size: 4,129 KB
License Details:
[YES] Ebook Can be given away against an email address
[YES] Can sell the WHOLE product and keep 100% of the sales
[YES] Can sell the WHOLE product with Resale Rights
[YES] Can sell the WHOLE product with Master Resale Rights
[YES] Can edit the Squeeze & TY + MRR Upsell Pages
[YES] The WHOLE product can be packaged with other products you sell
[YES] The WHOLE product can be offered as a bonus with other products you sell
[YES] The WHOLE product can be added to paid membership sites
[YES] The WHOLE product can be offered through auction sites
[NO] WHOLE Product can be given away
[NO] WHOLE Product can be added to free membership sites
[NO] Ebook can be modified in any way
[NO] Can sell with Private Label Rights