Salespage Snapshot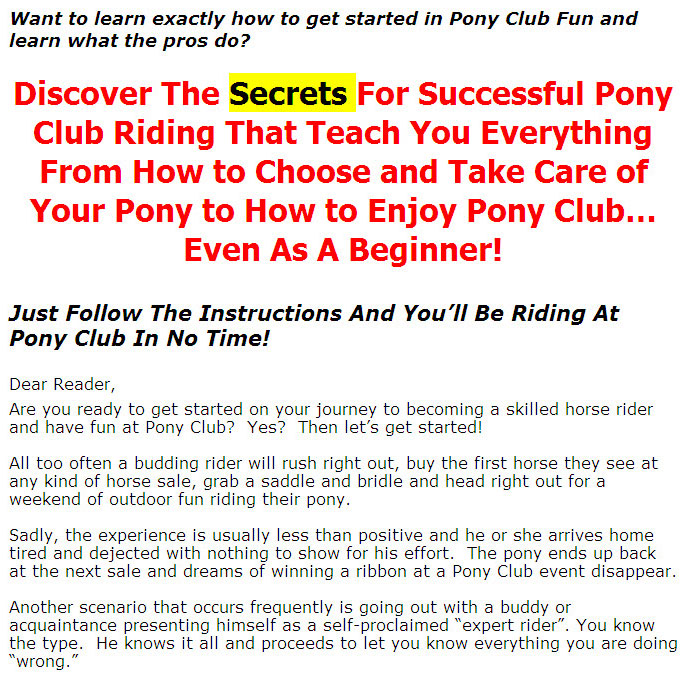 >> Click Here To View Sales Page...
PLR Ebook Table Of Contents
1. Overview of Pony Club …………………………. 2
2. What Games are Played at Pony Club? ………………………………. 4
3. Difference between a Pony and a Horse ………………………………… 5
4. Best Places to Buy a Pony Club Mount …………………………. 7
5. What You Need for Pony Club …………………………………. 9
6. Special Clothing Needs for Pony Club ……………………………… 11
7. Tips on Caring for a Pony ……………………………….. 13
7. A Guide to Choosing a Saddle and Bridle …………………………….. 14
8. Special Grooming for Pony Club Events …………………………………. 16
9. A Guide to Training Your Mount for Pony Club ……………………… 17
11. Transporting Your Pony ………………………………….. 19
12. Choosing the Best Horse Float ……………………………………… 20
13. Tips for Loading the Pony into the Float …………………….. 22
14. Stabling Needs for Your Pony ………………………………….. 23
15. Essential Items to Take to a Pony Club Event ………………… 25
PLR Ebook Sample Content Preview
1. Overview of Pony Club
The Pony Club is best defined as an international organization for youth who enjoy ponies, riding and learning about these gorgeous animals. It all began when the Institute of the Horse began a sub branch in various parts of the UK to encourage riding. Apart from the events held for adults many of these sub branches began holding paperchases and gymkhanas for children. In 1929, The Institute of the Horse began the Junior Branch known as The Pony Club.
Founded in England in 1929, the Pony Club is represented in approximately 30 countries worldwide. The underpinning principle of the club was to encourage children to take an interest in horses and to start riding. The club also helped to provide the children with opportunities in the field, which would not be possible for them to reach under their own steam.
Entrance fee to the Pony Club was 2s 6d or 12.5p until 1976. Members were given badges which have remained virtually unchanged to this day. The badge resembles a large wheel, with a black outer rim like a tire with spokes inside and a girl on a horse superimposed on the spokes. The words 'The Pony Club' in white capital letters are written on the tire like portion. The outside of the badge is encircled by some fancy filigree work.
From the initial 300 members' strong group in 1930, member strength grew to 10,000 in just 5 short years. Some time later, the Institute of the Horse joined the National Horse Association of Great Britain to form The British Horse Society – Pony Club was incorporated into this new group.
The Pony Club's unqualified success in Britain set off a chain reaction and soon Pony Clubs the world over began springing up. There are probably 100,000 or more Pony Club members in several countries around the globe. Australia has approximately 55,000 financial members and is considered the largest of the international Pony Clubs.
Other Details* Sales Page:
Included, HTML, MS Word Doc
* File Format:
MS Word Doc, PDF
* Number of Pages:
26
* Included Graphics:
Ecovers, PSD
* Download File Size:
2,196 KB