Salespage Snapshot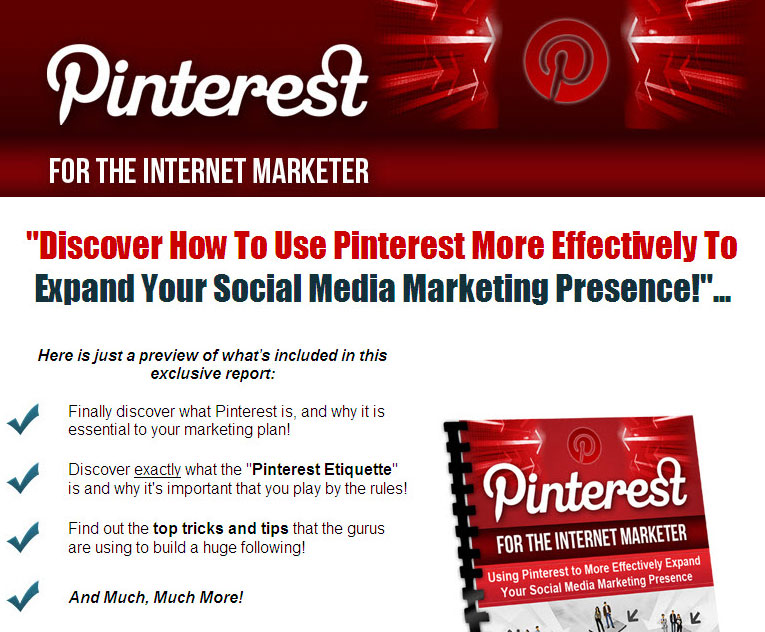 >> Click Here To View Sales Page...
Ebook Table Of Contents
Introduction ……………………………………………………..pg. 5
What is Pinterest? …………………………………………….pg. 7
The Pinterest Demographic ……………………………….pg. 8
Setting Up an Account …………………………………….pg. 10
Sharing, Not Selling ………………………………………..pg. 11
The Other Way Around…………………………………….pg. 12
Pinterest Etiquette…………………………………………..pg. 13
Tips and Tricks……………………………………………….pg. 15
Ebook Sample Content Preview
Chapter 1: Introduction
As an Internet marketer, you're acutely aware of the fact that social media sites are excellent ways to get your brand the exposure it needs. Although many social media sites will let you purchase advertisements to be shown to users as soon as they log on, this isn't the only thing that makes social media such a marketing godsend. Indeed, the ability to establish a brand presence in the form of a "page" is an excellent way to drive online marketing and create a direct channel of communication between your brand and its customers. From there, your customers become your fans as they add your brand to their own personal profiles and even recommend your brand to their own contacts – creating a sort of digital word-of-mouth phenomenon.
Because you understand the this powerful dynamic, you've created a brand presence for yourself online through your website, your blog, your Facebook page, your Google+ page, your Twitter account, your Foursquare location (complete with freebies for "mayors"), your Yelp profile, and your YouTube channel. Did you miss anything?
What about Pinterest? Pinterest has been growing at an insane rate over the last couple of years; last July, Pinterest has served content to more than 23 million unique visitors – up from 20 million unique visitors the month before that. That unique visitor count is more than one full order of magnitude higher than the site's unique visitor count from September 2011: a year ago, the site saw fewer than two million unique visitors a month.
As of March 2012, Pinterest has accounted for 3.6% of traffic sent from social media to websites – putting the site neck-and-neck with social media giant Twitter (with its referral traffic sitting at 3.61%).
Users tend to spend a lot of time browsing Pinterest, too. They spend an average of six minutes browsing Google+, an average of 17 minutes browsing LinkedIn, and an average of 36 minutes browsing Twitter. In the case of Pinterest, users will spend an average of one hour and seventeen minutes browsing the site!
Despite its lack of media fanfare, Pinterest is fast becoming a social media powerhouse. In fact, the traffic and usage statistics mentioned above are all based on Pinterest's status as an invite-only site. As of August 10, 2012, Pinterest is now accepting open registration; so expect those statistics to jump dramatically! Anyone interested in marketing their brand online should certainly consider Pinterest as a source of referral traffic and potential revenue. But what exactly is Pinterest? Who uses it? How does one use Pinterest? What's the best way to market a brand on Pinterest?
Other Details* Sales Page:
Included, HTML
* File Format:
MS Word Doc, PDF
* Number of Pages:
17
* Included Graphics:
Ecovers, PSD
* Extras:
5 Emails
* Download File Size:
4,349 KB