Salespage Snapshot: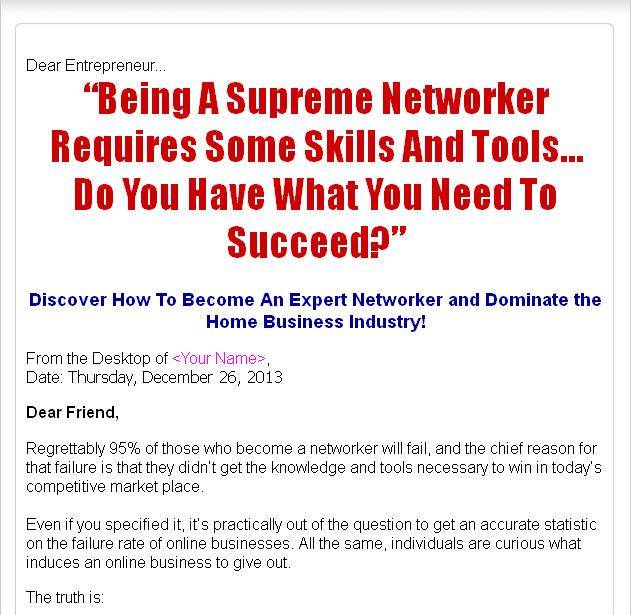 >>> Click Here To View Full Sales Page…
Table Of Contents
Intro
Chapter 1:
Understanding How the Majority Fail
Chapter 2:
Follow Up and Follow Through
Chapter 3:
Extend Yourself
Chapter 4:
Become A Social Network Expert
Chapter 5:
Don't Underestimate the Power of Personal Service
Chapter 6:
Maintain A Networking Database
Chapter 7:
Be Honorable
Chapter 8:
Give Without Expectation
Chapter 9:
Listening and Asking Questions
Chapter 10 :
Make Networking Fun For You
Sample Content Preview
Synopsis
Broaden yourself beyond your circle of comfort.
Becoming a Better Networker requires You To Experience New Things
Sure, it's extra hard the 1st time but you'll discover it gets easier each subsequent time you do it. Do you ever see somebody else who looks uncomfortable and is standing alone. Approach them. You'll be doing a good deed that aids you both. Following that try walking up to somebody who looks very different from you. Acquaint yourself and then start asking some questions in an attempt to find something you share in common.
It won't take long to determine a hobby you both have, a team you both cheer for, a place you both like to visit. With so much success under your belt you are able to move forward and approach somebody who you've wanted to meet. Be friendly and self-assured. You're on your way to becoming a networking maven.
Like any venture, you may have some concern and trepidation about facing the unforeseen, but you should also feel some of the rush of the challenge and excitement in finding new individuals with whom you are able to really connect. By making time in your agenda to attend some new gatherings, you are able to use early opportunities to watch other people networking and to assume the habit of talking to the individuals you meet.
Don't forget, networking with success means that we occasionally have to stretch ourselves to the edges of our comfort zones – hard at the start but much easier with practice.
Whether it's a formal meeting or event (with 100 individuals) or an cozy gathering (of only 10 or less) being ready or open to network is really crucial – like the Scout's slogan 'Be Prepared'.
Even if you're unsure, introverted, nervous, blasé, or tired, you just never know when you're going to run into intriguing and valuable individuals.
Part of this method of 'being prepared' is to have snappy information about yourself available so that your communication is short, centered and clear – not altogether unlike an elevator pitch. Some of this is supplied by a good business card, all the same, effective networking is seldom accomplished by saying 'hi' and merely forking over a business card – you have also got to give something of yourself as an individual.
Particular introductions will be a great deal up to the individual style and personality. All the same, again, this is an chance to stretch yourself to the edge of your comfort zone and exhibit yourself as positively as you are able to. A simple object lesson that meets all the above criteria may consequently be:
"Hi, my name is Linda Jones. I spend my time producing and running interactive booklets on networking."
Note that this has to cover what you do in pragmatic terms and not just your name and job title.
Maybe a franker example might be:
"Hi, my name is Linda Jones. I produce television screen ads from script to screen and everything in between."
Lastly, I must spotlight the fact that the warmness of your introduction will influence the outcome of the meeting. Even though you might well be timid and nervous, it's crucial to make eye contact and smile – it sends the message that you're confident, at ease and friendly.
Synopsis
People get into a major pitfall when they run out of money to run their business on.
Manage Your Funds
A good deal of being a Social Networking expert is about instinct, intuition, chemistry – we're all born with great gut instincts, but many have in reality learned to turn it off – one of your best senses has been disabled – but you disabled it, yourself! You need to learn how to enable it again.
Being able to set up a Facebook Fan Page, a Twitter account, and a LinkedIn profile doesn't make one a social media expert. Take these chances to have a better than average comprehension of SEO, niche social networks, how to target certain demographics, watch how to create and edit video, how to do research, podcasts, learn about additional platforms that you're unacquainted, learn HTML, learn CSS, examine Photoshop, effective monitoring, edit something on Wikipedia, and the list goes on. Tie your social media outreach into other larger marketing campaigns and help whoever you're working with build goals and be able to track them.
The point is to use technology and techniques that you wouldn't use in your daily usage. Get outside of your comfort zone and discover because there's going to be a time when a company or client asks your opinion of or your experience with these different technologies and strategies
Social Networking Rules
1) Absolute Truth.
Let's get genuine and truthful with folks and tell the truth about ourselves and not hide behind some ill generated plan for fame and fortune. Yes, you are able to produce a fortune online, but let's do it from the truth of the matter- not illusion.
2) An assisting focus that helps individuals reach out to fresh openings – not the same old ones.
This is vital. No one is above assisting individuals online. And disclosing fresh mighty directions and possibilities for folks that didn't know they existed is the highest sort of service in social media. Every "ace" that's out in social media- has a assisting hand out with folks. That's why they're where they are. They provide and share with no agenda.
3) A life-style of uplifting- not degrading.
Social Media is about being an lift, not just an educator or entertainer. Encouragement is the single biggest weapon you have in social media against individuals like people who prey on others. Uplifting should be a lifestyle that we all practice.
Find someone that you do respect and ask them to mentor you
When you seek people to run your ideas by, make it somebody that you respect. Get involved in your local social networking scene and discover individuals that you are able to bounce your ideas and strategies off of. Perhaps they can see the holes in what you're doing and help you finish out your plan. It's great when you have the opportunity to take the ball and run with it but it's even better when you have somebody refining your running style to make you that much more effective.
Over a time period you can acquire experience, improve your skill set, and build in this area. I'd rather be listening to, conversing with, and competing against individuals that have actual experience than somebody that knows how to take a decent picture of themselves and add a lot of individuals on Twitter on a daily basis. By becoming a knowledgeable and experienced person it only helps the reputation of what we do and who we are.
Synopsis
Businesses want clients to believe that automated service is quicker. But is it truly quicker, or does the fact that we're busy attending to ourselves instead of being waited on by somebody else, make us believe that? The fact is that businesses want us to use automated service because it costs them less to supply..
Personal Service Is Primo
As the number of in-person client communications has deteriorated dramatically over the past few years, the mightiness of the ones we continue to have has dramatically climbed—which gives companies that offer personalized client service a enormous chance to grow their businesses by exercising a positive influence on their clients' lives. Even when the orders come in over a speaker unit, the opportunity is there to allow for top-grade, individualized client service by using a friendly, caring voice.
Because the greatest difference between challengers is the quality of the client service they provide, those businesses that provide first-class client service will grow and prosper. Those that don't, will not.
We commonly know nothing about any personal problems our clients are facing. But we should know that a kind word uttered at the correct moment can turn a bad day into a good one. These seconds of opportunity may last only about ten seconds—but never undervalue the power they have to make a favorable difference in your clients' lives.
So never undervalue the power of personal client service. Given indifferently, it's a recipe for calamity. But when it's given with actual concern, it can turn someone else's day from bad to glad—and that's mighty, indeed!
Other Details
- 1 Article (DOC)
- 1 Ebook (DOCX, PDF), 47 Pages
- 1 Lead Magnet Report (DOC, PDF), 16 Pages
- 1 Autoresponder Email Messages (TXT)
- 1 Salespage (HTML)
- 1 Squeeze Page (HTML)
- Ecover (JPG)
- File Size: 12,820 KB