Salespage Snapshot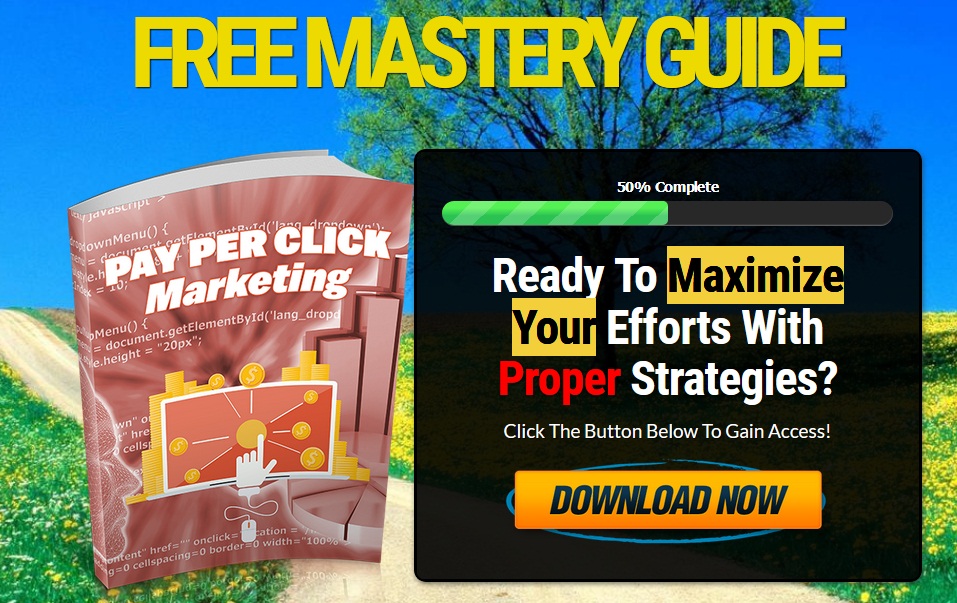 >> Click Here To View Sales Page...
Sample Content Preview
IT'S NOT ALL ABOUT GOOGLE
Even though Google is the gold standard by which it all started, it is by far not the only player in this field at this time. You can use pay-per-click strategies and campaigns with various search engines from Yahoo! to MSN. Many Internet marketers feel that the Google AdWords program is far too competitive for smaller advertisers, so they try to find programs that can still use PPC, but have less competition. Some social networking sites, like Facebook, are now offering PPC advertising in their Social Ads format that will give you more leeway in determining the traffic demographic your ads will be shown to too.
YAHOO PUBLISHER NETWORK
Yahoo! is one of the other big search engines that offers PPC advertising. It is very similar to Google, but less competitive. You will get paid through PayPal as a publisher. The ads look similar to Google ads, with various types of banner and rectangular ads; however, it will say "Ads by Yahoo" and not by Google on the top. It's a very simple matter of cutting and pasting, just like with Google, to get their ads on your pages.
MSN AND BING
Bing is the Microsoft search engine that is relatively new on the scene. They may be less competitive at this point, and may convert higher just due to the fewer number of people in their program. They will give you analysis on your campaign based on demographics of age and gender. You can go to the Microsoft adCenter to get involved with this PPC campaign, as well as with the MSN campaigns.
FACEBOOK
This is a far different way to perform PPC advertising, but it is highly targeted. You may not have to build a profile or a sales page to use Social Ads on Facebook, but you will have to be familiar with the interface and how people interact on social networks for the best results. You can use Facebook to get a really good idea of how to best target your ads for demographics and use the same information in other PPC campaigns.
Some people combine different PPC campaigns to bring in traffic from different areas. For instance, a PPC campaign that brings people to a Web page where Google ads are placed would not be unheard of, except that it would require some understanding of social networking sites. You would have to put good content on that page in addition to the ads, as people will report you to their friends as a spammer if you don't contribute to the value of the social network too.
HOW TO TARGET KEYWORDS
Keywords are the most important element in your PPC marketing campaign. They will determine how people find you on search engines and how many people will find you. It also will be important to understand what the possible payouts are of using one keyword in your copy if you are a publisher versus using another keyword. If you only end up with ads on your site that pay out $0.01, then you won't be able to make a large profit. The money just isn't there. However, if you know which keywords are going to attract better ads, then you can generate content with those keywords, and the likelihood that Google will serve up those ads to your site increases.
THE GOOGLE KEYWORD TOOL
While you can make up your own keywords, it's good to do a little research and see where other people are making money on their keywords. Google offers a free Google Keyword Tool that lets you put in a keyword or keyword phrase and see how that keyword and associated keywords are performing on Google. The data is very recent, and it can be as detailed as to give you the CPC that advertisers are using on average and the volume and trend for searching for that keyword on Google.
This is great news for publishers who may want to seek out keywords that have a high CPC so that they can get ads served up to their site that make them more money. However, it's not just a case of getting the highest-paying keyword and putting it in your copy to get that ad served; you also have to figure out how competitive the keyword is, and fortunately, the Google Keyword Tool will tell you that too. If the market is already saturated with too many publishers competing for that keyword, it won't matter that your content has that keyword in it; you most likely won't make much on it. Take a look at the Google AdWords Keyword Tool and play around with it to see all that you can do with it. It is located at https://ads.google.com/home/tools/keyword-planner/
POSSIBLE RETURN ON YOUR INVESTMENT
The possible return on your investment for your campaign is going to be limited by the amount of traffic generated by your PPC campaign. This is also a good thing to research before you set up a PPC campaign so that you don't add dud keywords that can't possibly provide you with a reasonable ROI. The tool is called the Google AdWords Traffic Estimator. It is located inside the PLANNER above. Put in your CPC and the keyword and countries you are targeting and see how much traffic Google estimates that that campaign will draw per day versus the cost of advertising. GET ONLY TRAFFIC YOU WANT
One of the biggest problems with PPC advertising, both as an advertiser and as a publisher, is not attracting the traffic that is most likely to buy your products. If you get millions of people to visit your sites and even to click your links, but they are not in a demographic that is buying, you are wasting your money. This is one of the reasons that advertisers and publishers have a tough time making money with PPC. Their campaigns are just not targeted well enough to make the right people show up at their door. Yes, they get many new people showing up, just not the right people.
Think of it this way. Say you are trying to sell your house. Would you want the realtor to bring in tons of people who haven't a clue why they're there or even interested in a 2-bedroom house in the suburbs? Absolutely not! You waste time, and if each visit were to cost you money like a PPC campaign, it could get very expensive after a while. Instead, focus on bringing in only the traffic that you want and no other.
LIMIT COUNTRIES, IF NECESSARY
While the whole point of the World Wide Web is to expose your business offerings all over the world, there's really no reason to do that for every product and service that you offer. If you are selling an English-speaking book about how to buy real estate in California for no money down, why would anyone in Japan care? You might get one or two investors who might be interested, but the majority of your demographic is going to be in the United States. You do have the option to limit your searches to specific countries, so do that, and you will get better-targeted traffic.
Other Details
- 1 Ebook (PDF), 12 Pages
- 1 Squeeze Page (HTML)
- 2 Ecovers (PNG)
- Year Released/Circulated: 2019
- File Size: 2,900 KB
License Details:
[YES]Can sell and keep 100% of the sales.
[YES] Can edit the squeeze page.
[YES] Can be bundled into another paid package and sell at a higher price.
[YES] Can be used as a bonus to another product you are selling.
[YES] Can be sold in a Dime sale event.
[YES] Can be added into a paid membership site.
[YES] Can pass on the Master Resell Rights privilege to your customers.
[YES] Can be given away for free AGAINST an email address (lead generation)
[NO]Contents of the product can be edited, modified or altered.