Squeeze Page Preview: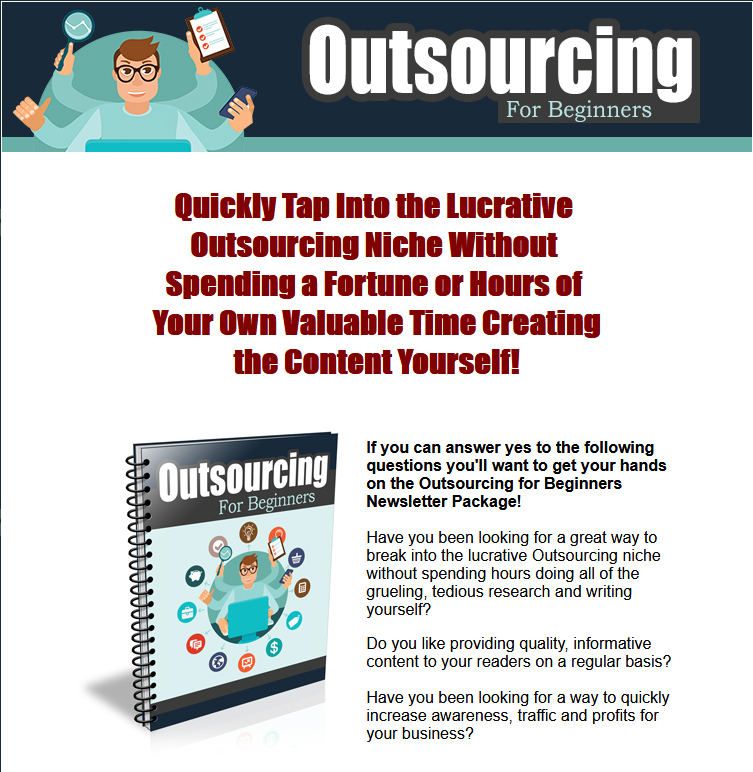 >>> Click Here To View Full Squeeze Page…
Features:
* 12 Issues Full Of Great Content
– Just add in your contact info and plug it in to your favorite auto responder. Each issue contains 500 words or more!
* One Ready To Go Squeeze Page
– Just add in your opt in form, upload to your server and your done!
* One Ready To Go Thank You Page
All ready to remind your subscribers to check their email and confirm their subscription. It even has built in revenue!
* 4 Researched Click Bank Products
These are top selling products on Click Bank that I've personally researched and chosen for each series.
* Extra Copy And Paste Article Content
You will get:
– Extra titles
– Extra opening paragraphs
– Extra closing paragraphs
– Extra fill in paragraphs
(these would make great tips that you add in to your follow ups system for more frequent contact with your readers)
Sample Content Preview
Hello "autoresponder code here",
In the last issue, we talked about how to outsource without becoming overwhelmed. In this issue, we are going to switch gears a little and talk about when outsourcing isn't a good idea.
Aw we well know; outsourcing can be beneficial for many reasons reduced labor costs, larger workforce, access to industry experts, increased flexibility and best of all a lighter workload for you. However, despite the obvious advantages there are some situations when outsourcing isn't a good idea.
Although there more than a few scenarios where outsourcing is a practical business option there are others where it isn't the best idea. In these situations, it's probably best to keep the work in-house. Let's go over a few.
– When it's too costly
As we have discussed in previous issues, one of the primary advantages of outsourcing is saving money on costs such as social security, health care, workers compensation and other benefits you most provide to full time contractors. When you hire a well-qualified person you'll also enjoy increased efficiency which can also result in a cost reductions.
Despite these benefits, there are some situations where outsourcing can be the more expensive alternative and it may also lead to a financial loss instead of a gain. This may include a situation where the cost of outsourcing to a highly specialized expert exceeds the budget for the project. Fees for individuals with highly specialized degrees or areas of expertise are often quite expensive. Another possible situation is one where finding an individual qualified to complete specialized tasks would be too expensive of a process.
– When you to lose control
Even when tasks or projects are outsourced the company responsible for the work likes to continue to manage the project and keep close tabs on the progress of tasks. It's important for the company to continue to manage the project even after it has been outsourced because they are the ones who are ultimately responsible for the successful completion of the project.
Whenever an individual or company wants to deny the company access to project files or documents, outsourcing is a bad idea. The company who has the vested interest in the outcome of the project should never be excluded from participating in making decisions regarding the project.
Before outsourcing a task or project care should be taken to establish criteria for the management of the project. Depending on the length and complexity of the project it may also be wise to schedule regular meetings to provide updates on the progress of the project. During this time the contractor should provide the employer with all documentation necessary to evaluate the progress of the project and verify it's still on track for completion by the established deadline.
– When it's not allowable
Sometimes outsourcing is not a good idea simply because it's not permitted by contract requirements. Some project contracts may have stipulations stating the work cannot be outsourced to an individual or to another company. Inserting such a clause into a contract document is well within the rights of the clients.
When they hire a company to complete a project or task, they expect all work related to the project or task to be completed by members of that company unless they specified otherwise when negotiating the contract. Violating the contract documents in this situation is not a good idea. The company could be penalized by the client. Penalties may include withholding payment or refusing to award future projects or tasks to the company.
Make sure you look for your next issue soon. We will be talking about outsourcing benefits of outsourcing online tasks.
Until then,
"your name here"
"your email address"
"your URL here"
Sample Extra Titles
The Secret of Outsourcing That No One is Talking About
The Unexposed Secret of Outsourcing
The Outsourcing Diaries
Outsourcing – An Overview
The Ugly Side of Outsourcing
An Unbiased View of Outsourcing
What's Happening with Outsourcing
The Ultimate Guide to Outsourcing
5 Simple Facts About Outsourcing Explained
What to Do About Outsourcing Before It's Too Late
The Secret for Outsourcing Revealed in 5 Simple Steps
The Ultimate Solution for Outsourcing That You Can Learn About Today
Be the First to Read What The Experts Are Saying About Outsourcing
The Truth About Outsourcing
Find Out Who's Talking About Outsourcing and Why You Should Be Concerned
5 Odd-Ball Tips on Outsourcing
The Outsourcing Chronicles
Kids, Work and Outsourcing
7 Shocking Facts About Outsourcing Told by An Expert
The Insider Secret on Outsourcing Uncovered
What Everyone is Saying About Outsourcing Is Dead Wrong and Why
The Insider Secrets of Outsourcing Discovered
And More…
Sample Extra Paragraphs
Labor costs can be a significant part of a company's budget for the year. A company that can reduce their labor costs will be able to enjoy a greater profit margin without making any other changes to their business operations. There are certainly other changes which can be made to increase profitability but reducing labor costs is a guaranteed method of increasing profitability while other methods of increasing profitability such as marketing different niches will not guarantee success.
————————————
As previously mentioned reducing costs was the original purpose of outsourcing and although outsourcing has since been demonstrated to have other significant advantages, cost reduction remains one of the prime advantages. Companies look to outsource tasks which would be costlier to complete in-house. An example of this type of task would be a software related task requiring specialized training. Companies who do not have an on-staff employee qualified to complete this task can benefit financially by outsourcing this task.
————————————
In the previous section we discussed how having industry experts available to complete outsourced tasks can result in a cost savings for the company but having these experts on call also provides the potential for new opportunities for the company. With experts waiting in the wings to assist, the company is able to go after larger and more specialized types of work. This is important because in doing this the company can find themselves enjoying greater prosperity.
————————————
Sometimes outsourcing becomes the only option based on staff availability. A company may have a need for tasks to be completed rather quickly. Although it may be a task for which several in-house employees are qualified, current workloads may make it impossible for these employees to take on these tasks. When this occurs, outsourcing again becomes the only option. Company employees are often multi-tasking and may be working towards several serious deadlines at any one time. Management is tasked with the responsibility of doling out work to lower level employees and when they feel as though their in-house staff is not able to take on more work, they often turn to outsourcing as a solution.
And More…
Other Details
- 12 Part Autoresponder Email Messages (TXT, DOC)
- Squeeze Page (HTML, PSD)
- Ecover (PSD, JPG)
- Affiliate Programs List
- File Size: 11,600 KB