Salespage Snapshot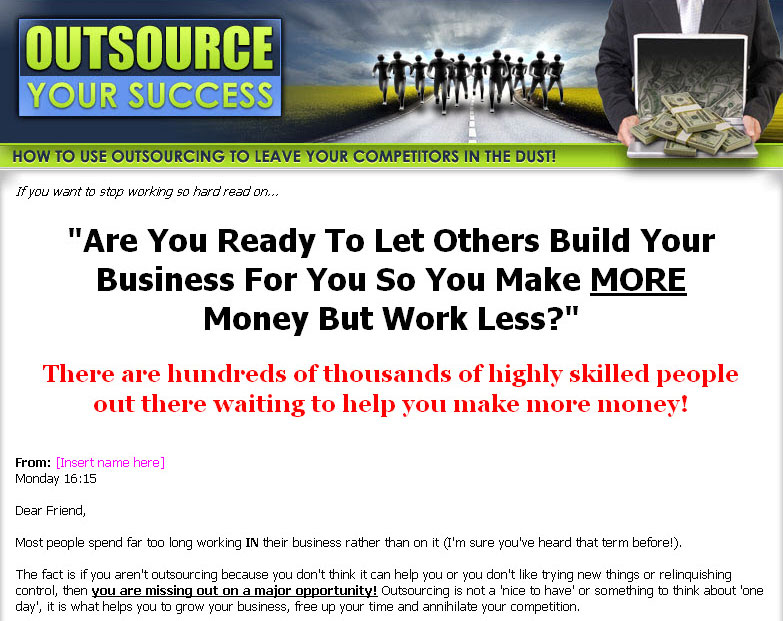 >> Click Here To View Sales Page...
Table Of Contents
1.  Introduction
2.  Advantages/disadvantages over permanent staff
3.  How to scale outsourcing up into a 7 figure business
4.  The 7 deadly sins of outsourcing
5.  What to outsource
6.  Where to outsource
7.  How to outsource
8.  Using freelancers to setup automated streams of income
9.  Final Thoughts
PLR Ebook Sample Content Preview
Introduction
Welcome to a guide that could revolutionise your business forever!
Seriously – most people who start off with an internet business try and do everything themselves, and rightly so, at first you need to, you need to gain experience, save money, learn the little tricks and tips that will help you later on to see if your freelancers are doing a good job – but you can't keep doing that if you really want to succeed!
You can build your business a lot quicker (and easier) by getting other people to do those things you are weak at or don't enjoy, or even just things that take a lot of time, leaving you free to do the easy enjoyable stuff – that is the 'internet lifestyle'!
It also means you can take time off to spend with your family without feeling guilty, safe in the knowledge that your business is being built without you needing to be anywhere near it!
In this guide I'm going to take you through what, where and how to outsource so that you can supercharge your business, even if you are just starting out then learning how to reinvest your profits into outsourcing to grow your business can save you years of tedious slow growth and have you sipping cocktails on the beach in no time! (well not quite, but you could if you really wanted to!)
We'll begin with the advantages, and yes some disadvantages, of using freelancers compared to hiring permanent staff to help you, then get into how to quickly build up your business with outsourcing, the 7 deadly sins of outsourcing (so you can avoid the mistakes I made!) and then we'll get into the what, where and how that you need to know.
Other Details* Sales Page:
Included, HTML
* File Format:
MS Word Doc, PDF
* Number of Pages:
32
* Included Graphics:
Ecovers, PSD
* Extras:
Book Preview
* File Format:
MS Word Doc, PDF
* Number of Pages:
6
* Extras:
5 Part Autoresponder Email Message Series
* Extras:
Banners, PSD
* Extras:
Blank Header & Footer
* Extras:
Squeeze Page
* Download File Size:
7,936 KB