Salespage Snapshot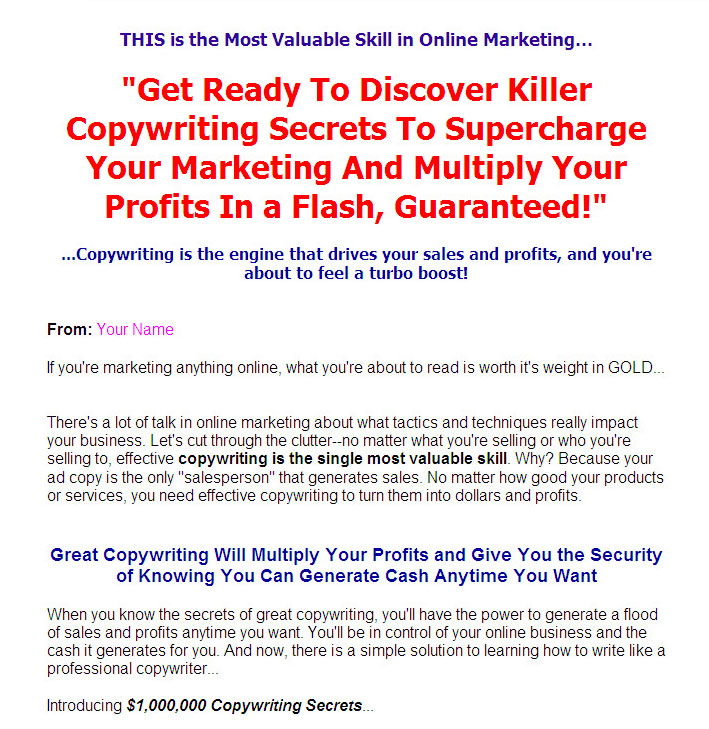 >> Click Here To View Sales Page...
PLR Ebook Table Of Contents
1. Copy writing is your show-window and the sales multiplier What magic great Gary Halbert or Helena Rubinstein or Joe Crossman could bring to copywriting 4
2. The $1000, 000 copywriting formula Qualify, mention the problem, explain the problem, empathize, expand, show understanding, offer practical solution, show the benefits and call for action Not verbose 8
4. Stealth techniques For limited period Limited quantity You are privileged to get it 10
5. Headlines Some famous headlines Gary Halbert's headlines How you should draft your headlines Power words 11
6. Testimonials What they would do to your business How to get them How to display them 15
7. Tell him benefits not features 17
8. Establish yourself as the expert Tell a story 17
9. Short paragraphs and bullet points 18
10. Use action verbs Give specifics rather than vague details 19
11. Guarantee 19
12. Testing 20
Ebook Sample Content Preview
Copywritingis the life blood of any business. Suppose Marilyn Monroe or Julia Robert were small town girls watched over by jealous fathers. Would you even know about them? Advertisement does to your products what movies did for these film stars—when you fall in love with Pretty Woman, you don't even notice the great script, deft touches by director, and those clever camera angles. Your product is your Julia Roberts, you are the director, you are the cameraman, and you are the script writer. Fate of your product rests in your hands—what power, what responsibility! Without a copywriter, the swan will remain an ugly duckling.
Joe Crossman, author of How I Made $1 Million in Mail Order tells us that for six months he had been trying to sell things through mail order. He had not made any money and he was on the verge of quitting. Then someone offered him earrings with bells. It was a failed mail-order product. He turned it into a historic success by simply renaming it mother-in-law's earrings in his advertisements. He found his most eager customers among the newly-weds—and the rest, as they say is history. This is the magic of copywriting.
The next few decades saw the marketing and buying of over 20 products and his dexterity lay in selling about a million units of each product. It did not take long to establish him as a noted marketing guru of the century. This is one example of his copywriting acumen:
ATTENTION ALL HOME BASED BUSINESS OPPORTUNITY SEEKERS! CREATE WEALTH LIKE THESE VARIOUS OFFLINE GURUS. PROGRAMCRITIQUE HIGHLY RECOMMENDS THE FOLLOWING HOME BASED BUSINESS OPPORTUNITY. THIS IS AN ONLINE AUTOMATED SYSTEM THAT WILL MAKE YOU $1,000.00, $3,200.00, OR $9,700.00 PER SALE PAID TO YOU DAILY
AND YOU SPEAK TO NO ONE. CLICK ON THE FOLLOWING LINK NOW SO YOU CAN GET STARTED IN THE NEXT 17 MINUTES! CLICK HERE NOW TO LEARN HOW TO SET UP YOUR OWN ONLINE AUTOMATED SYSTEM!
Other Details* Sales Page:
Included, HTML
* File Format:
MS Word Doc, PDF
* Number of Pages:
23
* Included Graphics:
Ecovers
* Download File Size:
1,215 KB