Salespage Snapshot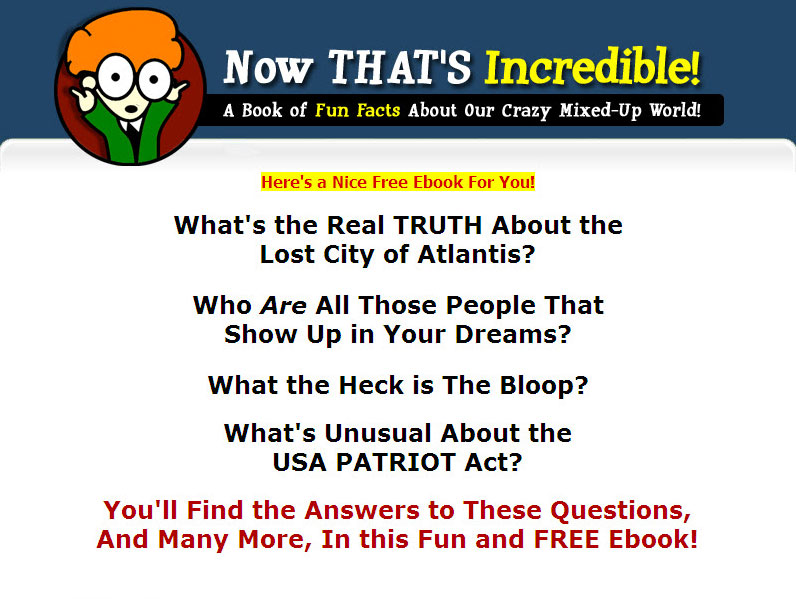 >> Click Here To View Sales Page...
Ebook Sample Content Preview
Hey mom, how about closing that window!?
In Detroit in the 1930s, a baby fell from a high window and landed on a man called Joseph Figlock who was passing below. Both survived the incident.
BUT… about a year later, the SAME baby fell from the SAME window and, get this, he landed on the SAME guy!
Again, both Figlock and the baby lived to tell the tale(s).
A couple of funnies from comedian Ronnie Shakes…
– "After 12 years of therapy, my psychiatrist said something that brought tears to my eyes. He said, 'No hablo ingles.'"
– "I spend money with reckless abandon. Last month I blew $5,000 at a reincarnation seminar. I thought, 'What the hell, you only live once.'"
– "My doctor gave me two weeks to live. I hope they're in August."
Other Details* Sales Page:
Included, HTML
* File Format:
MS Word Doc, PDF
* Number of Pages:
54
* Included Graphics:
PSD
* Download File Size:
21,910 KB