Salespage Snapshot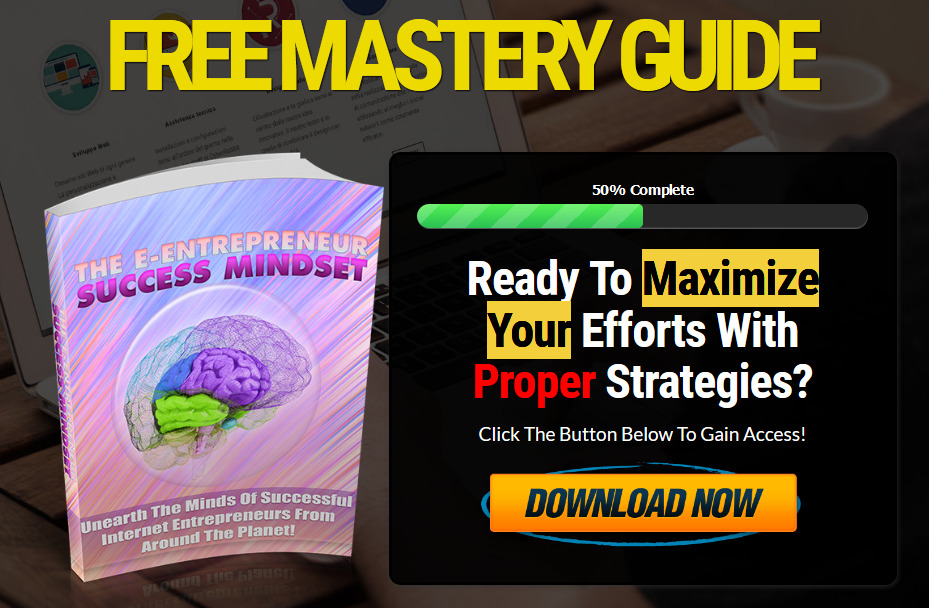 >> Click Here To View Sales Page...
Table of Contents
Why Do So Many Internet Startups Fail Today?
How you can avoid being part of this dreadful statistic.
The Cornerstones of Successful Internet Entrepreneurship
Some people can only see what successful Internet Entrepreneurs do on the outside, but even fewer can read the minds of these unique individuals.
The Key to Continuous Growth and Expansion
Even if you are handicapped, know little about Internet Marketing, or low on resources, they are no legit excuses to not giving yourself a chance to succeed online.
The Razor Edge Difference Between Work and Deals
What constitutes a fruitful task and something else either of less importance or simply a waste of time.
It's Your Call Now: Take Action!
You now know more than what many Internet startups do not. But to be different and unique from them, take action and discover how you can get started now in the right direction!
Sample Content Preview
They some how think that the world is just going to line up on their website and hand over money. It isn"t going to happen.
Internet businesses do not run on auto-pilot. It is true that well established internet marketing gurus do not have to put in long, tedious hours on their businesses but it is a privilege that that has been earned by putting in a lot of long and tedious hours.
It didn"t happen overnight for them and it won"t happen over night for anybody. Most people are totally unprepared for the time investment that must be made in order for an internet business to become successful.
No Business Background
All businesses have two things in common. They are BUSINESSES and they must be run like businesses! The people who are in charge of a business need to understand the accepted practices of business.
They need to understand simple and basic ideas like acceptable over-head expenses in relation to projected income. Internet entrepreneurs need to understand profit and loss and what constitutes each.
A college degree in business in not essential for an internet business entrepreneur go be successful but it sure wouldn"t hurt. Just some basic business knowledge is absolutely vital.
If you have a hard time balancing your personal check book, you probably should keep your day job and forget about starting an internet business.
It is true that you can hire accounting firms that will tell you WHEN you must make tax deposits, for example, but these firms will not be able to tell you IF you need to make them.
Accounting firms can tell you whether or not you made a profit but not how to make it. If you have no business background you need to, at the very minimum, get some good business advice before you even consider opening an online business.
The fact is that all successful businesses operate on sound business principles. Successful businesses aren"t accidents. The proof is in the numbers….only 10% of new internet businesses are successful or are even still in existence after the first 120 days of operation.
It is not even reasonable to expect to make a profit from a new business enterprise for many, many months.
You must have sufficient resources available to not only launch your business but provide for your own personal needs for an extended period of time. It"s called "capital" and there is no way around the need for enough of it.
The Right Mindset Just Isn't There!
You have most likely heard the phrase, "He has an attitude!" This is usually a derogatory remark made about a person with a disagreeable attitude.
But the word "attitude" is an important one when discussing internet marketing start-ups. A good attitude…a good mind set can"t insure success but a bad attitude and a bad mind set can certainly guarantee failure.
Here are some wrong attitudes that will absolutely guarantee failure:
1. I can work when I want to. Wrong, wrong, wrong! You can"t just work when you feel like it. You have to expect to put in many long and very tedious hours of very hard work to make a new internet enterprise succeed.
2. I can get rich quick! You couldn"t be more wrong and you are not only wrong but you are putting yourself in danger as well. There are bazillions of crooks out there on the internet who are waiting for their next easy mark and if you are looking for a quick way to get rich, you ARE the next mark.
It is possible to make a very comfortable living with internet marketing enterprises but if anybody ever tells you it is quick or easy, they are lying to you.
3. I don't need a business plan. There you are…wrong yet again. Internet business is still business. All of the same business principles apply to online business as apply to brick and mortar business. It is imperative that you have a plan for success that is based upon these sound business principles.
4. When you have an internet business of your own, you don't have a boss. Wrong again! You are your boss. If you aren"t a good boss who sees to it that work is accomplished on time and in full, you will doom yourself to certain failure. Unless you are a boss who sets up a working schedule and establishes goals that must be met, you will find yourself working at a job under a boss who does do those things and maybe for minimum wage.
Other Details
- 1 Ebook (PDF, DOC), 39 Pages
- 1 Squeeze Page (HTML)
- 2 Ecovers (JPG, PNG)
- Year Released/Circulated: 2022
- File Size: 32,379 KB
License Details:
[YES] Can be sold
[YES] Can offer Resell Rights
[YES] Can offer Master Resell Rights
[YES] Can resell Private Label Rights
[YES] Can be edited
[YES] Can put your name as the author
[YES] Can be broken down into articles
[YES] Can be used as web or e-zine content
[YES] Can be added into membership sites
[YES] Can be sold in any format
[YES] Can be packaged
[YES] Can be offered as a bonus
[YES] Can be sold on auction sites
[YES] Can be published offline
[YES] Can be given away (in any format)