Salespage Snapshot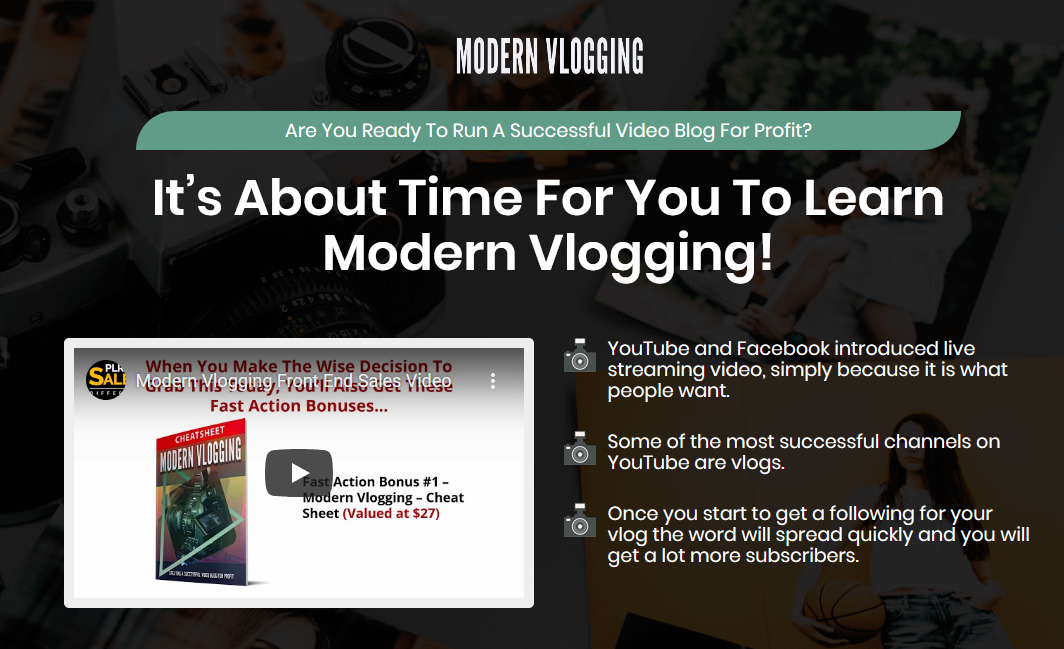 >> Click Here To View Sales Page...
Sample Content Preview
Is that exciting enough for you? Look people love to watch videos on all kinds of different subjects. They will use YouTube as a search engine to find what they want. It is the second largest search engine in the world after Google.
If your channel provides what those searchers are looking for then you will get views. You can then tell your viewers to go and visit your website (or Facebook page etc) for more cool stuff. Give them a good incentive to join your email list and they will do it.
Yes there are other video sites such as Daily Motion and Vimeo. These sites get a pretty good amount of traffic but they are miles away from YouTube. If anyone tells you that YouTube is saturated then just ignore them. It is the only way to go for your vlog!
Create Channel Art and your YouTube Channel
A YouTube channel without channel art does not create a good impression. So spend time designing and creating appropriate channel art for your vlog. If graphic design is not your thing then go to Fiverr.com and find someone that is good at it. Tell them what your channel will be about and give them your ideas for the channel art design.
It will only cost you a few bucks to have great looking channel art created. This is well worth it. You will also need a small image for your channel icon. This is the logo for your vlog. Once you have settled on this you can add it into all of your videos and on your merchandising going forward. If you don't already have a YouTube account then you will need to create a free Google account at https://www.google.com/. This is very easy to do and will take you less than 5 minutes.
With your Google account set up head over to YouTube.com and log in with your Google account. Then go to https://www.youtube.com/create_channel and create your vlog channel using your brand name.
After setting up your channel we highly recommend that you create a custom URL for your channel. To do this your YouTube account needs to be more than 30 days old and you will need at least 100 channel subscribers. You will also need a photo of yourself and channel art loaded.
Once you are at this point go to https://support.google.com/youtube/answer/2657968?hl=en for precise instructions on how to create your custom channel URL. This is really worth doing.
Plan the Content you will create OK so your channel is all setup to go and the next step is to upload some videos. Take a look at other successful vlogs for inspiration here. How did they start? Think about adding elements to your videos that you will include all of the time. For some this will be a look at the comments. For others this is a recap.
If people like these recognizable segments they will come back for more and are very likely to subscribe. Plan out the first few weeks of video creation and then schedule these. Committing these to a schedule will help to motivate you. Remember that consistency is the secret to a successful vlog. It is just common sense that you want to create the most engaging, inspirational and informative videos that you can. After a while of creating videos for your vlog you may well find that you can create great videos on the fly. Until you get to that stage we recommend that you follow the steps below.
Create a Script
Most people just can't sit in front of a camera and talk freely about their subject. If you can then great – if not then the best thing to do is to create a script. Think about what you want each video to achieve when planning your script. Do you want the viewer to take action after watching?
The most important parts of a video are the beginning and the end. Make the start really compelling to motivate the viewer to watch all the way through. Keep in mind that most people have very short attention spans and if you don't make a good start with your videos then even passionate followers will not watch.
You need to make the end of the video very inspiring too. This is especially important if you want them to take a specific action like visit your website. If you have no specific call to action in mind then give them a taste of what the next video will be about.
Ensure that your video script flows nicely. If you are going to show your audience how to do something then plan out what you need to do and when. If you are recording outside then where will you go first, second and so on?
After planning your script then create a storyboard. If you are going to narrate over the top of the video then practice this. Remember to keep your videos as short as you can. If a tutorial is going to be long then break it up into 2 or 3 videos.
What about Equipment?
OK we did say at the start of this guide that you could make a video for your vlog with just your smartphone. You can get started this way but there are better ways to make your videos. This all starts with a good quality camcorder.
You do not need a professional digital camera to shoot your vlog videos. When your vlog is successful and you are generating revenue then go and get a pro camera. Until then just use a good quality camcorder that will shoot in HD.
If you are going to shoot videos indoors then you need to think about lighting. Shoot some test footage to see how good the lighting is. Invest in some lights if you need to. It is pointless spending out for a high quality camcorder if the lighting is poor.
You need a good quality microphone as well. If you create videos with poor audio quality then you will not succeed with your vlog. For indoor recording get a high quality USB microphone.
What about screen recording and video editing? If you are going to create tutorials then you may want to record your computer screen. Desktop recording is easy with Camtasia but this will cost around $200.
There is a free option which is CamStudio. Give this a try first. CamStudio will only work on Windows based computers. If you have a Mac then you can try macOS Mojave. There are other free screen recording applications for Macs.
After shooting your video you will need to edit it to make it the best it can be. If you have CamStudio or Camtasia then both of these will do a good job. There are free video editing applications available for Windows and Mac users.
Windows Movie Maker is a good video editing suite for Windows users and if you own a Mac then use iMovie. You will find both of these applications easy to use and you can add transitions and other features to make your videos look really great.
Creating your Video
Speak with passion in your voice. Don't be monotone and boring. This will drive people away faster than you can imagine. Be enthusiastic throughout the video. You can't expect your audience to be enthusiastic about your videos if you are not.
If you are creating a tutorial then provide proof that your methods really work. Show them before and after or the end result whatever applies. If other people use your methods then ask them to provide a video testimonial. Add as much social proof as you can.
Appeal to people's emotions as much as possible in your video. Tell them how exciting it will be for them to travel to the destination you are filming in. Or tell them how beautiful they will look after using your make up tips.
Test how well your Videos are received
In your mind you have created a great video but what really counts is what your audience thinks. You need to look at a few things here such as how many viewers watched your video from beginning to end? If that wasn't the case for a lot of viewers at what stage of the video did they stop watching it? Is there a problem with a certain section of the video?
How many people liked the video and how many gave it a "thumbs down"? Read through the comments and see if there are any criticisms there. Don't take them personally. Treat them as good feedback to create better videos in the future.
What can you do if your video was not well received? Well you can either edit it to add the information that people in the comments say was missing, or you can create a new video that covers this.
So now you know how to create great videos that will keep people engaged and wanting more from your vlog. Go with the majority flow. With all videos there will always be someone that has a complaint to make. If the majority of viewers like your video then you are on the right track.
Always ask viewers of your videos to subscribe to your channel if they haven't already. Ask them to "like" the video as well and encourage them to leave comments so that you can create better videos in the future. Tell your viewers that your vlog is for them so any feedback is very helpful.
Do everything that you can to appeal to people's emotions. Tell them that they can do whatever you are showing them to do. Use words like "exciting", "fantastic" and other superlatives. And always be passionate in your videos!
Other Details
- 20 Articles (TXT, DOC)
- 1 Ebook (PDF), 32 Pages
- 7 Graphics (JPG, PNG)
- 1 Salespage (HTML)
- 10 Ecovers (PNG)
- 2 Promotional Ad Materials (Emails, Banners)
- Resource Report, Cheat Sheet, Mindmap, Social Media Images, Legal Page, Sales Video
- Year Released/Circulated: 2019
- File Size: 147,950 KB
License Details:
[YES] Can be sold
[YES] Can be used for personal use
[YES] Can be packaged with other products
[YES] Can modify/change the sales letter
[YES] Can be added into paid membership websites
[YES] Can put your name on the sales letter
[YES] Can be offered as a bonus
[YES] Can be used to build a list
[YES] Can print/publish offline
[YES] Can convey and sell Personal Use Rights
[YES] Can convey and sell Resale Rights
[YES] Can convey and sell Master Resale Rights
[NO] Can modify/change the main product
[NO] Can modify/change the graphics and ecover
[NO] Can be given away for free
[NO] Can be added to free membership websites
[NO] Can convey and sell Private Label Rights