Salespage Snapshot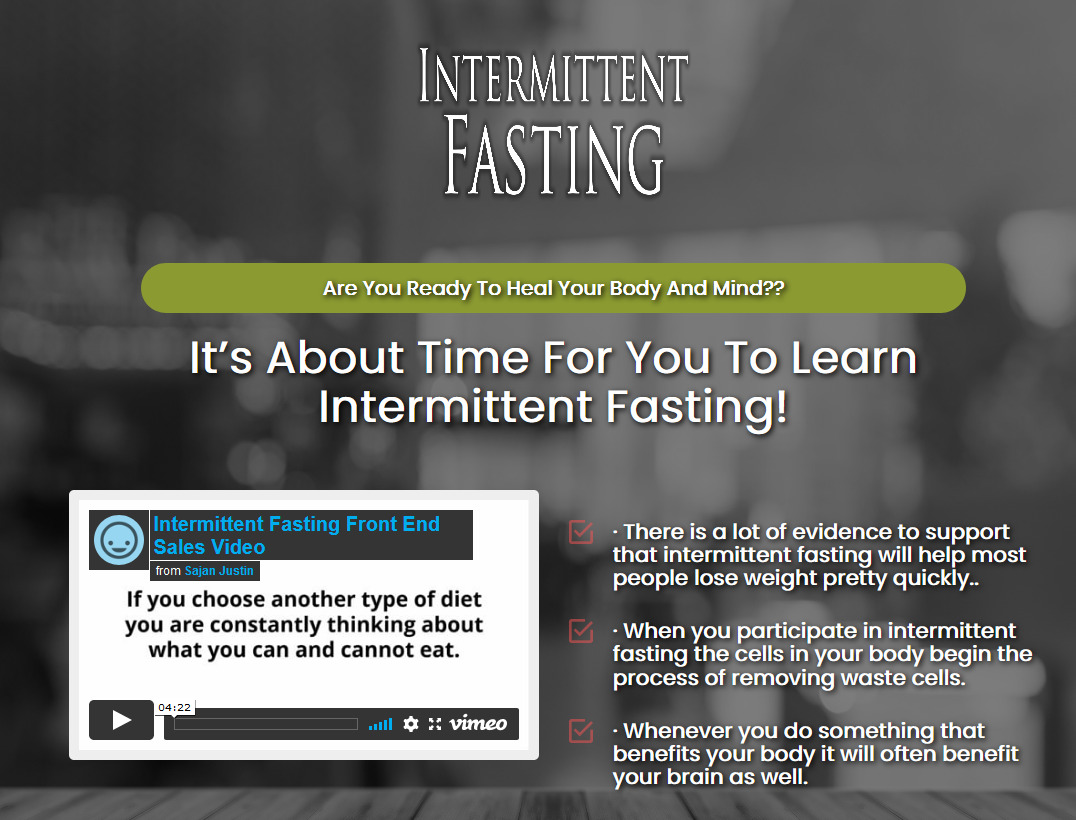 >> Click Here To View Sales Page...
Sample Content Preview
How Intermittent Fasting works
With some intermittent fasting plans you will have an eating window of 8 hours each day and a fasting window of 16 hours. This means that you need to consume calories during the 8 hour window.
So you will consume less calories than you need during the 8 hour window (calorie deficit) and when this is over and you are into the fasting period your last meal will be digested around 3 to 4 hours into the fasting window.
This means that for around 12 hours your body will have no food to use for fuel and it will have no choice but to look to your fat stores as a source of energy. It doesn't matter if you are awake or sleeping your body will always need to burn calories to keep all of the processes going such as maintenance and repair. It will use your stored fat for this.
The concept of intermittent fasting is very simple. There are no requirements for a low carbohydrate diet, detoxification, a ketogenic diet and so on. All you need to do to get the best results is be fully compliant during the fasting windows and go for a calorie deficit approach during your eating windows.
It is no wonder that intermittent fasting is so popular these days. There are other health benefits associated with intermittent fasting as well that we will look at in the next chapter. Once you get into the habit of intermittent fasting you will find that it is easy for you to maintain this lifestyle.
Why Intermittent Fasting is better than other Diets
If you choose another type of diet you are constantly thinking about what you can and cannot eat. When people are used to eating whatever they want it can be extremely difficult for them to change to a strict diet and most people do not have the necessary willpower to maintain this for very long. The reason that intermittent fasting works better than other diets is because it requires a lifestyle change and not a complete change of what you eat. You are going to change your eating patterns by introducing an "eat" and "not eat" cycle into your life.
Your focus changes from what you should eat to when you should eat. Although we recommend a calorie deficit approach to eating you do not have to do this. This means that you have a lot more freedom during your eating windows that those people that are on a rigid diet.
Please understand that intermittent fasting is not an easy ride. At first you may find it very difficult to fast for a period of time. You will need to be resilient here and keep on going with your intermittent fasting. After a while it will all become a lot easier.
In the next chapter we will discuss the benefits of intermittent fasting…
You may think that burning fat and weight loss are the only benefit of intermittent fasting. This is not the case, and in this chapter we will make you aware of the other benefits of intermittent fasting.
The main reason for you understanding the various benefits of intermittent fasting is that it will provide you with the motivation to keep going. It is likely that you will experience some tough times with intermittent fasting, especially at the start. With these benefits in mind it will inspire you to push through any tough times and keep going.
Losing Weight
If you were to ask people why they are embarking on an intermittent fasting regime the chances are that almost all of them will tell you that they are doing it to lose weight. There is a lot of evidence to support that intermittent fasting will help most people to lose weight pretty quickly.
There are several reasons why intermittent fasting helps people to lose weight. One of the main reasons is that it helps to boost your metabolism which helps your body to burn fat faster.
Another reason why intermittent fasting is good for weight loss is that you are very likely to decrease the number of calories that you consume every day. This will lower your insulin levels and also help to increase your levels of growth hormone. It will also increase the amount of norepinephrine in your body.
Studies have shown that intermittent fasting helps to increase the metabolism by as much as 14%. With a higher metabolism you will burn more calories. Over a period of 3 to 24 weeks you can lose weight at a rate of 8% which is really impressive.
A lot of people that participate in intermittent fasting claim that they see a reduction in the circumference of their waist of around 7%. This is all down to reducing the amount of belly fat that you have which is the fat that can do the most harm and lead to serious diseases.
Another reason that intermittent fasting is better than other diets is that it does not result in the same amount of muscle loss. Muscle loss can be a real problem with diets that restrict calorie intake.
Cell Repair
When you participate in intermittent fasting the cells in your body begin the process of removing waste cells. This process is called "autophagy". It is all about the breaking down of the cells in your body.
Autophagy also helps to metabolize broken and dysfunctional proteins that build up over time in the cells. The main benefit of autophagy according to the experts is that it provides protection against the development of some serious diseases such as cancer and Alzheimer's. So intermittent fasting can help you to prevent disease and live longer and healthier.
Insulin Resistance
Unfortunately, there are more people struggling with type 2 diabetes today than there ever were before. It is more common with people that are considered obese. With diabetes you experience elevated blood sugar levels caused by insulin resistance.
If you are able to reduce your insulin then you should reduce your blood sugar levels. This is a great way to protect yourself from type 2 diabetes. There have been a number of studies proving that intermittent fasting can help with insulin resistance. It can help to reduce blood sugar levels significantly.
Some of the studies showed a decrease in blood sugar levels of 6% when people were fasting. When you are fasting your insulin levels can fall by as much as 30%. This proves that intermittent fasting can help to reduce the effect of diabetes and prevent you from getting the disease.
Improved Brain Function
Whenever you do something that benefits your body it will often benefit your brain as well. By increasing your metabolism through intermittent fasting you are very likely to improve your brain health as well.
Another benefit of intermittent fasting is that it can reduce the amount of oxidative stress. Fasting can also reduce blood sugar levels and inflammation. By reducing insulin resistance as we have already discussed as well these things all help to increase brain power.
There have been studies that show intermittent fasting helps to boost the growth of nerve cells. This also helps to enhance the brain. Fasting can also increase a brain hormone called brain derived neurotrophic factor. If you have a deficiency with this hormone then you are more susceptible to depression.
One other reason that intermittent fasting can protect your brain is that it can protect you from the damage caused by strokes. So as you can see, intermittent fasting is a good way to protect and enhance your brain.
Other Details
- 1 Ebook (PDF), 34 Pages
- 6 Graphics (PNG)
- 1 Salespage (HTML)
- 10 Ecovers (PNG)
- 2 Promotional Ad Materials (Emails, Banners)
- Resource Report, Cheat Sheet, Mindmap, Social Media Images, Legal Page, Sales Video, Email Swipes
- Year Released/Circulated: 2021
- File Size: 266,825 KB
License Details:
[YES] Can be sold
[YES] Can be used for personal use
[YES] Can be packaged with other products
[YES] Can modify/change the sales letter
[YES] Can be added into paid membership websites
[YES] Can put your name on the sales letter
[YES] Can be offered as a bonus
[YES] Can be used to build a list
[YES] Can print/publish offline
[YES] Can convey and sell Personal Use Rights
[YES] Can convey and sell Resale Rights
[YES] Can convey and sell Master Resale Rights
[NO] Can modify/change the main product
[NO] Can modify/change the graphics and ecover
[NO] Can be given away for free
[NO] Can be added to free membership websites
[NO] Can convey and sell Private Label Rights