Salespage Snapshot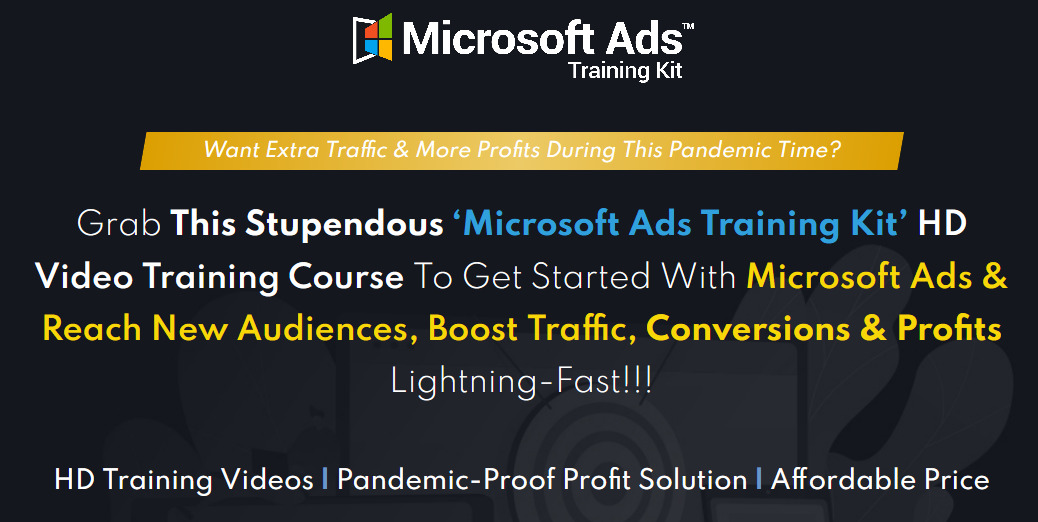 >> Click Here To View Sales Page...
Table of Contents
* Introduction
* Chapter 01 – Overview: What Are Microsoft Ads And How does Microsoft Advertising Works?
* Microsoft Ads vs. Google Ads: What's the difference?
* How to set up and use Microsoft Ads for your business
* 4 tips for using Microsoft Ads to advertise your business
* How do keywords trigger ads?
* How does Microsoft Advertising work?
* Chapter 02 – Step-By-Step Process To Set Up Microsoft Ads And Best Practices For Running Campaigns
* How to set up your Microsoft Ads account
* How to set up a Microsoft Ads campaign
* How to use dynamic keyword insertion
* How to set up conversion tracking
* How To Set Up Conversion Goals
* How to create a remarketing list in Microsoft Ads
* Microsoft Ads: Exclusive features and benefits
* How to import Merchant Center from Google
* Chapter 03 – Reasons Why You Should Use Microsoft Ads For Your Business
* Enjoy Lower CPCs & Scale
* Access Premium Placements with Audience Ads
* Save Time By Importing from Google Ads
* Chapter 04 – Steps To Create Successful Ads For Bing
* The importance of checking your Quality Score
* Microsoft Advertising vs. Google Ads
* Chapter 05 – Google Ads Vs. Microsoft Advertising: Which Is Better For Your Business?
* Google Ads & Microsoft Advertising: Like Peanut Butter & Jelly
* Google Ads vs. Microsoft Advertising: Understanding the Two Ad Platforms
* Google Ads + Microsoft Advertising = Best PPC Ad Strategy for Your Business
* Chapter 06 – Microsoft Advertising Features You Might Not Know About
* Chapter 07 – Tips To Optimize Your Microsoft Ads
* 7 ways to optimize your Microsoft Ads and get the most visibility on Bing
* Chapter 08 – Top PPC Tips For Microsoft Advertising
* Why Microsoft Advertising?
* Getting Started With Microsoft Advertising
* Google Ads vs. Microsoft Advertising
* How to Write a Compelling Ad Copy
* Chapter 09 – Microsoft Ads Tips To Get More Clicks And Conversions
* 8 ways to optimize your Microsoft ads for more conversions
* Chapter 10 – Bing Ads Vs. Google Ads: The Pros & Cons Of Each Platform
* The difference between Google Ads and Bing Ads
* Bing Ads vs. Google Ads
* Cost: Bing Ads vs. Google Ads
* More benefits with Bing PPC
* Conclusion
Sample Content Preview
Being effective with Microsoft Ads requires constant tweaking
If you're looking to increase the flow of leads into your marketing funnel, PPC advertising through Microsoft Ads is a great way to do it. It's a way to ensure you're getting the most bangs for your buck by only paying for clicks from people who are already interested in what you have to offer.
However, it's not a set-it-and-forget-it operation. You may run into issues, like some keywords being more expensive than others or certain keywords bringing in unwanted and unexpected traffic. As a result, you must constantly monitor the performance of your ads to determine which keywords are working for you and which aren't.
Experiment with different keywords and different strategies. Try out different ads to see which get a better click-through rate. It's a constant process if you want to be successful, so don't neglect this aspect of your marketing efforts.
How do keywords trigger ads?
Keywords are the words or phrases that you associate with your ads so that potential customers who are searching the web can find your ads. For example, Paul is the owner of Contoso Bistro. Since he wants to increase his lunch take-out business, he uses "lunch take-out" as a keyword for his ad. When someone searches for "lunch take-out" his ad will show on the Microsoft Search Network search results page.
You can choose how closely you want the words or phrases a customer searches to match your keywords. You can use exact match, which is just that—the search query must match your keywords exactly for your ad to show. Using exact match gives you the ability to show your ads to specific audiences, as your keywords are targeted more precisely. If Paul chooses his exact match keyword to be "lunch takes out," the search query has to be exactly "lunch take out" as well.
On the other hand, you can use broad match, which means that your ads can show even when a relevant variation of your keyword is included when a customer searches. Using broad matches can show your ad to a wider range of customers without having to spend a lot of time building keyword lists. So, if Paul decides to use broad match for his campaign, his keyword of "lunch take-out" could be triggered by a search query for "lunch delivery."
Where do ads show up?
Now that you know what can trigger your ad and where it can appear, let's take a quick look at the ad position. When a customer searches Bing, AOL, or Yahoo, an auction determines which ads are shown and where they're placed on the page. This placement is what we call ad position, and it's where your ad appears on the Bing, AOL, or Yahoo search results page—on top of the search results, on the side of the page, or at the bottom of the page. It's generally more desirable to have your ad appear higher along with the page, as it's more likely that customers will be able to see it.
Ad position is determined by a variety of factors:
* The amount you bid for your keyword.
* The amount of the competitive bid for that keyword.
* Your ad's relevance.
* Your ad's performance.
How much will it cost?
How much you want to spend is up to you. You decide on the bid amount for keywords, which is the price you want to pay each time your ad is clicked. Then, every time someone searches the Microsoft Search Network, an auction determines which ads are shown and where they'll appear on the search results page. If your ad is eligible and appears on the search results page, you'll only be charged when the ad is clicked.
The actual pay-per-click (PPC) amount is, at the most, the bid amount you set and never more than that and you can pay now (prepay) or later (postpay) for those charges. When you prepay for your clicks, charges are deducted from the funds you add to your account. Once you run out of funds, your account is put on hold until more money is added. When you pay later, charges accumulate as your ads are clicked. You then pay either on your monthly billing date or when you reach your billing threshold (a spending limit before we automatically bill you), whichever comes first.
Other Details
- 10 Articles (TXT, DOC)
- 1 Ebook (PDF, DOC, ODT, DOCX), 118 Pages
- 15 Audios (MP3)
- 15 Videos (MP4)
- 44 Graphics (PSD, JPG, PNG)
- 6 Salespages (HTML)
- 1 Promotional Ad Material (Banners)
- Top Resource Report, Cheat Sheet, Mindmap, Voice Over Script, Legal Page, Chapter Images, Customer Frontend Sales Copy, Customer Frontend Sales Video, Video Raw Files, PDF Graphics
- Year Released/Circulated: 2021
- File Size: 1,079,886 KB
License Details:
[YES]Can be sold
[YES]Can be used for personal use
[YES]Can be packaged with other products
[YES]Can modify/change the sales letter
[YES]Can modify/change the main product
[YES]Can modify/change the graphics and ecover
[YES]Can be added into paid membership websites
[YES]Can put your name on the sales letter
[YES]Can be offered as a bonus
[YES]Can be used to build a list
[YES]Can print/publish offline
[YES]Can convey and sell Personal Use Rights
[YES]Can convey and sell Resale Rights
[YES]Can convey and sell Master Resale Rights
[YES]Can be given away for free
[YES]Can be added to free membership websites
[YES]Can convey and sell Private Label Rights