Squeeze Page Preview: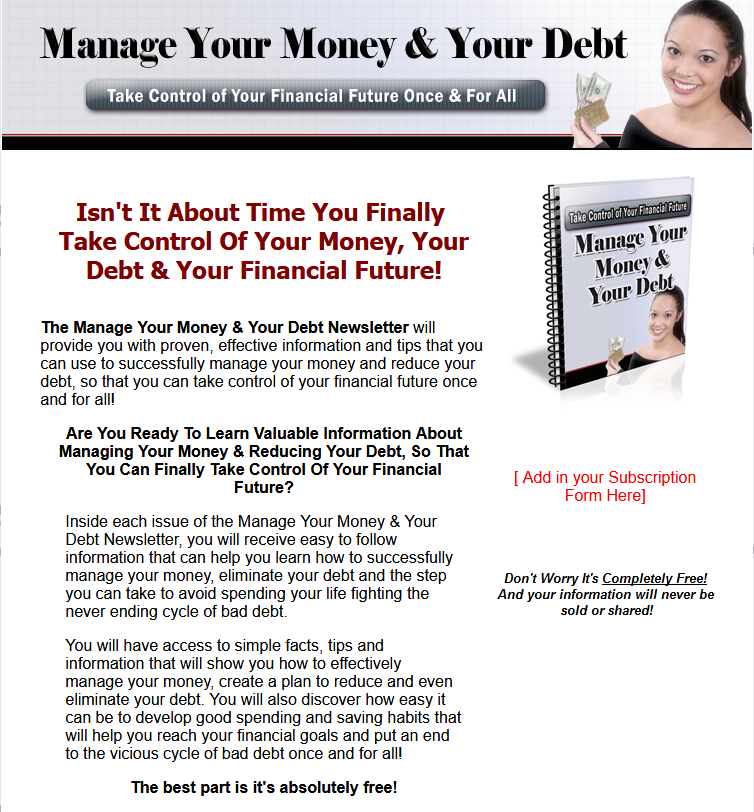 >>> Click Here To View Full Squeeze Page…
Features:
* 12 Issues Full Of Great Content
– Just add in your contact info and plug it in to your favorite auto responder. Each issue contains 500 words or more!
* One Ready To Go Squeeze Page
– Just add in your opt in form, upload to your server and your done!
* One Ready To Go Thank You Page
All ready to remind your subscribers to check their email and confirm their subscription. It even has built in revenue!
* 4 Researched Click Bank Products
These are top selling products on Click Bank that I've personally researched and chosen for each series.
* Extra Copy And Paste Article Content
You will get:
– Extra titles
– Extra opening paragraphs
– Extra closing paragraphs
– Extra fill in paragraphs
(these would make great tips that you add in to your follow ups system for more frequent contact with your readers)
Sample Content Preview
Hello "autoresponder code here",
In the last issue we went over some simple facts about credit card debt
that everyone should know. In this issue we are going to talk about the
different factors that are used to calculate credit scores.
When it comes to managing your money and reaching your financial
goals your credit rating is extremely important. Having a good score
opens doors for you and an unsatisfactory score will slam them in your
face. Your credit score actually represents the risk that the lender
assumes in order to loan you money and determines how big your loan
can be. So what are the factors that help calculate credit scores?
Payment history
The record of payments you have made to all of your creditors is the
biggest factor (35% of your score) that's taken into consideration when
figuring out your credit rating. It doesn't take much to lower your rating.
Even late payments take their toll. Of course, missed payments and
defaults on debts will make a bigger mark. Any bad marks on your
credit report will stay there for seven years, with generally no exception.
Even if you've paid off the debt, it will most likely not be erased from
your report until the 7-year period is up.
Credit card usage ratio
Your credit card usage ratio (30% of your score) compares the amount
of credit you have available to you to the amount you are using. Your
score is better (higher) if you are not using all of your credit. If you think
that paying off an account and closing it is a good idea, think again.
That could actually drop your score in this department. The best solution
is to have several accounts open and not use all of them. This is viewed
upon as an advantage by potential lenders.
Credit history length
How long you have been using credit is another issue when it comes to
how to calculate credit scores–it accounts for about 15% of the total.
Again, if you remember that your credit score is what lenders are
looking at to determine your loan eligibility, you can understand why this
is important. They tend to view someone who has long credit history
and a few marks against him/her as more favorable than someone with
a short, perfect credit history. This is a good reason to have your child
start making credit history early (and in a responsible way with your
guidance).
Credit variety
This makes up about 10% of your score. Believe it or not, it helps your
score if you have many types of debt (credit cards, mortgage, car
loans, etc).
Your stability
This includes how long you've been at your job, how solid the job is and
how long you've been living at your current address. If you've been at
your address for less than three years, this is viewed as less than
stable.
Now you know what factors are used to calculate credit scores.
Understanding them is important because it allows you to take action
on certain aspects that you have the power to change. Hopefully you
can use these guidelines to establish good credit or bring your current
credit score up a notch or two.
Make sure you look for your next issue soon. We will be talking
about some basic budgeting tips that you can use everyday to help you
reach your financial goals.
"your name here"
"your email address"
"your URL here"
Sample Extra Titles
The Unexposed Secret of Effective Money Management
The Effective Money Management Diaries
Effective Money Management – An Overview
The Ugly Side of Effective Money Management
An Unbiased View of Effective Money Management
What's Really Happening With Effective Money Management
The Ultimate Guide To Effective Money Management
5 Simple Facts About Effective Money Management Explained
What To Do About Effective Money Management Before It's Too Late
The Secret For Effective Money Management Revealed in 5 Simple Steps
The Ultimate Solution For Effective Money Management That You Can Learn About Today
Be The First To Read What The Experts Are Saying About Effective Money Management
The Truth About Effective Money Management
Find Out Who's Talking About Effective Money Management And Why You Should Be Concerned
5 Odd-Ball Tips on Effective Money Management
The Effective Money Management Chronicles
Kids, Work and Effective Money Management
7 Shocking Facts About Effective Money Management Told By An Expert
The Insider Secret on Effective Money Management Uncovered
And More…
Sample Extra Paragraphs
Stop getting all those credit card offers in the mail. Each time you
get one it's an open invitation for a thief to come by and grab it right
from your mailbox, send it in, and get a credit card in your name that
they will use.
————————————
Besides the high interest rates, you'll get other advantages from
banking online. The biggest is time savings. If you think about all the
time you waste on banking, you'll find it adds up to a lot of lost hours.
You have to drive to your bank, very often you have to wait in line, and
wait for the teller to complete your transaction. It all adds up and it can
all be eliminated with online banking.
————————————
If you have extra things laying around the house, sell them. Selling
different items online can help you to find extra money that can be used
toward your debt. The more that you can sell, the lower your debt will
be. Use online auction websites and classified websites to sell the
things that you no longer need.
————————————
Too much activity: As mentioned earlier, opening new credit accounts
all at once will negatively affect your score in the short term. It's also
important that you are aware that your score can be lowered for too
many "hard inquiries" about your status. A "hard inquiry" is one that you
have authorized a lender to perform. If you are inquiring about your own
score, this will not count against you.
————————————
Of course before you open an account with a bank, online or off, you
want to make sure you understand all the fine print. Many banks will
require you to make a fairly high initial deposit and oftentimes your
interest rate will vary depending on the account balance. Some banks
may limit the number of free transactions you get each month. There
may be fees if you go over the established number of transactions. You
may also be required to keep a minimum deposit amount. If you go
over that amount you can incur fairly significant fees.
————————————
It can be confusing to pay multiple credit card companies per month. It
can be confusing to keep track of the cards that you have paid, and the
cards that you have not paid. Consolidation loans bring your payments
into one single payment. You will be paying the consolidation company.
This company will be paying the credit card bills for you. You no longer
need to keep track of monthly payments.
————————————
If you find some errors on your file which is not at all unusual, you will
need to fix each one. What type of mistakes are you looking for? The
limit on your credit facility is one that is often wrong. This is important
as your file could be reporting that you have exceeded this limit when in
fact you are within your true limit. Other common errors are reports of
late payments that never happened etc.
And More…
Other Details
- 12 Part Autoresponder Email Messages (TXT, DOC)
- Squeeze Page (HTML, PSD)
- Ecover (PSD, JPG)
- Affiliate Programs List
- File Size: 18,100 KB