Salespage Snapshot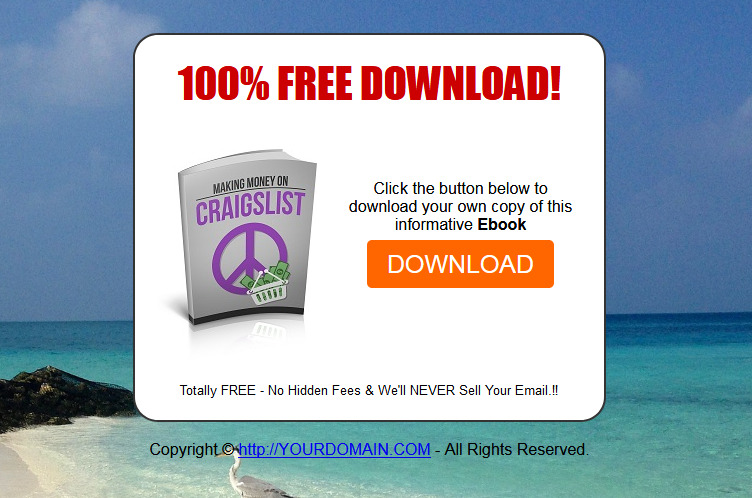 >> Click Here To View Sales Page...
Table of Contents
1. What is Craigslist? ..3
The History of Craigslist 3
Craigslist Today 5
2. How Do I Use Craigslist? 7
Getting Started 7
Searching for Ads .. 12
Posting your Ads 12
Tips on Ad Writing . 14
General Writing Tips & Using Copy for Advertising .. 15
Keywords are Killer! .. 18
Organize Your Listing 20
3. Sell Your Junk! .. 22
What you can and cannot sell 22
How to Market Your Items .. 24
Using Advertising Language to Market . 24
Combos, Bonuses and Best Offers, Oh My! . 25
To Sell, or to Toss? That is the Question. 25
Obsolete & Out of Sight 26
Family Treasures 27
Is it Seasonal? Timing is Key .. 27
Safety Tips for In-Person Exchanges 28
4. Selling Digital Content . 29
Ideas for Products . 29
Methods of Distribution 29
Copyright Info and Things to Watch Out For . 30
5. Sell Your Services . 32
What You Can and Cannot Offer 32
Popular Areas of Service .. 32
How to Market Yourself 34
6. To Conclude 35
Sample Content Preview
In need of a domain name for this, Craig registered Craigslist.org (as well as Craigslist.com later on, to prevent the name from being used for other purposes). Around the time of these events, Newmark realized that the site was growing so fast that he could stop working as a software engineer and work full time running Craigslist. By April 2000, there were nine employees working out of Newmark's apartment on Cole Street in San Francisco.
Newmark says that Craigslist works because it gives people a voice, a sense of community trust and even intimacy. Other factors he cites are consistency of down-to-earth values, customer service and simplicity. Newmark was approached with an offer for running banner ads on Craigslist, but he decided to decline. In 2002, Craigslist staff posted mock-banner ads throughout the site as an April Fools joke.
In 2001, the company started the Craigslist Foundation, a section 501(c) nonprofit organization that connects people to the resources they need to strengthen communities and neighborhoods. It offers free and low-cost events and online resources to promote community building at all levels. It accepts charitable donations and, rather than directly funding organizations, it produces "Face-to-face events and offers online resources to help grassroots organizations get off the ground and contribute real value to the community."
Since 2004, the Craigslist Foundation has hosted an annual conference called Boot Camp, an in-person event that focuses on skills for connecting, motivating and inspiring greater community involvement and impact. Boot Camp has drawn more than 10,000 passionate people since its inception. The next Boot Camp event will be held on Saturday, August 14, 2010.
The Craigslist Foundation is also the fiscal sponsor for Our Good Works, the organization that manages AllforGood.org, an application that distributes volunteer opportunities across the web and helps people get involved in their communities.
Craigslist Today
As of 2009 Craigslist.com has a staff of 28 people and makes most of its money from paid job ads in cities like San Francisco, New York City, Los Angeles, San Diego, Boston, Seattle, Washington D.C., Chicago, Philadelphia and Portland, Oregon – and paid broker apartment listings in New York City.
The site serves over twenty billion page views per month, putting it in 33rd place overall among web sites worldwide and 7th place overall among web sites in the United States, with over 49.4 million unique monthly visitors in the United States alone .
With over eighty million new classified advertisements each month, Craigslist is the leading classifieds service in any medium. The site receives over two million new job listings each month, making it one of the top job boards in the world. The classified advertisements range from traditional buy/sell ads and community announcements to personal ads and erotic ads.
One of the most notable things about Craigslist.com is that it has gone through very little aesthetic changes since 1996 and even for that time it's extremely simple and basic.
Today there are a plethora of options for users to choose from as far as which types of listings can be searched though or posted. Craigslist has comprehensive for-sale listings with everything from cars to household appliances. The website also has an extensive jobs/services section as well as a classifieds section for social interaction.
You can sell just about anything on Craigslist. People post ads for everyday items, brand new items sold in bulk or used collectables. Craigslist is renowned for being one of the primary online sources of local, affordable merchandise.
Selling digital content is also possible on Craigslist, usually with the help of a third-party website service for processing funds and delivering content. In this respect Craigslist works as an excellent advertising system wherein every poster gets at least a few minutes at the "top of the list" sweet spot.
Lastly there are untold profits to be made by seeking jobs on Craigslist or offering services. Craigslist has both employer-seeking ads as well as employee-seeking ads. You can provide service to local people and get paid per-job like a contractor, you can find local full-time and part-time jobs or you can look for someone to do the work for you.
As you can see there are nearly limitless opportunities to make profit from Craigslist.com. It's one of the most diverse websites for buying/selling goods and services and it's completely free! All you need to do to start profiting from Craigslist is figure out what you want to do (Sell junk, offer your services or provide digital content) and figure out how to use the website!
2. How Do I Use Craigslist?
Getting Started
Using Craigslist is easy, and navigating the site is fairly straight-forward. The first thing you'll want to do is create an account. Start by finding your local Craigslist page. Each major city (and sometimes county or area) has its own page on which listings are specific to that respective metro area. You can choose from the list of major cities on the Craigslist homepage, or click into your state and your local market from there.
From there just look at the panel on the left-hand side of the screen. Select "Login" or "My Account" and you'll be directed to the sign-in page. Directly under the yellow box where a preexisting user would sign in there's a link that says "Sign up for an account." Signing up is not mandatory but if you're serious about using Craigslist for making money then you're going to want to create an account.
Other Details
- 25 Articles (TXT)
- 1 Ebook (PDF), 35 Pages
- 1 Squeeze Page (HTML)
- 2 Ecovers (PNG)
- Year Released/Circulated: 2018
- File Size: 1,776 KB
License Details:
[YES] Can sell and keep 100% of the sales.
[YES] Can edit the squeeze page.
[YES] Can be bundled into another paid package and sell at a higher price.
[YES] Can be used as a bonus to another product you are selling.
[YES] Can be sold in a Dime sale event.
[YES] Can be added into a paid membership site.
[YES] Can pass on the Master Resell Rights privilege to your customers.
[YES] Can be given away for free AGAINST an email address (lead generation)
[NO] Contents of the product can be edited, modified or altered.