Salespage Snapshot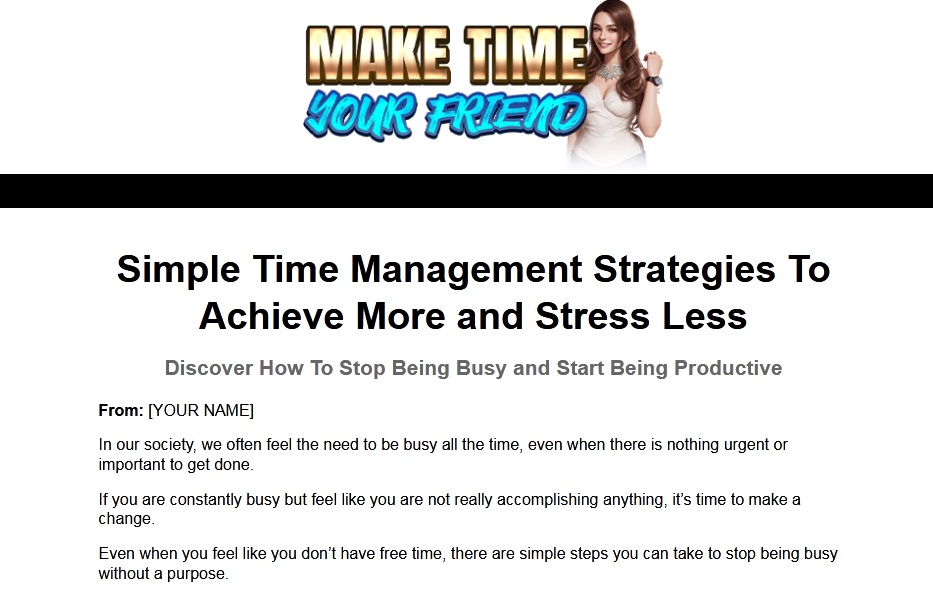 >> Click Here To View Sales Page...
Table of Contents
Introduction: Understanding the Importance of Time Management 7
What is time management? 8
Types of time management 9
Plan 9
Prioritize 9
Perform 10
How time management impacts your goals 10
Take control of your time 11
Defining Your Goals and Priorities 13
How to set goals for yourself 13
Identify problems as they arise 14
List your goals from most to least important 14
Identify your micro goals 15
Overcoming Procrastination 18
Knock out unpleasant tasks as soon as possible 18
Use the Pomodoro technique 19
Get on your feet 19
Set realistic expectations 20
Establishing a Productive Routine 22
Examine your daily rituals 23
Figure out what's getting in your way 24
Set morning and night time tasks 25
Get on a steady sleeping schedule 25
Learning to Focus and Eliminate Distractions 28
Keep your phone away 28
Create a workspace 29
Don't let others interrupt you 29
Give yourself timed breaks 30
Delegating Tasks Effectively 32
Figure out your workload 32
Figure out schedules 33
Assign tasks to appropriate parties 33
Managing Stress and Maintaining a Work-Life Balance 36
Minimize work talk at home 36
Set boundaries with coworkers 37
Keep your private life private 37
Don't engage in work gossip 38
Prioritize your hobbies 38
Planning and Preparation for Success 41
Reward yourself 41
Figure out how to maintain your success 42
Prepare yourself for new tasks 43
Using the Pomodoro Technique for Maximum Productivity 45
What is the Pomodoro Technique? 45
Examples of times to use the Pomodoro Technique 46
How the Pomodoro Technique fights procrastination 46
When to stop using the Pomodoro Technique 46
Turning Ideas into Action: Strategies for Taking Effective Steps 49
Focus on realistic concepts 49
Get rid of obstacles 50
Communicate with plan participants 50
Set goals 51
Organize priorities 51
Start as soon as possible 51
Measuring Your Progress and Staying Accountable 54
Create deadlines for yourself 54
Break your progress up 55
Use a rewards system 55
Don't excuse your behavior 56
Try and try again 57
Building and Maintaining Positive Time Management Habits 59
Set a morning routine 59
Set reminders 60
Create a schedule 61
Stay ahead of schedule 61
Attend to your needs 62
Adjust as necessary 63
Sample Content Preview
Types of time management
Before you start your goal achievement journey will discuss the types of time management you need to conquer. Different tasks require different time management categories if you want to accomplish things in a timely manner. For example, people could have a different work process for socialization goals than for career-related goals.
Plan
Whether you want to achieve short-term or long-term goals, you need a plan. We recommend creating a physical list of goals you want to accomplish to get yourself started. Otherwise, creating an effective to-do list for yourself can be difficult.
During this planning stage, you should identify anything that gets in the way of your goals. Then, ensure you add a way to conquer that obstacle to your list. Not paying attention to roadblocks will make it difficult to complete important tasks.
Prioritize
After you jot everything down that you want to accomplish, you should sort them in order on your priority list. Things at the top of your priority list should be goals you can accomplish or start immediately. It's also crucial to prioritize goals based on their importance to your well-being.
Remember, you can rearrange your priority list as you start your journey. You might realize that there are things in the way of these goals you didn't notice when prioritizing them. However, getting to the performance portion is difficult if you don't figure out where to start.
Perform
Okay, here's the hard part. You have your list of goals and achievements, but now you have to go through your to-do list. Take things one step at a time when you perform these goals to ensure you're setting realistic time management achievements. For example, some of the tasks on your priority list may take longer than you anticipate.
Remind yourself that the work won't get done unless you get up and do it. People often struggle with waiting for the perfect time to start new habits. However, when you keep creating excuses for yourself to put off a task, you'll never get started. Assume there will never be a perfect time, and figure out how to adjust your current schedule to accommodate your needs.
How time management impacts your goals
Giving yourself a time frame that you want to accomplish a task makes it more realistic. Otherwise, you'll fantasize more about these goals than working toward them. Having great time management skills daily will help you get everything you need sooner rather than later or never.
Procrastination is a problem everybody faces at one point or another. Even when you have a desire in place, getting through the mundane portions of achieving your desire is difficult. People would rather reap the rewards without putting in the effort, but this isn't possible.
Take control of your time
But some people have trouble honing their time management skills because they feel like they don't have control of their time and environments. For example, completing assignments on your computer is easier when you have an office that's away from the rest of your family. Meanwhile, working feels impossible if surrounded by people who want your attention.
Being surrounded by distractions will make it difficult for you to control your time. Right now, it might seem like you're only wasting 10 minutes away from your task, but these minutes add up. Wouldn't you rather relax after your work than get distracted during the process?
Other Details
- 1 Ebook (PDF), 64 Pages
- 12 Graphics (PNG)
- 1 Salespage (HTML)
- Checklist, Resource Cheat Sheet, Mindmap, Optin Page, Social Media Images, Email Swipes
- Year Released/Circulated: 2023
- File Size: 20,781 KB
License Details:
You may add this product to your PAID membership site
You may giveaway the product as a bonus when people buy through your affiliate link
You may edit the included sales page and opt-in page
No, you may NOT edit the contents of the eBook(s) & videos
No, this product does NOT include private label rights. You are granted Master Resell Rights only
No, you may NOT giveaway the eBook(s) & videos for free. Must be sold for at least $7.00 (videos $17)