Salespage Snapshot: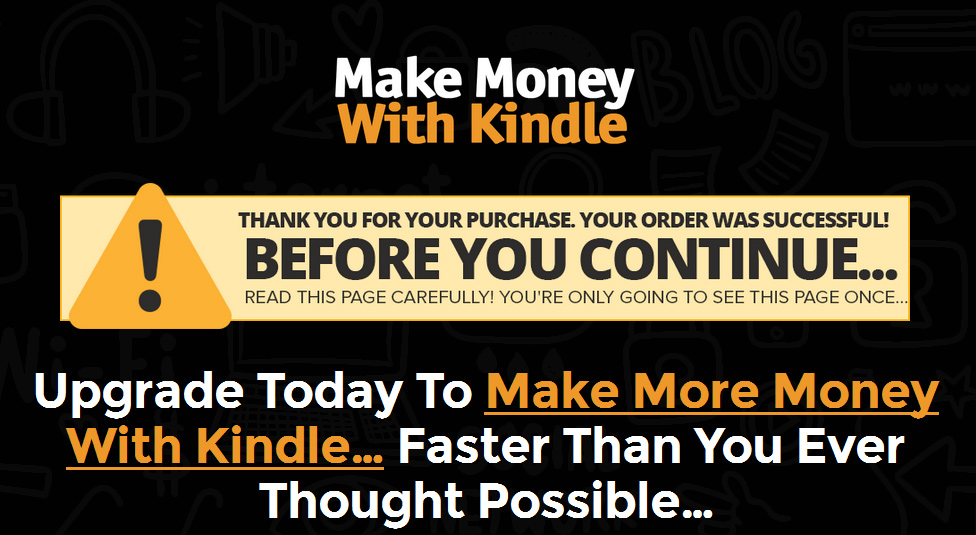 >>> Click Here To View Full Sales Page…
Table of Contents
Chapter 1: Why You Need to Consider Publishing on Kindle ……. 3
Chapter 2: What is Kindle? … 7
History of the Kindle Hardware 7
The Kindle Store …… 10
Who Reads Kindle Books? ……. 11
Chapter 3: Choosing Your Niche . 14
Why You Can't Choose Any Niche .. 14
How to Pick the Perfect Niche …. 17
But… I Want to Write Fiction! . 20
Chapter 4: Creating Awesome Books That Will Sell … 21
What Makes a Good Kindle Book? .. 22
More Features and Aspects 24
Outsourcing the Creation of Your Book .. 25
How to Get Content for Your Book . 26
Other Platforms .. 27
Horizontal Distribution 28
Chapter 5: Formatting Your Book ……. 30
Kindle Format 8 ……. 31
Chapter 6: Publishing Your Book 35
Creating Your Listing and Cover Image for Maximum Sales … 36
Pricing and Royalties ……. 38
Kindle Select …. 39
Chapter 7: Marketing Your Book and Increasing Your Ranking and Sales . 41
Chapter 8: Conclusions and Closing Comments . 44
Sample Content Preview
Iterations and Models
Originally the Kindle was white in color with a 6 inch display and 250MB of internal storage. This original model also had expandable storage via an SD card slot and was co-designed with Qualcomm to connect to the web via 3G anywhere in the world. This first generation sold only in the US and was later updated with an 'XL' version that increased the screen size.
Kindle 2 hit the stores a little while later and was still white in color, now with 1.4GB of internal memory and a 'text to speech' option for reading music aloud. It was slimmer too and came to international markets as well.
The third generation of Kindle made the device a matte black/charcoal grey which would remain the chosen color. This edition came with a keyboard and was dubbed 'Kindle Keyboard'. It also had an experimental 'browser mode' allowing web browsing up to 50MB per month anywhere in the World.
Kindle 4 did away with the keyboard in 2011, while Kindle Touch also launched with a touchscreen. The fifth generation launched in 2012 with 15% faster page loads. The Kindle Paperwhite meanwhile boated a higher resolution (near XGA at 758×1024) and a built-in LED for night-time reading. The Paperwhite is currently the dominant model is and currently in its third generation. The 'Paperwhite 2015' was released in 2015 (funny that) and has improved ability to display PDF files, allowing users to do things like select text. It also has translation capabilities, a six week battery life (when used for around 30 minutes each day on average) and better formatting capabilities (including a new font called 'Bookerly').
There is also a modern update to the traditional Kindle, the Kindle 7, which was released in 2014. This model is a basic Kindle with a touchscreen and has a 1 GHz CPU. Another modern model is the 'Kindle Voyage' which came out in 2014 with a 6-inch 300ppi e-ink display and an adaptive LED that responds to the lighting in the environment.
Kindle Fire
The Kindle Fire is a more traditional Android tablet that carries the Kindle name. This is a device that looks and feels a lot like your typical Nexus device and which has access to the Amazon App store. That means it can be used not only to read your selection of Kindle books but also to handle a number of other activities whether that means playing Angry Birds or watching YouTube.
Although the three Kindle Fire tablets are Android devices, they have a secondary 'skin' provided by Amazon called 'Fire OS' which makes them look and behave differently.
Unlike other Kindles, there is no 3G option for Kindle Fire and the screen is a regular tablet screen that can produce a fair amount of glare.
The Kindle Store
Perhaps the most important aspect of the Kindle is the Kindle Store. The Kindle Store is basically a marketplace and distribution platform that allows users to browse and purchase ebooks. This works just like an app store, or like the regular Amazon store, in that users search for titles using the usual search box and then just click to buy. Once they do that, the book will then download to their device and they can start reading it from their personal 'library'.
The Kindle Store is actually bigger than that though. For instance, users can also download Kindle apps in order to access their Kindle books on their smartphones. With the Kindle app for Android and iOS, a user can browse their library and read their selection of books. At the same time, they can also browse the store in order to purchase new books. Books on Kindle devices and the app will automatically be synced so that you can stop reading on your Kindle, then pick up from where you left off on your mobile when you're bored in a queue at the bank. This is important for us as publishers, as it means our audience is actually much larger than only the number of people who own Kindles.
Likewise, it's also possible to buy Kindle books through Amazon.com. This way, users elect to buy either the physical or digital version of the book when they're looking through the store. Subsequently, the file will be downloaded to the Kindle or they'll be delivered the hard copy.
Books sold on the Kindle Store are available in ePub format. This format allows for certain additional features such as interactive menus and it helps to keep your books protected.
As on Amazon and most app stores, it's possible for users to leave reviews about the books which can encourage or deter other users from making a purchase. This, as well as factors such as sales and keywords, combine to influence the ranking order of the books for different search strings. This is something we'll be looking at in a lot more detail later in this book.
The Kindle Store has recently introduced a number of initiatives. These include a subscription service called 'Kindle Unlimited' and a rental system that allows users to 'borrow' books. We'll look at what both these mean and whether you should opt in or out later on.
For us, the biggest appeal of the Kindle store is that it's a ready-made distribution platform. If you can get a book to be featured prominently in this platform, then you can guarantee it will be seen daily by hundreds or thousands of people. People can then order the books without you having to lift a finger and they'll be buying with one click, without you having to gain their trust first or manage their transaction.
In this way, a distribution platform becomes a 'route to market' and it makes the whole process of selling considerably easier. Now you don't need to worry about reaching your buyers, gaining their trust or any of those other things. It's like getting a product onto the shelf of a massive store and it's one of the gigantic advantages of being a Kindle publisher.
Who Reads Kindle Books?
Now you know the basics of the Kindle ecosystem, you should start to have a good idea as to how your book will be found, read and enjoyed by other users. What you also need to think about though, is who will be reading your books and when. What is it that makes the Kindle so popular?
Understanding this can help you to better understand your audience and thereby to make more sales.
Of course there are countless types of people who use the Kindle and this is one of its major appeals – the Kindle is a particularly user friendly piece of technology. Amazon is such a household name that it's something everyone can trust. This is important because a lot of older web users often worry about security when shopping online and this can prevent sales. At the same time, the Kindle feels a lot more like a book to hold and use and has a very simple and straightforward interface. As such, it is enjoyed by people who might not normally use tablets – a much wider demographic than most digital marketers are used to selling to. This in turn means that you can think a little wider in terms of your niche. Don't just go for the same topics you're used to covering online – think about things that Mums or elderly readers might enjoy.
The main appeal of the Kindle is that it can be easily taken anywhere and can hold so many books. This is the perfect solution if you're going on holiday for instance and you want to read a lot of books without adding too much weight to your luggage. And because Kindles offer 3G anywhere in the world (depending on the model) you can even buy and download new books to read while you're out there.
Holiday makers and travellers then are two of the biggest groups to read on Kindle and many people will dust their devices off mainly when they're going on holiday. Think about this when choosing what type of books to write – if it's something people would typically enjoy on a holiday (like a travel guide) then you might be on to a winner!
Likewise, a lot of commuters will read Kindles as a way to entertain themselves on the train/subway/bus. This again opens up another larger audience for your books: the professional. Think about the kinds of things that city workers might like to read and the kinds of things they're specifically going to be in the mood to read on the way into work.
Chapter 3: Choosing Your Niche
This brings us on to the first big question you'll need to ask when creating your Kindle book: what niche are you going to try and compete in?
This is actually one of the most important decisions you'll make in the entire process as it will determine the audience for your app, the marketing options available to you, the amount of competition and much more. If you don't choose your niche carefully, then you'll end up making a lot more work for yourself when it comes to promotion and in the worst case scenario, you may even limit the size of your potential audience to such an extent that it's hard to make much money at all.
Other Details
- 10 Articles (TXT)
- 1 Ebook (PDF), 45 Pages
- 5 Graphics (PNG)
- 1 Salespage (HTML)
- 10 Ecovers (JPG)
- 10 Promotional Ad Materials (Emails, Banners)
- Mindmap, Resource Report, Cheat Sheet, Social Media Images Pack, Legal Page, Sales Video
- Year Released/Circulated: 2016
- File Size: 81,176 KB
License Details:
[YES] Can be packaged
[YES] You Can Use This Product Yourself
[YES] Can be sold as it is not less than $7 price tag!
[YES] Can pass on the Resell Rights privilege to your customers.
[YES] Can Add This Product to a Membership Site or Bundled Within a Product Package as a Bonus.
[YES] Can be used to create audio/webinar/video products
[YES] Can Give Away The Product (NOT The Source Code Files) To Your Subscribers, Members or Customers as a Bonus or Gift.
[YES] Can change sales page and/or graphics
[YES] Can be added to paid membership sites
[YES] Can sell master resale rights
[NO] Add to a free membership sites
[NO] You can't just pass away the product to anyone
[NO] Contents of the product can be edited, modified or altered.