Salespage Snapshot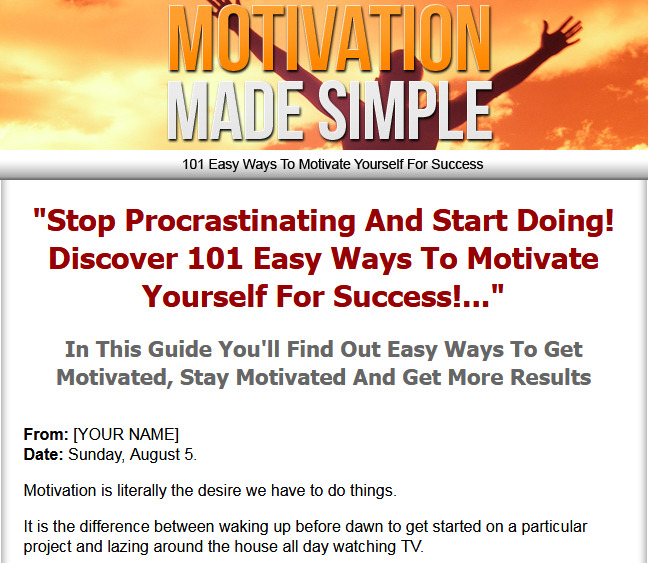 >> Click Here To View Sales Page...
Sample Content Preview
create a plan to increase your income. It might be going back to school, obtaining a higher paying job, or developing a profitable website. The key is moving from an indefinable desire to tangible, measurable steps. If you focus your mind on positive goals instead of fear, you put your brain to work creating a plan for success. You are no longer worrying about the future. Instead, you're beginning to do something about it.
– Lack of direction—If you don't know what to do, how can you possibly be motivated to do it? When you're focusing on having an ultimate goal, direction means having a day-to-day plan to achieve it. Not having direction can destroy motivation, because without an obvious next action we succumb to procrastination. The key to finding direction is identifying the activities that lead to success. Make a list of all your activities and arrange them based on the results you achieve from each activity. Then make a make an action plan that focuses on the activities pay off. When you keep track of your most important tasks you will direct your power towards success.
You have to possess specific targets if you wish to remove confusion. It's like attempting to carry out a number of things at the same time. You'll certainly not get anything done trying to complete everything.
When you feel yourself losing motivation, you can regain direction by creating a plan that contains two positive actions. The first one should be a small task you've been meaning to do, while the second should be a long-term goal. When you immediately do the smaller task, you create positive momentum. Then it's easier to take the first step to achieving the long-term goal.
It's practically impossible to avoid periods of low energy, bad luck, and even the occasional failure. Motivation can be difficult during these times. There is no simple solution for a lack of motivation. Even after beating it, the problem reappears at the first sign of failure. This book will give you tips you can use to help pull yourself out of a slump before it gains momentum.
Motivation Tips
Here are 101 tips you can use to improve and maintain motivation. For any new project, however, the first three tips should always be done to improve your chance of success and help maintain motivation.
1. Know what you want to achieve—If you don't know what you want to achieve, how will you know when you achieve it? Deciding exactly what you want to do is the beginning of staying motivated to finish it.
2. Determine the steps to reach your goal—There are things you need to do for anything you want to do. Knowing what the steps are will give you a guideline. They'll also give you mini successes as you complete each step.
3. Devise a plan—Though there may be many steps to take, it is necessary to know in what order you need to achieve them. If possible, alternate between those that are easy to achieve and those that will take longer. This way, you don't go through long periods of time without completing part of your plan. It will help you feel more successful if you complete parts of the plan often.
Goals provide focus. With no guiding plan, people tend to drift. Goals also provide a measuring device for progress, enhance productivity, improve self-esteem, and increase commitment, so you're more likely to achieve whatever you set out to conquer.
4. Increase the challenge of your project—If you're lacking motivation to do anything, try something you've never done before. Simply the thought of doing something new and exciting can give us temporary motivation.
5. Remember success is your personal responsibility—You need to believe that initiative, effort, and persistence are key factors in achieving success. Too many times, individuals are more likely to view success as dependent on available resources and situational constraints. They simply say the task was too difficult for outside reasons. Where there's a will, there's a way, and it is your responsibility to find it.
6. Think of demanding tasks as opportunities—When facing a task where success is uncertain, think of it a challenge or an opportunity. Don't think of them threats that may lead to failure and embarrassment. This causes you to give up before you start.
7. Remember striving for achievement can be enjoyable—Perseverance pays off. Approaching each task with dedication, concentration, commitment and involvement can help you maintain motivation. You may find you enjoy it, and the obstacle isn't nearly as difficult as you figured it to be.
8. Learn to value achievement striving—If you value hard work in and of itself, you'll enjoy it more, and therefore, be more motivated. Unfortunately, too many people view it as not "cool." Their typical excuse is that working too hard may only keep them from having a social life, or even cause them to have a heart attack. What it really does, however, is lead to success and happiness in their lives.
9. Improve your skills—Sometimes you may have a goal that you don't have the necessary skills to achieve. Don't give up! Skills can be improved. Sometimes all it takes is practice.
10. Learn what you need to learn—If information is keeping you from achieving your goals, determine ways to fill in the gaps, and build this into your action plan. Be willing to study and work hard to reach your goals.
11. Persistence works—Continued effort and commitment will overcome initial obstacles or failures. Don't see an early failure as a sign of things to come. Remember the old saying, "If at first you don't succeed, try, try again." Once you achieve your first success this way, you'll be less apt to give up and lose motivation too quickly in the future.
12. Try living in the now as if it were the future that you hope to have—For example, if you want to lose weight, don't think of yourself as someone struggling to lose it. Think of yourself as someone pounds lighter. See yourself as healthier, and having a different lifestyle. To maintain this lifestyle, you have to eat healthier and exercise. Just think of how your life will be then, and do it now.
13. Put your goals in writing—Sometimes, the act of writing down what you are going to do is a strong motivator. Writing down goals helps you make them more specific and less vague. When you write them, use action verbs.
14. Give all your goals measurable outcomes—By doing so, it help you know when you've achieved each goal you set.
15. Specify completion dates—You won't always complete your goals on these dates, but setting them helps you stay focused on completion. Many people work better with deadlines. Don't make them unrealistic, but do set them so you'll have to push yourself to achieve them.
Other Details
- 1 Ebook (PDF), 34 Pages
- 1 Salespage (HTML)
- 1 Squeeze Page (HTML)
- Images
- Year Released/Circulated: 2018
- File Size: 1,714 KB
License Details:
[YES] Can be sold
[YES] Can be used for personal use
[YES] Can be packaged with other products
[YES] Can modify/change the sales letter
[YES] Can be added into paid membership websites
[YES] Can put your name on the sales letter
[YES] Can be offered as a bonus
[YES] Can be used to build a list - Give Away Ebook
[YES] Can print/publish offline
[YES] Can convey and sell Personal Use Rights
[YES] Can convey and sell Resale Rights
[YES] Can convey and sell Master Resale Rights
[NO] Can modify/change the main product
[NO] Can modify/change the graphics and ecover
[NO] Can be given away for free
[NO] Can be added to free membership websites
[NO] Can convey and sell Private Label Rights