Salespage Snapshot: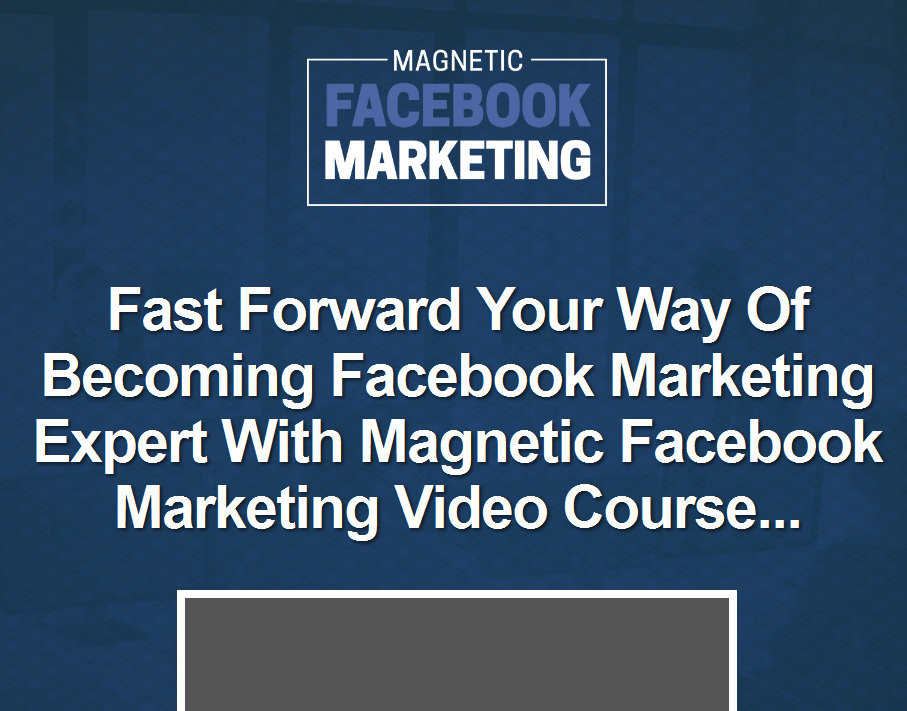 >>> Click Here To View Full Sales Page…
Table of Contents
Chapter I: How to Market Your Business on Facebook 5
Chapter 2: How to Avoid FB Jail .. 16
Chapter 3: Cracking Graph Search Ninja ….. 19
Chapter 4: Bridge Marketing & Facebook Chat Recipe ….. 25
Chapter 5: How to Have Infinite FB Subscribers & Followers for Free .. 34
Chapter 6: Using Customized Facebook Images for Wow Factor ….. 41
Chapter 7: Getting Your Awesome Facebook Fan Page Done .. 45
Chapter 8: Using Facebook Apps for More Leads & Sales ….. 50
Chapter 9: Facebook Fan Page Insights 54
Chapter 10: Solving Facebook Advertisement 59
Chapter 11: Facebook Dark Post Surge . 71
Chapter 12: Facebook Retargeting Profit Maximizer ….. 85
Chapter 13: Why Facebook Retargeting . 91
Chapter 14: Real LIVE Example (You Will Love This) …. 96
Chapter 15: Let's Create an Ad Campaign Together . 101
Chapter 16: Facebook Retargeting best Practices (for Advanced Users).. 109
Chapter 17: Conclusion … 113
Sample Content Preview
Chapter 3: Cracking Graph Search Ninja
Facebook graph search is one of the smartest ways to search and build your target market.
You can have as many as 5000 targeted friends from your target market within 90 days using this technique.
Facebook graph search options continue to evolve almost every month as they keep on tweaking things but the basic principles always remain the same.
Let's jump straight into a personal Facebook account:
The area inside the red coloured rectangle is known as Facebook graph search.
If I type the keyword "Make Money Online", this automatically shows me groups with the same or similar keywords having thousands of people inside.
Similarly if I type the keyword "Pitbull Lovers" I will be notified with groups from that niche:
Do you see how easy it is to find people inside Facebook having similar interest?
Now you can join these groups and start connecting with people inside…
..or you can further use graph search to communicate with people.
Here you can also send them a direct message prior to adding them.
An example would be –
"Hey so nice to see you in the Make Money Online group. We do share common passion about building our businesses online. Let's connect and share some cool ideas to grow."
Now guess what will happen since you have build a common interest ground chances are much higher that this person will reply you back and connect.
Do not add more than 15-20 people per day using graph search.
Once you have sizeable number friends from the same industry you will see the ripple effect kicking in and people will also start adding you.
Chapter 4: Bridge Marketing & Facebook Chat Recipe
Bridge helps people to get across a gap or known as 'bridging the gap'. Bridge marketing is all about customizing your offer for target market.
You and your offer(s) are on one side and your prospects are on the other. The bridge is effective pitch to get them across.
Basically you need to create a bridge that connects with them and solves their problems.
Let's take two examples to explain this:
Say you are approaching a stay at home mom about making money online system. Now you can take two different approaches:
How to rank your blog almost instantly generating you tons of traffic targeted leads and sales on complete auto pilot.
Vs
Discover how a complete tech challenged stay at home mom of 2 kids makes money online spending less than 30 mins. every day.
Which of these approaches do you think would resonate with the stay at home mom?
You got it. Obviously the 2nd one as this relates to the prospect plus this clearly mentions that one need not be tech savvy (which is the case with most of the stay at home moms). Also they need less than 30 mins. per day where as in the first case the approach is all about fancy jargons and over the top idioms.
Approaching network marketers
My company has the best product and comp plan in the entire industry.
Vs.
I help network marketers capture more leads and recruit more reps for their business by using simple Facebook techniques.
First approach is all about blatant pitch which thousand other marketers do on a daily basis.
Whereas in 2nd approach you are connecting with them directly and offering value and more importantly solution to their pain.
After connecting with people always take the:
A – Ask them (about their biz opp.)
E – Explore (asking about their business will make them keen to talk to you)
I – Interested (Be interested)
O – Opportunity/ Offer (Offer your opportunity as a solution to their problem)
U – Yourself (Lead your business through you)
Remember people join people first and not the company or opportunity and everyone is searching for the solution of their problems.
Another ninja method to target any prospect is by using edge rank mechanism.
All you need to do is go inside your prospect's profile, click the friends tab and set it as "close friends". You can see a star sign appearing immediately.
By doing so all your posts and updates will be shown at the top of your prospects newsfeed.
This way you will always be at the top of your prospect's mind without approaching him directly.
FB chat tips #1: Stay focused
Spend maximum 30 mins. every day for chatting with your target market. Else this can easily put you out of focus.
FB chat tips #2: Research your prospects
Do some basic research work on prospect's common friends, whether they have a blog or not, what kind of groups are they associated with.
This will help you determine whether the prospect is worth your time or not.
FB chat tips #3: Use bridge marketing
As discussed earlier, use bridge marketing tactics to build rapport efficiently.
FB chat tips #4: Effective ice breaker
Check out prospect's common interest areas like sports, books, movies etc and use them as effective ice breaker.
Other Details
- 1 Ebook (PDF), 114 Pages
- 41 Graphics (PNG)
- 1 Salespage (HTML)
- 5 Promotional Ad Materials (Banners)
- Mindmap, Resource Report, Cheat Sheet, Legal Page, Sales Video
- Year Released/Circulated: 2016
- File Size: 206,499 KB
License Details:
yes can be sold as is
yes can be packaged or bundled with other product
yes can addedas a bonus to paid product
yes can be added to membership site yes can be added to your coaching program
yes can sell resale rights
no can sell master resale rights
no can sell private lael rights
no can be offered through auction sites
no can be sold on other resale sites