Salespage Snapshot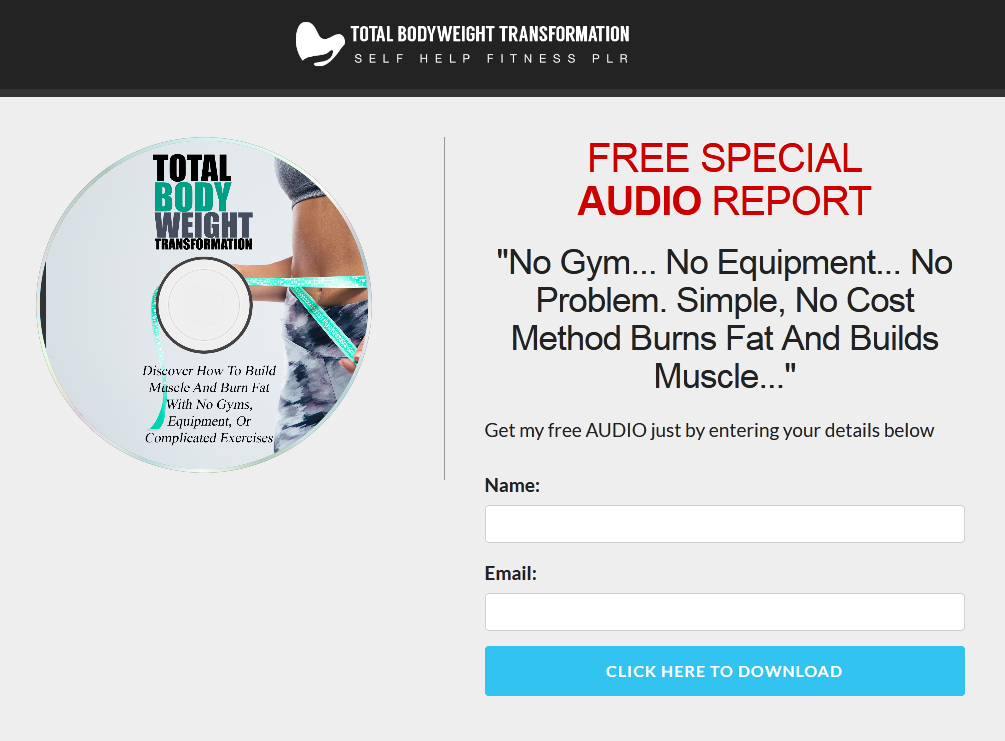 >> Click Here To View Sales Page...
Sample Content Preview
This makes all the difference in your training. Now, you only have to motivate yourself to do the press-ups. There's no going out in the cold, no lifting heavy, painful iron into position. No spending money on equipment or fees. No being gawked at by other people working out.
Now you train when you like, where you like, how you like. It's fun, it's quick and it's really easy.
And there are more reasons to love working out with only your bodyweight too.
For example:
Low Injury Rate: When you're training with weights in the gym, you'll regularly be throwing around huge dumbbells and barbells and performing scary compound movements like squats.
This makes it highly likely that you might put out a knee, strain your back or pull a muscle. There's even just the simple risk that you might drop a weight on yourself!
For these reasons, bodyweight training is much safer. Now, the only weight is yourself. There's nothing to drop and pulling a muscle is much less likely.
Weight/Strength Ratio: Bodyweight training is something that will always adapt to meet you at your current level of performance. The stronger you get, the heavier you get. That means that the weight you'll be pushing against will increase too and you'll never have to buy anything new.
What it also means though, is that you'll feel light and powerful. You'll be able to jump, run and climb with more speed and power than you've ever felt.
No need to jump, run and climb? Sure, it's not really something most of us need to be able to do these days! But being able to do those things is really what's exciting and interesting. This makes you feel powerful like a coiled spring to the point where you'll outperform everyone in sports even and just generally be much more formidable.
Let's face it, most people – even guys – don't want to look like a bodybuilder. If your aim is to be huge, to lose mobility and to run out of breath climbing the stairs then great! But if you want to be lean, ripped, fast and powerful then bodyweight can get you there.
Flexibility and Proprioception: It goes further than that too. Working out with your bodyweight can essentially give you ninja-like reflexes and skills. That's because you'll be using your whole body in conjunction all the time. You'll be forced to balance, to generate explosive power and more and all those things help to make you more aware of your own body and your own shape. You'll also improve your flexibility which is great for your overall health. Even your brain power can benefit from bodyweight exercise.
All this can eventually lead to you being able to do some incredible bodyweight moves. Once you're further into your training, you'll be pulling off feats like one armed pull ups, planche, handstand push ups and more. These are great party tricks and a great way to demonstrate total mastery over your own body.
Oh and because bodyweight training uses so much of your body, you'll make yourself tireder and you'll burn more calories too and improve your aerobic fitness. Bodyweight training is perfect for all around health.
Adaptable: Finally, bodyweight training is great for people who are just starting out and it's great for people who want to get into incredible shape. If you really want to build big muscles, you might be worried that bodyweight training is not for you. Read the Total Bodyweight Transformation ebook though and you'll find that you learn this just isn't true. You can build massive muscle if you want to, you just need to know how to push yourself with your own body alone.
At the same time though, bodyweight training can also be used to burn lots of fat fast. We learn in the book how you can use bodyweight in conjunction with tabata and HIIT in order to melt off fat and increase VO2 max.
But if you're just a beginner and you want something mild, easy and gently – then you're once again in the right place! Bodyweight training can mean using easy and simple moves like wall press ups, sit ups and press ups with your knees on the floor. This doesn't have to be hard at all and it really is something that anyone can do!
We've raved about bodyweight training enough now though. Now it's time that we actually get on with demonstrating the power of this type of exercise and helping you to start seeing results.
Other Details
- 1 Ebook (PDF, DOCX), 9 Pages
- 1 Audio (MP3)
- 1 Graphic (PNG)
- 1 Squeeze Page (HTML)
- Year Released/Circulated: 2022
- File Size: 8,853 KB
License Details:
You're granted master resell rights, resell rights or to resell with personal use rights.
You may add this product to your PAID membership site
You may giveaway the product as a bonus when people buy through your affiliate link
You may edit the included opt-in / squeeze / landing page
You may giveaway the eBook for Lead Generation purpose
No, you may NOT edit the contents of the eBook
No, this product does NOT include private label rights. You are granted Master Resell Rights only