Salespage Snapshot: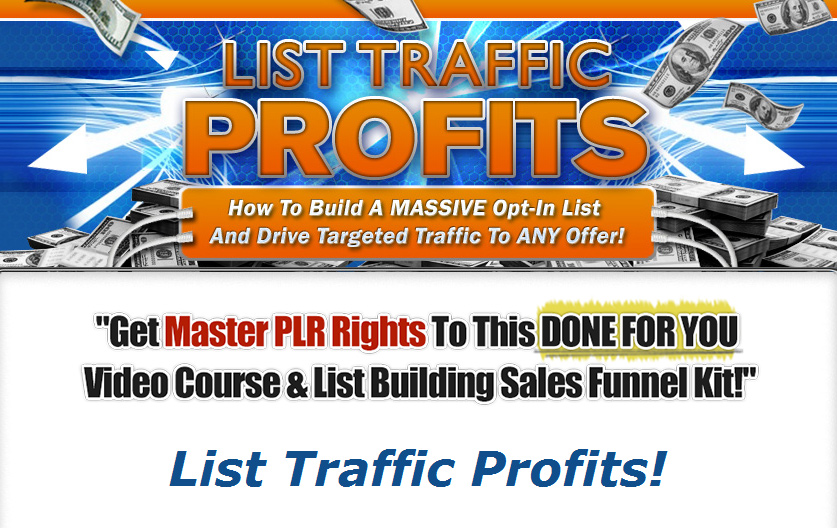 >>> Click Here To View Full Sales Page…
Table of Contents
Introduction ….6
What is List Building?..6
The Benefits of List Building …..7
What You Will Learn .10
Chapter 2: The Game Plan…….11
Chapter 3: What You Will need ………….14
Autoresponder ……….14
Domain Names and Web Hosting………19
Mindset! ……21
Chapter 4: Opt-Ins and Bribes! ………….23
Your Opt-In .23
Types of Bribes ………24
Ebooks…25
Free Reports……..26
Membership ………27
Prizes…..27
Deals and Offers..28
The E-Mails!………28
Placing Your Opt-In…29
Chapter 5: Creating a Landing Page ….30
What is a Landing Page?……..30
Formatting a Landing Page…..32
Persuasive Writing ….34
Tools For Building Your List….39
Chapter 6: Generating Traffic To Your Landing Page ….47
Solo Ads and Ad Swaps ………48
PPC………….49
Forums and Communities…….52
Content Marketing…..53
Chapter 7: Monetization – How To Make Money From Your List.55
Affiliate Marketing …..56
Creating a Product ….57
Reselling …..58
Making Money From the List Directly….59
Chapter 8: The Art of Follow-Up and Sequencing ……….60
When Do You Bite? ..60
One-Time-Offers and Upselling …….62
How Often Should You Email Your List? …………64
When Is The Best Time To Email Your List? ……65
Creating a Powerful Autoresponder Follow-Up Sequence ………….66
Types of Follow-Up Emails You Can Create ……66
Chapter 9: Conclusion………….68
Sample Content Preview
Chapter 2: The Game Plan
So now you know what you have to do. The next question is… how do you go about doing it?
In the title of this ebook we set out a very clear objective: to gain a 1,000- strong mailing list within 30 days. This objective is for everyone. You don't need to already have a website with tons of regular visitors (in which case it will be easy for you), you don't need to have another mailing list already and you won't need to have any powerful contacts in the digital marketing industry (though of course all these things help!).
This strategy will work for anyone and you should find that a mailing list of 1,000 is completely ample when it comes to making conversions. With 1,000 subscribers you should expect to be able to get conversions of at least 0.5-1%. Realistically that means 50-100 buyers – which if you have a $30 digital product will net you $3,000 a pop. That's not bad going and it's certainly not a bad wage for one month of work!
0.5-1% conversions is a realistic and modest target. What's more, 1,000 subscribers is something you can very likely gun for successfully as we'll see. But it doesn't stop there: once you have that first 1,000 you'll find you start to get exponential gains. The more subscribers you build, the more you will continue to build as you gather momentum, get the hang of it and leverage your existing contacts.
If you got 1,000 subscribers every month for the next year, then you would have 12,000 by the end of it – which is a pretty hefty list. More likely though, you'll find that your rewards double each month. Month one you'll get 1,000, month two will be 2,000 and so on. If you followed that pattern, then by the end of the year you would have… well… a lot.
To gain 1,000 subscribers in 30 days, you would need about 33 (point three recurring) new subscribers every day. Let's call it 34. That might sound like a lot but this isn't really the way you should be thinking about it.
What you'll find is that you're much more likely to get 200 in one day and 500 in another. You might have a couple of days where you get none. We'll be using different strategies throughout the month and you'll find it's almost impossible to predict which ones will be the big winners for you.
So that's the plan and the aim. 1,000 subscribers. 30 days. Before you read on, I want you to completely commit to this objective. At times it will be tough and there will of course be work involved – but once you get the hang of it and once the subscribers start coming in it will be more than worth it. A huge mailing list can actually set you up for life and you can end up as one of those 'super affiliates' living on the beach and using your private jet to visit Mum. And it all starts here.
So make that pledge, then read on!
Chapter 3: What You Will need
The first step towards your huge list is going to be signing up to a few essential services and getting a few tools. You can't build and manage a list all on your lonesome, so read on and we'll look at some of the things you'll need to get this ball rolling. Consider this a little bit like the ingredients for the recipe we're about to make.
Autoresponder
The first and most important thing you will need to build and manage your mailing list is an autoresponder. An autoresponder is basically a tool that lets you send e-mails out to large groups of people, that stores your addresses and that lets you easily manage them. Autoresponders also allow you to easily build your own opt-in forms which are the little forms you'll place on your site for people to join up.
These are necessary for a few different reasons. For starters, a professional looking opt-in form will make your mailing list seem more professional. This in turn will mean that people are more likely to be interested in signing up and it will mean that they'll expect higher quality. Make the form yourself and you risk making it look a little like an amateurish job – so use a professional tool instead.
Moreover though, it's simply impossible to manage a huge mailing list without one of these tools. When you run a mailing list, you need to protect yourself against spam, you need to make sure that people confirm their interest in signing up and you need to give people the opportunity to unsubscribe. You'll also probably want to send out a welcome message to all your new members.
With an autoresponder all this is made much easier. Autoresponders will handle all these different jobs automatically, meaning that you don't have to manually add and remove people from your list or manually welcome new members. If you were to at some point have a mailing list of hundreds of thousands of members you'd end up spending all day adding and removing people from your list – and that's why you need an autoresponder to do it for you.
Choosing Your Autoresponder
When it comes to signing up for an autoresponder, you have a number of different options. The big three names here though are MailChimp, Aweber and GetResponse. Each varies slightly in terms of the number of e-mails you can keep on the list and for what price.
Unfortunately it's not as easy as simply comparing three prices as the pricing structure for each one gets a little complicated. Instead then, refer to the grid below and you can see which ones offer the best rates under different conditions.
Other Details
- 1 Ebook (PDF), 69 Pages
- 10 Videos (MP4)
- 42 Graphics (JPG, PNG)
- 1 Salespage (HTML)
- 1 Squeeze Page (HTML)
- 6 Ecovers (JPG)
- 5 Promotional Ad Materials (Emails)
- Year Released/Circulated: 2016
- File Size: 160,082 KB
License Details:
[YES] Can be used for personal use
[YES] Can be sold at price determined by you
[YES] Can be added to paid membership sites
[YES] Can sell Master Resale Rights
[NO] Cannot be given away
[NO] Cannot be packaged with other products
[NO] Cannot be offered as a bonus
[NO] Cannot be offered through auction sites