Salespage Snapshot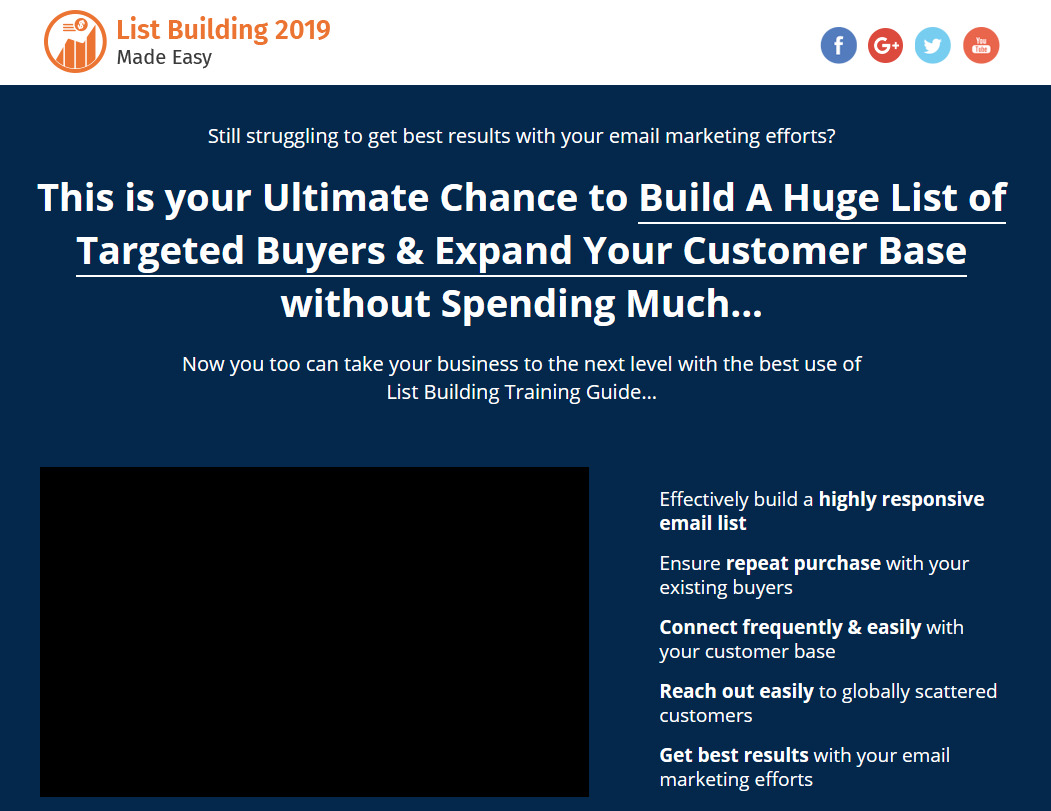 >> Click Here To View Sales Page...
Table of Contents
Introduction 04
Chapter 1: What Is List Building All About? 08
Chapter 2: Creating A Lead Magnet 11
Chapter 3: Setting Up A List Building Campaign 14
Chapter 4: Creating A High-Converting Landing Page 18
Chapter 5: Creating Page-Specific Call-To-Action Buttons l 22
Chapter 6: Using Blog Posts To Convert Visitors Into Subscribers 25
Chapter 7: Setting Up A Timed Pop-Up Opt-In 32
Chapter 8: Converting Subscribers Into Customers With A Sign-Up Bonus 37
Chapter 9: Using LinkedIn Groups To get New Email Subscribers 41
Chapter 10: Using YouTube Ads To Increase Sign Ups 44
Chapter 11: Setting Up A Survey To Grow Your Mailing List 48
Chapter 12: How To Get More Subscribers With A Content Series 52
Chapter 13: How To Optimize Confirmation Pages To Boost Your Subscriber Rate 55
Chapter 14: List Building Tricks To Try In 2019 57
Chapter 15: Social Media Tricks To Grow Your List In 2019 59
Chapter 16: Call-To-Action Best Practices For Marketers 64
Chapter 17: Do's and Don'ts 69
Chapter 18: Premium tools and Services to consider 74
Chapter 19: Shocking Case Studies 79
Chapter 20: Frequently Asked Questions 85
Conclusion 90
Top Resources 91
Special Offer 92
Sample Content Preview
Chapter 2: Creating A Lead Magnet
Hey there friends! Let's kick off this training by walking you through what lead magnets are, what type of lead magnets you can use, and how to create the most popular type of lead magnet with a quick example.
What Is A Lead Magnet?
A lead magnet is simply an incentive that you can use to convince online leads to join your mailing lists. More specifically, they are free content offers that give website visitors exclusive access to more valuable content in exchange for their email addresses, and they work this way:
You create a piece of valuable content in a popular format such as an eBook or a video. This is your lead magnet.
You create an opt-in page to offer your lead magnet on your website, for free. You simply have to ask your visitors to enter their email address so you can send them the eBook, or give them access to the video.
What Types Of Lead Magnets Can You Offer To Your Visitors?
Mini eBooks
eBooks are the most popular type of lead magnet because the majority of people are already familiar with them, and they are very easy to create. eBooks have to be authoritative but not too complex to appeal to all your customers.
To create an eBook, you will simply have to repurpose your own content in eBook format. For example, if you have list articles in your blog, you can use those articles to create mini eBooks by expanding each entry in the articles as chapters inside an eBook. You can then offer the eBooks to blog post readers as expanded versions of the same content.
Reports And Guides
Reports and guides are also popular because they provide leads with more robust content. To create a report or guide you have to pick a niche topic first, then to research that topic for as much relevant information as you can find about it, and then to use that information to create a kickass report in eBook format.
Cheat Sheets
Cheat sheets are brief content guides that cover a very specific set of guidelines or steps. Cheat sheets are commonly referred to as checklists, mind maps, or blueprints.
For example, if you have a long article about list building strategies, you can offer readers a checklist that they can use to make sure that they'll apply the strategies in the same sequence you put in your article.
Toolkits
Toolkits are resources that leads can actually use for work or productivity. For example, you can offer time management spreadsheets, design templates, productivity calendars, and font packages, to name a few.
Webinars and Video Training
You can promote webinars and access to video training demos on your website to engage truly interested leads. For Webinars, you will simply have to schedule launch dates and to promote them with a countdown clock on your content pages.
For video training, you'll have to create video versions of your content, to host the videos on pages outside your main site, and to provide individual access to each unique subscriber.
Creating A Lead Magnet The Easy Way
In this lesson we are going to show you how to create the most popular type of lead magnet: a mini eBook. You'll see how easy it is, and we're going to guide you through the essentials.
Start by pasting a piece of long-form content, between 2,000 to 3,000 words long, on a blank Word document. You can use any other word processing program that can export your finished eBook to PDF format, but for the purposes of this chapter we're going to use Word. Please consider using Word to properly implement the steps outlined in this lesson!
For this example we are going to use a draft of an article that we are also going to publish as a blog post on our site. This is a list article, so we are going to separate each entry as a chapter for the eBook.
Let's create the cover first. Start by clicking on the "insert" tab and then on the "cover page" option. Find a built-in cover page that fits your brand and your content and then click on it to insert it on your document. In our case, we are going to select a cover page with placeholder image, summary, and title.
Now we are going to replace the placeholder image with our logo. Now we are going to replace the placeholder title with the title of our eBook. Here you can use the title of the article or a variation of the title.
Other Details
- 1 Ebook (PDF), 104 Pages
- 1 Salespage (HTML)
- Top Resource Report, Cheat Sheet, Mindmap, Special Report
- Year Released/Circulated: 2019
- File Size: 5,672 KB
License Details:
[YES] Can use
[NO] RESELL OR GIVEAWAY