Salespage Snapshot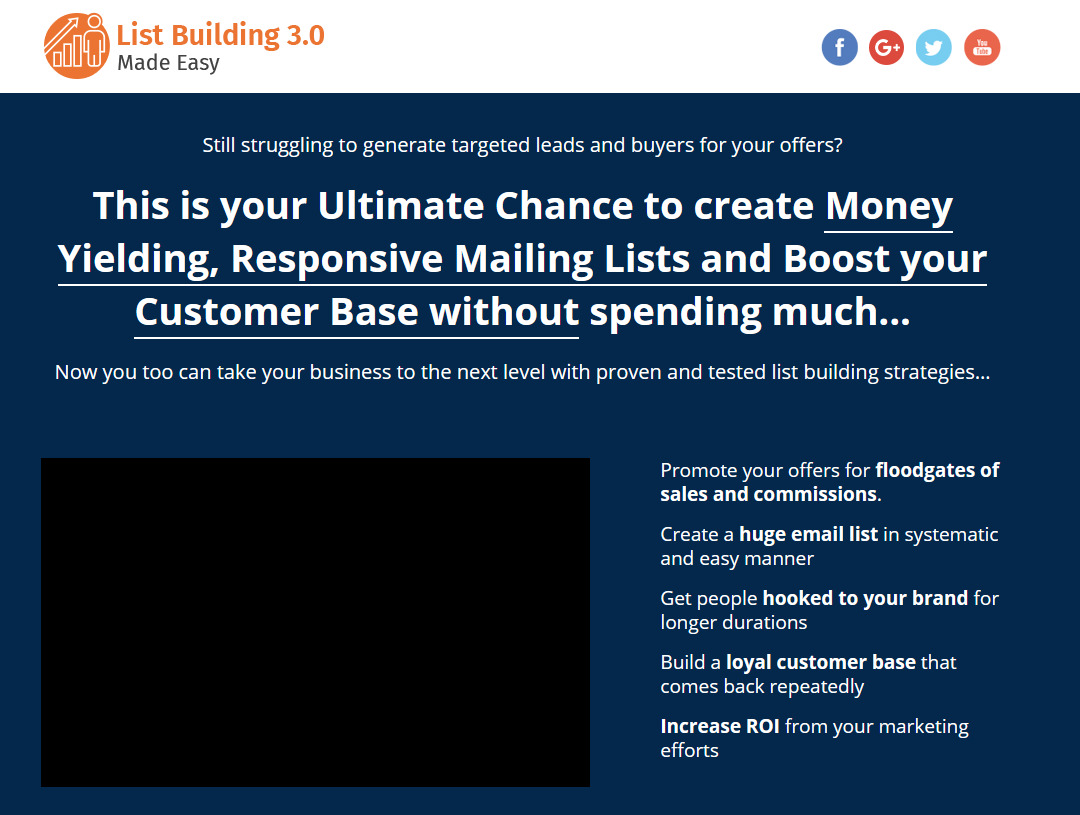 >> Click Here To View Sales Page...
Table of Contents
Introduction 04
Section 1: List Buildig Basics
Chapter 1: What is List Building all about? 07
Chapter 2: What can an Email list do for your Business? 10
Chapter 3: Shocking List Building Facts to Consider 13
Chapter 4: The 7 List Building Cornerstones 16
Section 2: List Building – Step by Step
Chapter 5: Preparing the Lead Magnet 21
Chapter 6: Setting up the Lead Capture Page 26
Chapter 7: Setting up the Email Automation 32
Chapter 8: Setting up your Tracking Strategy 37
Chapter 9: List Building Traffic Strategies 40
Chapter 10: Analyzing your Results 45
Chapter 11: Optimizing your Campaign 48
Section 3: Advanced List Building Strategies
Chapter 12: Creating High-Converting Follow Ups 52
Chapter 13: Split Testing Emails 55
Chapter 14: Using Polls to Increase Opt-Ins 58
Chapter 15: Optimizing Confirmation Emails 60
Chapter 16: Resending Unopened Emails 62
Section 4: Additional Tips to consider
Chapter 17: Dos and Don'ts 65
Chapter 18: Premium Tools and Services to consider 69
Chapter 19: Shocking Case Studies 74
Chapter 20: Frequently Asked Questions 81
Conclusion 84
Top Resources 85
Special Offer 86
Sample Content Preview
In our case we are going to leave this option deselected to choose a desktop template. Here we will have two options. We can select the "blank page" template to insert all of our lead capture page elements by ourselves or we can select a pre-designed template.
For this example we are going to select a pre-designed template that we can use to show you how to insert lead capture elements on a landing page by editing the preset elements on a preconfigured landing page, which you can use as inspiration to map out your own lead capture pages later on.
So we start by simply clicking over the template preview image. We will be asked to name our landing page, so we enter a name for our new landing page and then click on the "save and design" button.
Alright, now that it has loaded up, we can start by editing the most important lead capturing elements on this page from top to bottom starting with the logo, which we can edit by double clicking on the "your logo" element.
We are now going to click on "upload a file" to look for our logo file on our computer. Now that our file has been uploaded we will simply have to click on it to select it. Now that it is loaded on the page we are going to use the image resizing function to fit it on the lead capture page header.
We are going to click and hold on the "rich text" button on the left side menu to drag it to the header right beside our icon so we can enter our business' name there, in order to accompany our logo as to eliminate the empty space on the header.
What we do is to simply change the font type and the size of the font to better accommodate it to the space in question, and then we change its color to match the colors in our logo. Note how we use the guiding lines to position our elements in harmony with everything else on this page. Remember that these details are important.
Now we are going to edit the text in our page. There you have the headline, the call to action and the description. Let's start with the headline. This is one of the most important elements on your lead capture page, and one trick to make it effective is by making it into a question, or an intriguing phrase. Basically, anything that triggers a curious response in your leads will work fine here.
Because we are going to promote a diabetes care oriented eBook as our lead magnet, we are going to phrase our headline as the question: "How Much Do You Know About Your Own Diabetes?" and our call to action as "Sign up to learn about the 10 things you might not know about your own Diabetes".
Then we edit the description to describe a benefit of signing up to our mailing list beyond the free eBook, such as getting important updates from then on. Let's now double click over the lead capture form on the right.
First we will have to edit our form field. Here the lead capture page is designed to ask leads for their name, their email and their phone number. We are going to simplify it as an email capture page, and as such we will simply need to hover over the "phone" field, click on "edit field" and then on "delete field" and then on "ok".
Now we have optimized our lead capture page to work as an email capture form. We now hover over the sign up button and click on "edit button" to enter our call to action button message and hit on "OK" to save our changes.
Let's now go over to the "form settings" tab. In this section we will simply have to select the "redirect to pdf" option, click on "upload a new file", look for our lead magnet inside our computer, and then click on it once it uploads.
Now we'll simply have to click on "apply". Now we go back to the "form fields" section and make sure that everything is correct. Here you can simply click on "apply" in case that your changes weren't saved on this section. Let's now fine tune the last details on this template by editing the text in our lead capture form text.
Now we will scroll down to edit the sections below. We are not going to use this section, so we will simply have to right click over it, click on "remove" and then "apply".
Now, the last section below, we can use it by double clicking on the featured image to add our business icon.
Then we are going to insert text below it to add our custom company message. Alright, so it looks awesome as it is, but we can use the "preview" button to see how it actually looks outside the editor. Beautiful! We now click on "back to design" and then on the "save" button.
And that's it! We now have an awesome, high converting lead capture page optimized to capture qualified email leads. Let's now continue by clicking on the "back to dashboard" button.
As you might know, you will need a landing page URL to show your new lead capture page to your leads. Back on our dashboard we have two options for this: "custom domain URL" and "page default URL".
The "page default url" option is selected by default and will allow us to publish our new lead capture page immediately. We will only need to share the default url with our potential leads.
Other Details
- 1 Ebook (PDF), 87 Pages
- 1 Salespage (HTML)
- Resource Report, Cheat Sheet, Mindmap, Special Report
- Year Released/Circulated: 2017
- File Size: 7,716 KB
License Details:
[YES] Can use
[NO] RESELL OR GIVEAWAY