Salespage Snapshot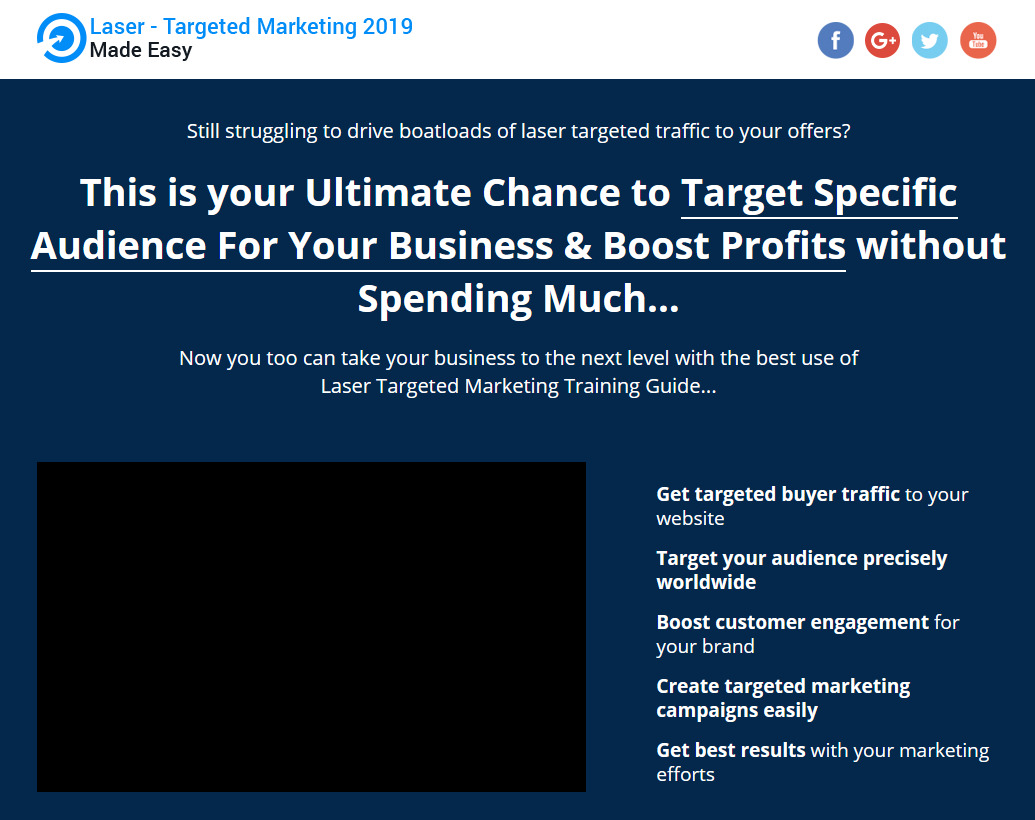 >> Click Here To View Sales Page...
Table of Contents
Introduction 05
Chapter 1: What Is Laser-Targeted Marketing In 2019 All About? 08
Chapter 2: Researching Keywords And Search Terms In Your Niche For Targeting 12
Chapter 3: How To Optimize Your Sites And Pages For Search Engines 18
Chapter 4: How To Write SEO Optimized Blog Posts To Engage Targeted Traffic 24
Chapter 5: How To Target & Rank Videos On Top Of YouTube Search Results For Huge YouTube Traffic 29
Chapter 6: Optimizing Posts For Your Targeted Audience To Generate Traffic From Top Social Media Sites 33
Chapter 7: How To Increase Referral Traffic With A Giveaway 37
Chapter 8: How To Run A Targeted Google Ads Campaign For Cost-Effective Traffic 40
Chapter 9: How To Run A Targeted Facebook Ads Campaign For Cost-Effective Traffic 44
Chapter 10: How To Re-Market Offers And Products To The Targeted Audience 49
Chapter 11: Setting Up An Email Newsletter To Your Target-Audience To Convert Leads Into Repeat Visitors 54
Chapter 12: Getting Targeted Guest Posting Deals To Build Backlinks In 2019 58
Chapter 13: Top Laser-Targeted Marketing Sources For Your Business In 2019 62
Chapter 14: Targeted Link Building Tips For Marketers In 2019 66
Chapter 15: Tricks To Increase Targeted Traffic For Your Website In 2019 70
Chapter 16: Alternative Targeting Strategies That You Can Try In 2019 74
Chapter 17: Do's and Don'ts 78
Chapter 18: Premium tools and Services to consider 82
Chapter 19: Shocking Case Studies 86
Chapter 20: Frequently Asked Questions 91
Conclusion 95
Top Resources 96
Special Offer 98
Sample Content Preview
Chapter 2: Researching Keywords And Search Terms In Your Niche For Targeting
Hey there friends! "Search Engine Optimizations" are a crucial aspect of a laser-targeted marketing campaign. When you optimize your content for search engines, you make it easier for leads and potential customers to engage with and convert through your content.
SEO is a step-by-step process that starts with keyword research. You see, your base niche keywords can be used across several search terms, and keywords as well as search terms have different search volumes that determine how high they'll rank your content.
In this lesson we are going to show you how to properly research and collect the best keywords and search terms to optimize your content.
Getting Started
First, you have to define your base niche keywords, or the keywords that define your target niche, segment, or product. For example, if your target niche is the diabetes care industry, then your base niche keyword should be "diabetes care".
Now, most marketers do keyword research directly on Google, but that takes a lot of time, and then you have to measure the traffic you attract with the keywords you find using an analytics tool, but we've found that you can use the "Google Keyword Planner" for quick and better results.
The "keyword planner" is an online tool offered by Google that allows you to research your keywords by providing you with search statistics that will help you to make the right decisions. It also shows you what other search terms your audience uses.
To Access the "Google Keyword Planner", go to "ads.google.com" on your browser while logged in to your Google account and then click on the "tools" tab. Now click on the "keyword planner" option under the "planning" menu.
The keyword planner offers you two keyword research methods: by using a keyword to get search volume data, and by using a keyword to get new keyword ideas.
Finding The Best Keywords By Search Volume
In this lesson we are going to teach you how to use both methods to research keywords and search terms in two stages. First, by getting search volume data that'll help you determine the popularity of keywords, and then by using the best keywords you find to get alternative search terms and new keyword ideas.
So let's first do the search volume research by clicking on the "get search volume and forecasts" option.
When you do a search volume research on the keyword planner, you have to start by typing or pasting your base niche keywords in the search box. If you enter more than one keyword, make sure to separate each by a line or with a comma.
You can click on the "get started" button once you enter all your keywords. You'll get your results organized in a column. To get search volumes per keyword, click on the "historical metrics" tab. Now check the "average monthly searches" column.
There are two types of keywords by search volume: keywords with high search volume and keywords with low search volume.
Keywords with high search volume have more than 1,000 average monthly searches. These keywords are the most popular keywords among your audience and can be used anywhere on your content or site structure.
On the other hand, keywords with low search volume have less than 1,000 average monthly searches, and can funnel qualified leads that are using them to do very specific searches.
Low search volume keywords have little competition on search results because marketers and content creators alike focus on high search volume keywords. By adding these low search volume keywords to your content, you will increase qualified traffic to your site, which will help you to increase your site's relevance, ranking, and authority.
Saving Your New Keywords And Search Terms
You can create a database of your keywords and search terms by adding them to a spreadsheet after you do research. To show you how, we are going to add the keywords that we just researched to a spreadsheet we named "keywords by search volume". In your search volume keywords spreadsheet you have to add three columns:
✓ Keywords
✓ Search Volume
✓ Rank
In the "keywords" column you'll add your keywords. In the "search volume" column you'll add their "average search volume". In the "rank" column you'll add the word "low" to keywords with average search volumes under 1,000, and the word "high" to keywords with average search volumes over 1,000.
Save, and remember to update this spread sheet over time by doing new keyword by search volume researches on the keyword planner, using the same base niche keywords.
Finding New Keyword Ideas
Now it is time to get keyword ideas, so let's go back to the selection screen. To research new keyword ideas, click on the "find new keywords" option. Type or paste your keywords, your target search terms, and URLs in the text field, and then click on "get started".
You'll get a list of keyword ideas based on the keywords you entered under the "ideas" column. Here you can identify long-tail keywords and phrases with the highest search volumes. Identify the ones that are the most relevant to your business. These are keywords that you can use to optimize your content. You can also use these keywords as inspiration to create new content pieces!
Other Details
- 1 Ebook (PDF), 99 Pages
- Top Resource Report, Cheat Sheet, Mindmap, Special Report
- Year Released/Circulated: 2019
- File Size: 6,537 KB
License Details:
[YES] Can use
[NO] RESELL OR GIVEAWAY