Salespage Snapshot: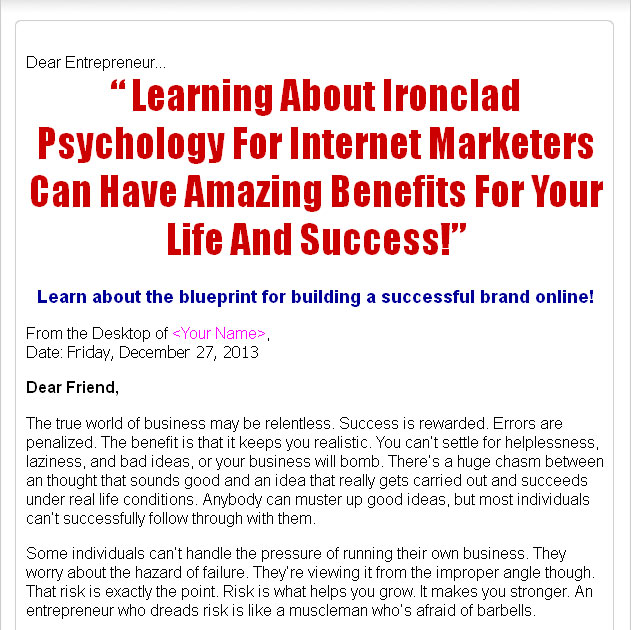 >>> Click Here To View Full Sales Page…
Table Of Contents
Foreword
Chapter 1:
The Reason Why 'Normal' People Can Never Make Money Online
Chapter 2:
Don't Focus On Making Money!
Chapter 3:
The Psychology Behind Creating Value And Precise Delivery
Chapter 4:
Buyers Are Smart
Chapter 5:
Even The Best Won't Sell Itself
Chapter 6:
Build Relationships First
Chapter 7:
Building Customer Loyalty
Chapter 8:
The Marketing Funnel
Chapter 9:
Leverage Other Content
Chapter 10:
Mass Markets Versus Niche Markets?
Chapter 11:
Monetizing And Marketing Your Strengths
Chapter 12:
What Other Gurus Have Advised That Works
Sample Content Preview
Synopsis
Let's take on the question of how to distinguish whether or not you're creating and handing over true value.
The easy answer is that you know you're producing value when you'll be able to see tangible positive changes in the world and your life as a result of your creative output.
A Look At Value
Imperfect Value
Say I write a new article, and lots of individuals send me feedback like, "Great article. That was amazing! Thanks for writing it."
Does that mean I produced true value? Well, perhaps I produced some. I can see that a few individuals felt good, but is that a real positive change? I'd say no, not truly. The affect will likely be short-lived. I can't say I handed over much true value.
Lots of bloggers compose articles that generate this kind of feedback. You may read such content and think to yourself, "That was nice." But a week later you've altogether forgotten about it, and nothing in your life has varied. The only value you really got was maybe a minute of entertainment or distraction. There isn't much evidence of real positive alteration. Creating impactful articles is very ambitious. I don't always know what will deliver strong vs. Imperfect value.
The value received depends upon the case-by-case reader and the circumstances of their life likewise. Some individuals receive enormous value upon re-reading an old article that previously didn't mean much to them.
Potent Value
Say you're walking around at a conference, and somebody recognizes you and says, "I'm so glad to finally see you! I have to tell you our story. Earlier this year I read one of your articles. That article convinced me to make some huge changes in my life. I'm loving it. And our customers are liking it too. Thanks so much for the work you do.
That new business is something tangible. This is a real positive shift. That article obviously delivered more than just fleeting entertainment value. It had a lasting effect.
Lots of other bloggers have hit the point where they can consistently deliver feeble value as well, and that's where they stagnate. They continue getting "nice article" feedback on every post, but they nevertheless aren't getting the results they wish. They wonder what's missing as the feedback seems to indicate that they're doing great. The issue is that these bloggers never make the conversion from feeble value to potent value. They don't raise their standards to the point of producing affect rather than just entertainment.
The Net is already clogged with imperfect value. You might rest of your life taking up the imperfect value that's already been posted — reading blog posts, watching videos, etc. It's incessant. But at last it's nothing valuable.
How do you solve how to provide solid value?
You begin by creating stuff that supplies little or no value. Then continue experimenting. Keep trying different things. Seek ways to improve. In this fashion you'll progress to light value and finally to some potent value.
With practice you'll fine-tune. You'll learn to supply more value.
The power to produce potent value is the result of high originative output. The more you create material, the faster you'll solve how to produce something good.
The densest approach you can employ is to sit still and produce nothing. If you can't get a hint as to how to get moving producing and delivering some value to individuals, you must be blind. If you're really, truly clueless, then volunteer. Go assist people in need. You'll discover quite quickly that if you have a pulse, you are able to provide value to individuals.
If you really, really don't know what to do though, merely go outdoors and walk around. Don't go home till you've worked out something you can do to take a stab at producing value.
You'll figure out how to furnish potent value when you're in movement. Only the act of creation will enable you to solve how to produce potent value. You'll figure it out as you go along.
Your beginning guess at how to produce value isn't going to be perfect. Free yourself of the myth that if you just come up with the correct idea, you'll be a high-ranking value creator from day one. It just does not work like that.
Each time you produce imperfect value, it serves as a learning experience. Each time you hear feedback like "nice song" — or worse… maybe cricket sounds — you are able to learn from it. You can state, "Well… that sucked. I'll have to attempt something else."
So here's the rule to abide by: Create more than zero.
That's it genuinely. The only way to totally screw this up is to sit around brooding and feeling weak. That's the only way to bomb. Doing nothing is failure. Producing nothing is failure. Producing something, however rotten it may be, is success… as long as you continue to improve!
Synopsis
Now you need to insure that you keep customers happy .People ask for refunds when they see junk. Buyers are smart that's why creating junk or sub par quality is suicidal Here e, we'll look at a number of ways to get your business going and make it successful. By following the advice, your business will get off to a great start and stay that way.
Keep Them Happy
The beginning golden rule of any business is to discover the demand. With marketing programs, you'll likely be given an array of products to sell. Check into the demand of these types of things. You should attempt to stay away from voguish items. They'll sell like crazy one minute, but you'll be giving them away the next. You need items that you know individuals want and need. That way, your long-run sales objectives will get met.
Following… is don't limit yourself to merely one product. Attempt to offer a variety of items. A lot of marketing programs offer a choice, and it's best to go with these. Basing your business on one product might work in the short-run. However, somebody will finally come along with something better and/or cheaper.
3rd, you need to set your business apart from other people. You need to demonstrate what makes you and what you offer better from other people. What do you offer that sets you apart from other businesses? You should always use tact when discussing your competition. Putting them down or being rude will only backfire on you. Talk up the advantages that you offer and leave it at that.
Forth, you should always do your best to ensure fast and effective service to your clients. However, there'll come a time when there's a glitch. You need to keep your clients informed and aware of what's happening. Things happen that are beyond your control. Most clients are very forgiving if they're made aware of this. Keeping your customers in the dark could result in loosing them for good and tons of refunds.
Finally, keep your buyers happy. The happier they are the more likely they are to return. Offer your customers incentives like savings on their next purchase. It might cost you more' but only in the short-run. Keeping your buyers happy will result in them referring you to others. Make sure that your products are of high value and quality as well.
Online businesses are easier in the fact that they minimize risk. Everything else is like any other business. You need to work hard to keep your buyers happy. You need to set yourself apart from other people, and protect yourself against the worst. By following the advice here, you'll be giving your business the best possible chance for success and cutting back on refunds.
Other Details
- 1 Article (DOC)
- 1 Ebook (DOCX, PDF), 46 Pages
- 1 Lead Magnet Report (DOC, PDF), 19 Pages
- 1 Autoresponder Email Messages (TXT)
- 1 Salespage (HTML)
- 1 Squeeze Page (HTML)
- Ecover (JPG)
- File Size: 11,536 KB