Squeeze Page Preview: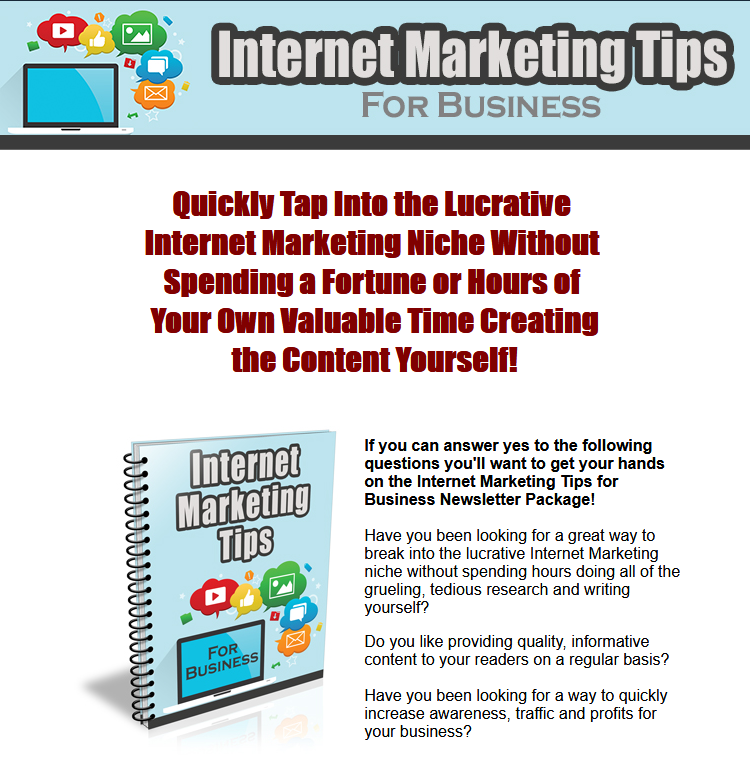 >>> Click Here To View Full Squeeze Page…
Features:
* 12 Issues Full Of Great Content
– Just add in your contact info and plug it in to your favorite auto responder. Each issue contains 500 words or more!
* One Ready To Go Squeeze Page
– Just add in your opt in form, upload to your server and your done!
* One Ready To Go Thank You Page
All ready to remind your subscribers to check their email and confirm their subscription. It even has built in revenue!
* 4 Researched Click Bank Products
These are top selling products on Click Bank that I've personally researched and chosen for each series.
* Extra Copy And Paste Article Content
You will get:
– Extra titles
– Extra opening paragraphs
– Extra closing paragraphs
– Extra fill in paragraphs
(these would make great tips that you add in to your follow ups system for more frequent contact with your readers)
Sample Content Preview
Hello "autoresponder code here",
In the last issue we talked about some basics of link building to increase traffic to your business website. In this issue we are going to talk about how to take advantage of Facebook to boost your visibility online.
Many businesses are not taking full benefit of Facebook's cover page and timeline features. However, there is more opportunity there to drive more traffic to your website than ever before. Instead of just doing your regular status updates, try using some of these tips to give your page a boost in both traffic and image.
– Change your cover photo
Each time you change your cover, an update appears in your timeline. Your followers see that in their newsfeed and are more likely to click it to see what has changed. If you keep your images interesting they'll be eager to see what's new. Some ideas include sharing images from customers, collages of products, a funny photo, or a dramatic representation. Think about it. Some people go daily to the Google search page just to see how they've redesigned the Google image for that day. Also, the more you show up in their newsfeed, the more likely they are to visit your page.
– Use the "pin-to-top" feature regularly
You can pin your most important posts to the top of your timeline every day. Whenever you have a special offer or event you want to promote, make sure you have it pinned at the top where visitors can see it.
– Share images as much as possible
Statistics show that people share images more than text. Try using a mix of your own images and those from other interesting sites. Ask customers to upload or share their own as well. You could even have a contest where followers upload their favorite product images and see who gets the most likes.
– Add items to your historical timeline periodically
Every time you add an event to your historical timeline those updates will also show up in follower's news feeds. Just don't update your history all at once and flood their feeds. They won't thank you for it and may just "unlike" you.
– Avoid using third-party publishing platforms for your posting
With some of these outside posting services, the share button will not show up on your post. That defeats the whole point of using a social network! It's okay to post a few things automatically, but do the bulk of it directly on Facebook.
If you're not making the most of Facebook's Timeline at the moment, consider using some of these tips to drive more traffic to your page and ultimately to your site. At the very least, make sure you update your cover image!
Make sure you look for your next issue soon. We will be talking about how to build l list of email subscribers.
Until then,
"your name here"
"your email address"
"your URL here"
Sample Extra Titles
The History of Internet Marketing for Business Refuted
The Basics of Internet Marketing for Business That You Can Benefit from Starting Today
The True Story About Internet Marketing for Business That the Experts Don't Want You to Know
Why Everybody Is Talking About Internet Marketing for Business…The Simple Truth Revealed
New Questions About Internet Marketing for Business Answered and Why You Must Read Every Word of This Report
Brief Article Teaches You the ins and Outs of Internet Marketing for Business and What You Should Do Today
New Article Reveals the Low Down on Internet Marketing for Business and Why You Must Take Action Today
Why Almost Everything You've Learned About Internet Marketing for Business Is Wrong and What You Should Know
Unbiased Article Reveals 5 New Things About Internet Marketing for Business That Nobody Is Talking About
Short Article Reveals the Undeniable Facts About Internet Marketing for Business and How It Can Affect You
New Ideas into Internet Marketing for Business Never Before Revealed
What You Should Do to Find Out About Internet Marketing for Business Before You're Left Behind
Unusual Article Uncovers the Deceptive Practices of Internet Marketing for Business
Up in Arms About Internet Marketing for Business?
Get The Scoop on Internet Marketing for Business Before You're Too Late
If You Read Nothing Else Today, Read This Report on Internet Marketing for Business
Uncommon Article Gives You the Facts on Internet Marketing for Business That Only a Few People Know Exist
And More…
Sample Extra Paragraphs
Search engines read your search words and rank sites by the number and quality of match to the searcher's terms. Use the correct terms to describe what your site is about and you get a higher ranking with that search engine. These ranks are updated every week so you have an opportunity to move up next week if you aren't there today. The problem is, your competitors have that same chance of moving up. And the competition will constantly search for a way to rank above you. Don't let up on your efforts to stay on top. Change your site where necessary so you can keep your rankings higher and stay ahead of the competition.
————————————
First, when designing your website, make certain that everyone who visits, regardless of how they get there, signs up for either a newsletter or some other form of regular e-mailing. Granted you can't push them to sign up, but you can enthusiastically encourage them to make use of all the benefits your site has to offer. In return, you will be reaping all the benefits that result from obtaining these all-important subscriber leads.
————————————
If you research only "books" then you are going to believe there's a huge market full of waiting buyers out there. However, when you open up your store, you'll find instead that cookbook buyers aren't as plentiful as you believed!
————————————
You need to visit your competitor's sites. Look for all the sites you can come up with that may be selling anything similar to your product, and then visit each one. Take note of those who top the search engine lists. You need to discover how these sites got to the top of the list. During your visits, notice design, keywords and anything else that might influence a search engine rank.
————————————
Another way is to you e-mail your customers and request their input. The information you receive to your e-mail can be processed the same as above. This method will also leave your customers knowing their opinion matters.
————————————
Pay-per-click, or PPC, plans are the type of programs you may have heard mentioned most often. This kind of affiliate plan, as well as the other choices, is performance based. The way it works is easy. A visitor to a website notices a banner ad or another kind link to a site. He or she clicks on that link. Every click is worth a certain amount of money to the web master of that site. While this is a wonderful plan, there has been some worry recently about "click fraud", which means clicks are being made with the only purpose being to generate more money for the host site.
And More…
Other Details
- 12 Part Autoresponder Email Messages (TXT, DOC)
- Squeeze Page (HTML, PSD)
- Ecover (PSD, JPG)
- Affiliate Programs List
- File Size: 12,100 KB