Salespage Snapshot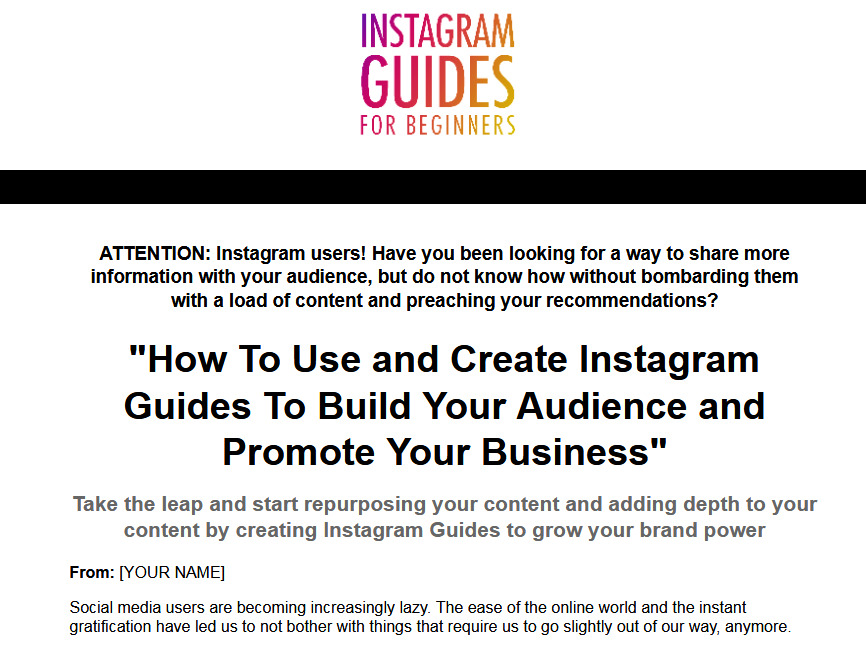 >> Click Here To View Sales Page...
Table of Contents
Introduction…… 7
What Exactly Are Instagram Guides?.11
Is Instagram Guides For You: How To Choose The Right Kind of Post?.. 15
Feed posts….15
Instagram stories…….16
Reels…….. 18
IGTV videos.19
"Swipe Up" External links…..20
Facebook Integration……20
Returning to Guides…..21
The Pros and Cons of Instagram Guides. 24
Exploring a brand-new feature. 24
Target demographic…….. 25
Present yourself as an authority…….25
No way to come across Guides organically…….26
Design limitations……26
Less commitment……26
How to Create an Instagram Guide Step-by Step……..28
Creating the Guide.. 28
Choosing the content……30
Formatting the Guide……31
Content…32
Reformatting…….. 32
Posting….32
Creating Different Types of Instagram Guides: Information and
Inspiration……. 35
Recommend places 35
Recommend products….36
Recommend posts…37
Ideas…..37
How to Promote Your Instagram Guide…..42
Easy share… 42
The mystery of the Instagram algorithm…… 42
Posting at peak times….. 43
Sponsored posts……. 44
The Explore Page…..45
Features…. 46
Direct messages……..46
How to Build Your Following With Instagram Guides….. 48
Branding 48
Business accounts…49
Follower tracking……. 50
Analytics….. 50
The "success" of content…… 51
Conclusion….. 54
Sample Content Preview
Instagram Guides were implemented because the platform wanted a way for its users to more easily discover recommendations tips and other content from their favorite users. When Guides were first rolled out, they focused on ideas of "wellness"; with specific brands and organizations that were wellness oriented being able to use the feature first. Given how long many people spend on their phones, being able to get useful and actionable information—that is already integrated into the platforms that they already frequent, particularly on wellness topics was a fantastic idea.
Guides are a step-by-step flow of posts. Similar to a Story or video, Guides are a great way to show a running commentary of a particular element of business or add detail into certain aspects of your brand. They are somewhat similar to an article that you might link, instead it is an embedded feature in your profile. It is a great way to create unique content, yet still keep it on the same platform. Essentially, Guides are a way that you can create one single resource around a specific topic or content area. They can consolidate your posts and thoughts into one single post, a Guide, and even supplement your own posts with those from other users.
Instagram Guides kind of resembles a blog post, in theory.
Guides can include text, photos and videos.
A huge benefit to the implementation of this feature is that some users are unlikely to leave a platform in order to get additional content; having to click a link to a website or another social media site turns a lot of users off of buying or engaging with your content.
Guides are a great way to centralize your content onto one popular platform that your audience already uses.
When you are on your Instagram profile, you see, obviously, your bio, as well as any Story highlights. Below that, you typically see two choices; feed posts and tagged posts. Depending on your usage, you may see an icon that depicts IGTV or Reels, as well.
Guides will add a new icon to your profile that looks like an open magazine. We will be discussing the difference and benefits of different types of posts in the following chapter.
So, basically, an Instagram Guide is just that, a Guide. It is a resource and a way to expand upon your posts and create a deeper and more in-depth showcase of particular topics or content types.
Is Instagram Guides For You: How To Choose The Right Kind of Post?
The abundance of features that Instagram has to offer raises one big question: which type of post and which feature is the best? And, while they are all unique and interesting features, ultimately, there is so simple answer; it completely depends. This section will run you through the different kinds of posts that you can create on Instagram, and the benefits of each. You should also be considering how you can integrate these post types into a seamless brand, and which post type will be best for your content.
Feed posts
Feed posts remain the most important feature of Instagram. Creating a post on your feed was the first Instagram feature. You can add have multiple pictures in one post now–which is an element that has really revolutionized Storytelling. Rather than having to post ten separate images (assuming you decided they were all worth sharing!), you can add them into one post. This allows for cleaner feeds and more detailed posts. It should all be high quality and reflect your brand, products or business.
Using hashtags in your post descriptions and creating engaging captions is a great way to interact with your audience. Audiences love to send posts to their friends and family, so making sure your post is clear, and easy to share is a great feature.
Make sure your grid, that is, the overview that people see you once they click on your profile, looks good and consistent. This means using similar filters and colors in order to create a cohesive theme.
This is a small thing that adds to the professionalism of your brand; they should also match and look similar to your Reels, IGTVs, and Guides. This is how you ensure that your brand gains recognition.
Having all your post types looking consistent from an aesthetic, as well as a content perspective is the best way to create a real brand that maximizes the potential for gaining a positive brand reputation and building a solid audience.
It is important to introduce a side note here; Instagram Guides need to use preexisting posts. You cannot include content (other than text) that has not first been posted on Instagram as another kind of post. This means that feed posts and Guides are inherently connected, as one requires the other.
Feed posts are essential to Guides. When planning your content, you will need to plan the required feed posts in order to be able to later create Guides. Thus, Guides add a new level of depth to content creation.
Instagram stories
Stories, a feature first coined by Snapchat, are not permanent posts. Before scrolling through their feed posts, users will be confronted with the Stories banner at the top of their home feed.
They last only 24 hours at the top of your followers' feeds but can be highlighted and saved on your profile for longer as well. They are a great way to keep at the top of your audience's mind (as well as at the top of the feed) by posting snippets of your day, and as well as drawing attention to new content.
Stories can be a new photo uploaded from your camera roll or even a blank slide with text. Additionally, you can share feed posts (as well as Reels, IGTV videos, and Guides) to your Story. You can share other user's posts or stories that you are tagged in. This is a great way to utilize user-generated content, as well as making your audience feel special and included in your brand by sharing the posts they create about you.
Stories can be a great way to share additional content as well as drawing attention to particular posts. You will likely end up sharing your Guides in your Story in order to bring your audience's attention to it (although we will discuss promotion later in this eBook).
Your stories will need to be well designed and creative. Make use of tagged locations and the other features are available with stories in order to make them look professional and fun. Taking advantage of the gifs, location tags, polls and stickers is the best way to grow your Story viewing. There are nearly 500 million stories posted each day, which means there is a lot of competition for your followers' attention. More than half of Instagram users are more interested in a brand after seeing it in an Instagram Story.
Therefore, utilizing Instagram stories is a great way to drive traffic.
Adding Highlights to your profile is an effective way of continuing to draw your audience's attention to particular elements of your brand. You can add numerous highlights, sorted however you wish (though the one you edited most recently is the first to show), and arranged however you want. You get to choose a cover picture for your highlight as well as a text name that is also displayed. For example, many brands choose to do a "FAQ" highlight that explains elements of their business. you could also do a "customer" highlight which shows the best of your customer's pictures that you have shared to your Story.
There are many uses for Instagram Stories, and they are not a feature that should be overlooked.
Reels
Seemingly inspired by TikTok, Reels are another recent feature that users love. Reels are a way to create short videos; sometimes done in one take, but often including audio and snappy editing and transitions. Reels run from 15-30 seconds.
Reels can be shared to your main Instagram feed. This is a huge benefit of them because many people choose not to engage with the new features and Explore Pages dedicated to them. By integrating them into the main feed it is easy for users to interact with Reels, without having to go out of their way to do so.
The Reels feed also differs from the regular feed. On their regular feed, with the exception of sponsored posts, users only see posts and stories from accounts that they follow. Whereas, the Reels feed, also shows popular, trending, and suggested Reels all in one place.
As Reels are shorter and tend to be more informal, you can create unique and quirky content that showcases your personality and adds variety and depth to your brand.
IGTV videos
Similar to Reels, IGTV videos can also be shared on your main feed, as well as having a space dedicated to them in the Explore Page. An IGTV video can run for up to 10 minutes, and up to an hour for larger accounts. When users get recommended an IGTV video in their feed, after a minute, they will be given a "keep watching" pop up. If they click to continue, the screen shifts, and the video continues to play. This means that the first minute of your video needs to be fantastic in order to gain their attention and encourage them to keep watching.
IGTV allows for both horizontal and vertical videos. The Instagram algorithm, like with Reels, curates a feed for you based on your interests and past views.
Other Details
- 1 Ebook (PDF), 54 Pages
- 2 Graphics (JPG, GIF, PNG)
- 1 Salespage (HTML)
- Checklist, Resource Cheat Sheet, Mindmap, Optin Page, Social Media Images, Email Swipes
- Year Released/Circulated: 2021
- File Size: 30,647 KB
License Details:
You're granted master resell rights, resell rights or to resell with personal use rights.
You may add this product to your PAID membership site
You may giveaway the product as a bonus when people buy through your affiliate link
You may edit the included sales page and opt-in page
No, you may NOT edit the contents of the eBook(s) & videos
No, this product does NOT include private label rights. You are granted Master Resell Rights only
No, you may NOT giveaway the eBook(s) & videos for free.