Salespage Snapshot: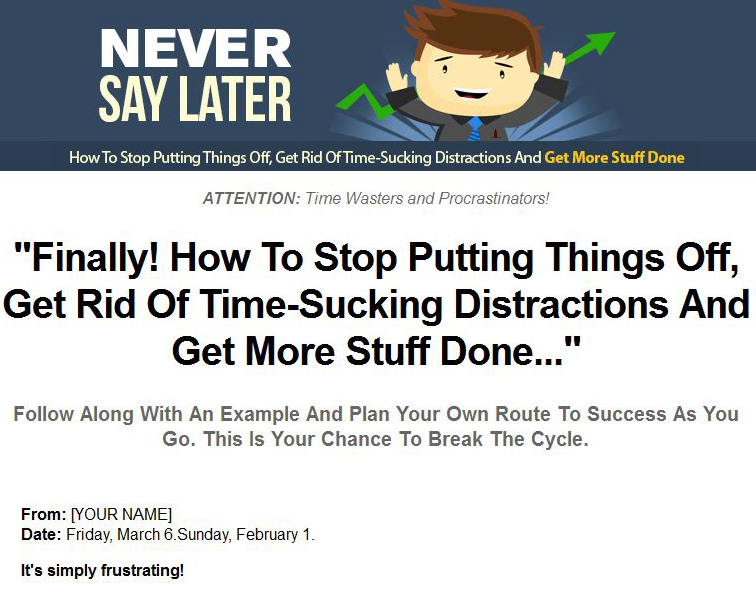 >>> Click Here To View Full Sales Page…
Table of Contents
Introduction: Procrastination & the Root of the Problem .. 5
Why Do We Procrastinate? 7
We Never Have Enough Time ….. 9
How This Book Works …….. 9
The Easy Way & the Hard Way . 11
Step 1: It All Starts With Settings Goals …….. 12
Step 2: Make a Plan To Get You From A To B …….. 17
What is a Plan? …… 17
Setting a Realistic Timeframe …. 18
How to Create a Plan ……. 19
Creating Milestones ……… 21
Step 3: Break Down Your Milestones .. 25
How to Break Down a Milestone 27
Hey, What about Procrastination & All the Rest? ….. 28
Step 4: Eliminate Distractions …. 32
Start With Your Schedule . 32
Making Your Goal Time a Priority …….. 34
Eliminating Distractions …. 35
A Word about Distractions ……… 36
Step 5: Feel The Fear But Do It Anyway …….. 38
Why You Have Fears And What To Do About It …… 38
Step 6: Beat Procrastination In 5 Stages …… 42
Stage One: Identify the Problem 43
Stage Two: Decide If It is Legitimate …. 44
Stage Three: Look at Your List of Reasons .. 44
Stage Four: Imagine Yourself at the End of Your Goal …… 44
Stage Five: Just Do it! …… 45
Don't Overextend Yourself ……… 46
Step 7: Get And Stay Motivated . 47
Putting It All Into Action – Your Game Plan .. 53
My Final Words …….. 57
Sample Content Preview
Introduction: Procrastination & the Root of the Problem
It brings me much pleasure to bring your this book – Never Say Later.
If you have ever found yourself wondering why you haven't reached the success that you want for yourself, or why your life isn't how you have imagined it, the problem just might lie in procrastination and putting things off. In fact, if you are reading this book, the odds are pretty good that's the case.
Procrastination, distractions and putting off important tasks are at the root of most people's lack of success, and it is something that highly successful people don't suffer from. Don't get me wrong, even the most successful
people in the world procrastinate occasionally and everyone obviously gets distracted sometimes, but highly successful people don't let it stand in the way of what they want. They find ways to overcome it.
At first, when you have made a habit of procrastination, it can seem like reaching goals and quitting your procrastinating ways is almost impossible, but the truth is, people overcome it every single day, and you and I are no different than they are. What you need most is a plan of action – a step-by-step guide that will show you exactly how to eliminate procrastination from your life once and for all, and teach you how to make a habit of getting things done right away.
Other Details
- 10 Articles (TXT)
- 1 Ebook (PDF), 57 Pages
- 1 Salespage (HTML)
- 4 Promotional Ad Materials (Banners)
- 1 Keywords List (EXCEL)
- Module 4 - Mindmap, Module 6 - Lead Magnet & Optin Page, Module 10 - Motivational Quotes Pack, Module 2 - Checklist, Module 3 - Resource Cheat Sheet
- Year Released/Circulated: 2015
- File Size: 5,843 KB
License Details:
You're granted master resell rights, resell rights or to resell with personal use rights. Price for resell is strictly $7.00 minimum
You may add this product to your PAID membership site
You may giveaway the Lead Magnet: "Top 5 Hidden Productivity Tools" to build your email list
You may giveaway the whole product as a bonus when people buy through your affiliate link
You may edit the included sales page and opt-in page
No, you may NOT edit the contents of the eBook(s)
No, this product does NOT include private label rights.
You are granted Master Resell Rights only
No, you may NOT giveaway the main eBook for free.!!
Must be sold for at least $7.00