Salespage Snapshot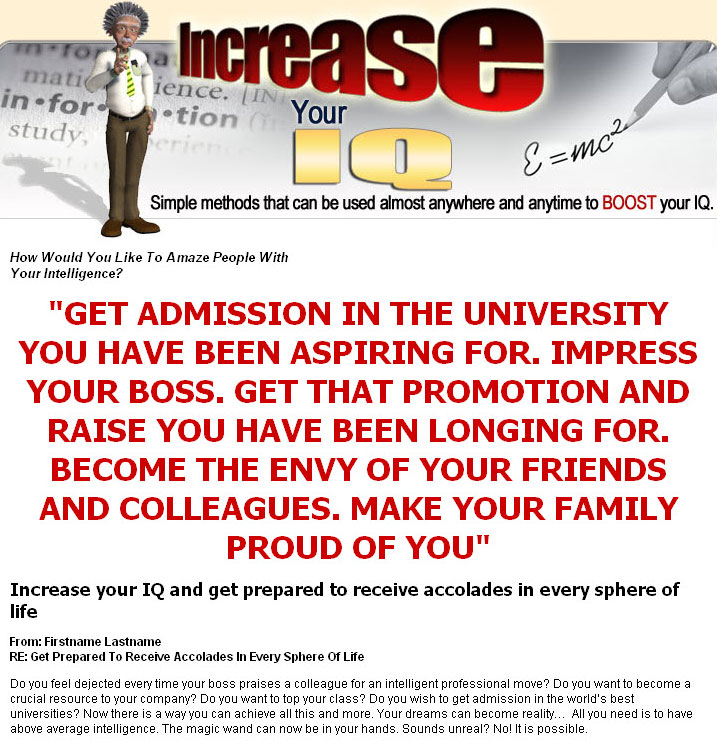 >> Click Here To View Sales Page...
PLR Ebook Table Of Contents
Reading is the Fundamental building Blocks to a Good Brain    3
Work Out Your Brain And Raise Your IQ    3
Raising Your IQ through Exercise    5
Puzzle Your Brain into Intelligence    6
The Mozart Effect    6
Raising Your IQ Basics    7
Techniques for Better Learning    8
Herbs That Boost the IQ    9
Concentration is the Key    10
Can You Build Your IQ to Higher Levels?    11
Increase Mental Capacity 100%    11
IQ Benefits of Exercising and Sleep    12
What is the Brain All About?    13
Memory Retention and Retention Strategies    14
Be Intelligent By Being Active    14
More Ways to Increasing your IQ    15
How To Boost Your Child's IQ    16
10 Simple Ways to Increase IQ    17
Sample Content Preview
Reading is the Fundamental building Blocks to a Good Brain
Reading improves brain function and has a direct correlation with higher IQs.  Children who read well have a better chance of doing well in school, and are usually in the "gifted" classes. How do you get children to want to read?  You do it by reading to them.
Start reading to your children early and every day. Showing them how magical books can be, make them believe that inside every cover is a magical world that only they can touch.  If your child enjoys a particular story, read it again.  There's no harm in reading the same story over, in fact, it reinforces the fact that reading ought to be a habit.
Read at the same time(s) every day.  Right before bed is an excellent time because it kills two birds with one stone.  It helps boost their visualization and imagination skills and makes them look forward to bed.
What books are best to boost the IQ?  The classics like Dr. Seuss help by using poetry.  Rhymes stimulate brain activity and promote memorization, another habit to get into
Another way to get children interested in reading is to allow them to pick out the books.  All reading is reading, as they say.  Just because you want them to read Shakespeare at eight doesn't mean that it is any better for them than the latest Batman comic.  The goal is not to force them, but to instill in them a love of reading and of books. Encourage them to read.  Don't turn them off by forcing them to do it, or forcing them to read something they don't enjoy. You may prefer the adventures of Elizabeth Bennet to Bruce Wayne, but your child may not.
Many of the bookstores have wonderful children's sections and you might find that your child will go through many books while there.  They usually have games and play rooms so that kids spend more time there (and encourages the parents to shop around for additional books).  Allow your child to roam the aisles, opening and reading a few pages until he or she settles on just the right book.  This will get them excited about reading.
Other Details* Sales Page:
Included, HTML
* File Format:
MS Word Doc, PDF
* Number of Pages:
18
* Included Graphics:
Ecovers
* Extras:
eBay Sales Page
* Extras:
Squeeze Page
* Download File Size:
1,315 KB