Salespage Snapshot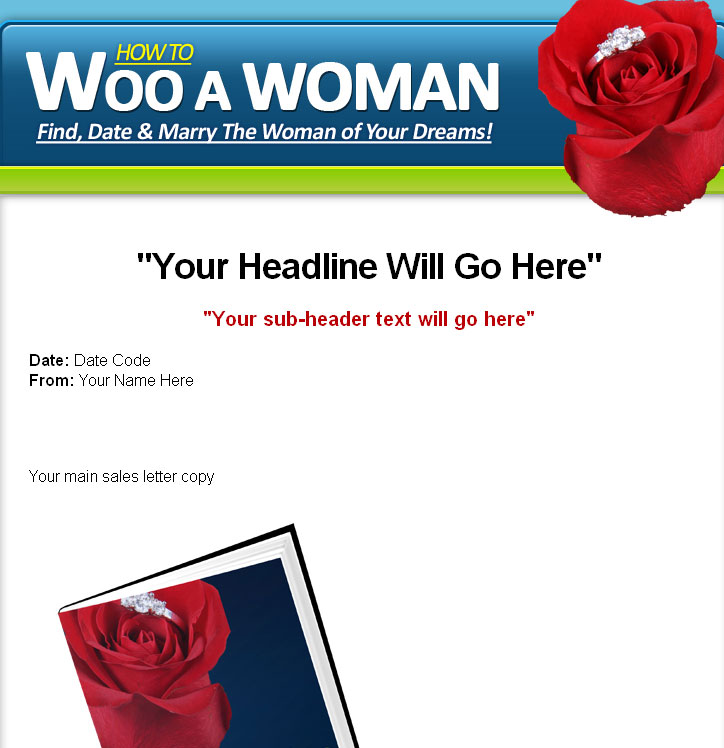 >> Click Here To View Sales Page...
Ebook Sample Content Preview
INTRODUCTION
In the  last two centuries women  have gotten more and more independent, gone are the days when women have no say about issues that directly affects them, like whom to date or marry or whether to go to school or not. The days of arranged marriages are forever gone in most societies, even in societies where it still holds the women's resistance to arranged marriage is hugely increasing daily, as they are getting more aware.
As more women become independent, successful and enlightened, some men find it difficult to seek the affection or love of the woman they desire. As suggested in the name woman, a woman should be wooed and a man should be seduced.  Wooing is one of the jobs that a man must do at least once in his lifetime. A man that does not want to do this job should not expect to be loved or be in a romantic relationship with a woman.
Strategizing is a good way of getting a desired outcome, seeking the affection or love of a woman is no different, because with proper strategy and careful planning you can effortlessly melt the heart of the hardest woman. Men think that getting a woman a gift is all it takes but it takes more than that, a woman wants to be appreciated and loved for who she is not for what you can get from her.
Every man wants to know the secret of attracting women. Most men make it harder than it is. Every day, I hear men complain about how complicated women are. The fact is that not all women are complicated; these men are just making a mountain out of a mole hill.
In this report, I will tell you what kind of women there are and what they want; knowing what women want, helps you plan and strategize on how to attract them. I will also tell you how to woo the woman of your dreams.
Let's get started.
TYPES OF WOMEN
You must first find the right woman before you can strategize or plan to get her. True, there are loads of women out there and finding the right woman may not always be easy, especially in an era when the female gender is typically self – centered and "empowered" to exploit the male population.
You have to however sort for your possible mate among a list of available women. In sorting, seek for compatibility instead of physical appearance. The common error most men make is overlooking compatibility in favour of the physical appearance of the girl.
If you succeed in getting a lady that is attractive, that you are not compatible with, after a short while your relationship will be disastrous. So if you are searching for a serious relationship, a thorough filtering is expected.
The right women are out there, but the right women are becoming scarce in today's world, so if you can find one of them, act fast, because every guy is looking for the right woman. Keep this in mind and keep your eyes open; she'll come your way faster than you expect.
How do you know the right woman?
THE RIGHT WOMAN
The Charmer
Charmers are usually snapped out of the dating market so fast, because she is an optimistic woman, comfortable with her life, always bubbly and fun to be around. She is an authentic person without any falsehood in her. She is appreciative, considerate and enjoys your company. If you can find one, you have got a real treasure in your hands so do all you can to get her.
Miss Equality
Miss Equality is a true feminist- not one of the radical man-haters, or the hypocritical pseudo-feminists who think that equality is an equal rights and an equal salary and that a man has to pay for them. This Miss Equality genuinely likes her man, and understands that equality means a 50/50 partnership in the relationship, and is more than willing to shoulder their half of the relationship and dating expenses- just because it is the right thing to do…
Other Details* Sales Page:
Included, HTML
* File Format:
MS Word Doc, PDF
* Number of Pages:
23
* Included Graphics:
Ecovers, PSD
* Download File Size:
19,295 KB

* Private Label License Rights:

[YES] Can Be Edited With Your Name
[YES] Can Claim full ownership
[YES] Can be added to paid membership sites
[YES] Can be packaged with other products
[YES] Can be sold
[YES] Can be given to list subscribers
[YES] Can be given as a bonus
[YES] Can sell Resale Rights
[YES] Can sell Master Resale Rights
[YES] Can sell Private Label Rights
[YES] Can create videos/audios with it
[YES] Sales Letter Included
[YES] You can do just anything with it.