Salespage Snapshot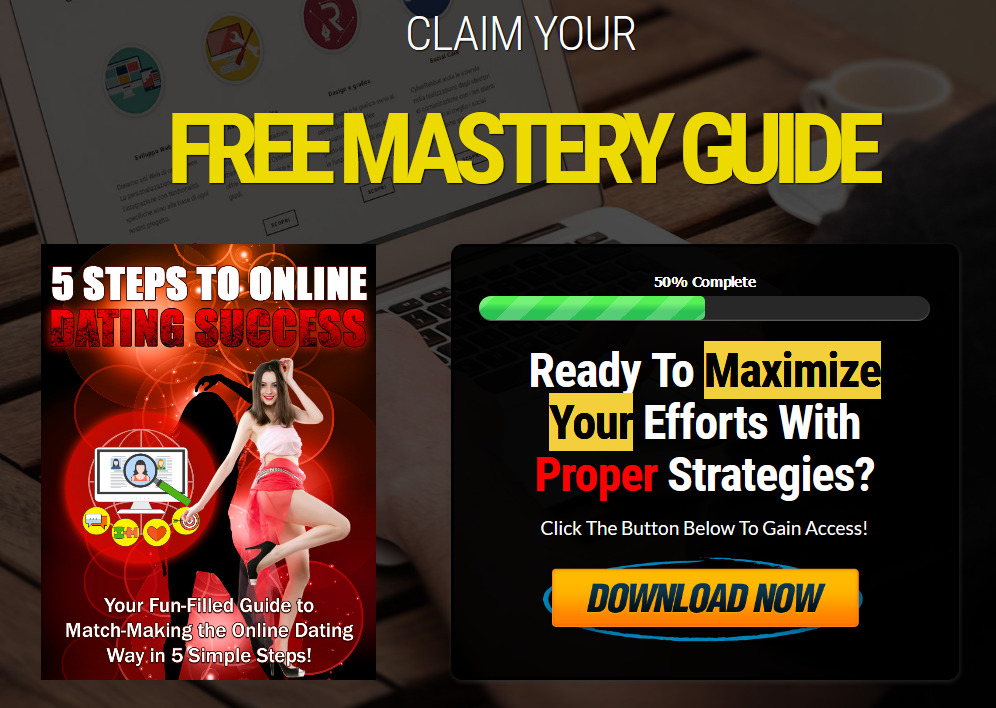 >> Click Here To View Sales Page...
Table of Contents
What You Need to Know About Online Dating… First! 5
What Makes Online Dating So Different? 7
Step 1: Getting Started 13
Step 2: Making Yourself Look Like A Million Dollars 19
Step 3: Letting The Relationship Blossom 28
Step 4: Meeting Face To Face 32
Step 5: Once Bitten… 38
In Closing 39
Sample Content Preview
Let's accept the fact that dating couldn't really get better. Online dating is THE real thing. Let's compare it to the old system of evening balls or social gatherings. Imagine you are this big gathering where there are a lot of men and women looking out for suitable partners.
Suppose you bump into one or two people with whom you seem to strike an immediate rapport. You are then able to take this person out onto a balcony with just the moon to keep an eye on you.
You get to talk to this person for hours and hours; just talk and nothing else. You get to discuss likes and dislikes and finally when it is time to part you leave with a promise to meet on a following day at an equally enjoyable spot. These talks go on for days and weeks and finally you decide that this indeed is the THE person with whom you want to spend the rest of your life with.
Then of course you start meeting in more open places, you hold hands and even kiss. You begin to go out for lunch and dinner and spend even more intimate time together. When the moment is right and your decision is made, it then becomes time for you to say, "I do."
Sigh! It sounds like a nice fairy tale, doesn't it?
Well it needn't be. It could be your own love story because the concept of online dating is just what has been described above. If you click the right buttons everything could work out fine for you and we have evidence to prove it. Just take a look at the figures given below and you can behold for yourself what a universal phenomenon online dating has already become.
As I mentioned earlier, one of the best things about online dating is that it affords a lot of privacy. You can chat for hours, video conference, or do whatever it is you care to do without arousing the interest of others or attracting the wrong kind of attention. All you need is a computer and Internet access everything becomes as discreet as can be. But along with that, may I add that we need a little bit of common sense as well or else we might find ourselves within the clutches of many lurid monsters lurking out there.
Another good thing about online dating is that it saves a lot of money which otherwise you would have had to splurge each time you took someone out on a date. It is because of these reasons and many more personal reasons that thousands of people find online dating to be a great convenience.
How To Get The Most Out Of Online Dating
Many people who decide to give online dating a try often end up with their hair singed and fingers burnt.
The reason we decided to put together such a manual is that online dating is not as simple as it looks. You need to know how to go about it in order to get the best out of it. Most people do not like to take chances and when it comes to finding a life partner people do not want to take chances at all.
But you can relax for through this manual we will be dealing with all the do's and the don'ts and so the whole process will be quite easy and enjoyable to you. This manual will provide you with step-by-step instructions on how to being online dating.
We have no doubts about the decision-making abilities of our readers and so we do not propose to give a lot of advice on the issue. Our purpose is simply to provide a couple of guidelines which we hope our readers will find valuable as they proceed in the attempt to find the perfect partner.
Step 1: Getting Started
Only fools rush in where angels fear to tread.
It is always best to approach unfamiliar territory with caution. You need to plan before you actually go out there and start dealing your cards. Be sure about yourself and be sure about what you want. Just because anyone and everyone can type out whatever they want in a chat room doesn't mean that we have to do the same.
The Internet has a wonderful quality of being accessible to every one. But this same quality attracts all kinds of people into it. But just because a lot of people who enter a chat room have only dirt on their minds, it doesn't mean that everyone is like that. If you stick to the class that you have and maintain your poise, you can indeed get the right kind of response.
There are a lot of nice people using the Internet, but it all depends on what you do. Do onto others what you want them to do to you is the golden rule that applies here. There are no rules for the game. All are players out there. But just because others are ruffians, it doesn't mean that you have to be one too. Your approach is the only thing that can get you the kind of response that you want. I don't think that it is very sensible to decide all of the sudden that you would like to use the Internet to get a date. By just entering a chat room and saying "I'm available" you are merely putting yourself up for sale, and will most likely not get the results you desire.
One point that all of us have to understand is that in a chat room, all are equal. Do not go by the misconception that entering a chat room is like sauntering into a ball room dressed in your best. Then everyone turns to stare at you and the most eligible person (read that as the sexiest person of the opposite sex) catches your eye and makes his or her way towards you.
That kind of thing happens only on James Bond movies and we all know that James Bond never goes in for a serious relationship. It's all fun and games for him. Where Do You Start?
The first tip we would like to give you is NOT to go straight away into a singles' chat room and try to find somebody who would interest you. All of us know that most of such chat rooms are virtually flooded with people who have only one thing on their mind – sex. So, no matter what you ask for, it always ends up in that and the purpose is defeated. You will never get the kind of person who kind of matches your interests and tastes.
Other Details
- 1 Ebook (PDF), 40 Pages
- 1 Squeeze Page (HTML)
- 3 Ecovers (JPG)
- Source DOC, Source PSDS
- Year Released/Circulated: 2018
- File Size: 84,641 KB
License Details:
[YES]Can be sold
[YES]Can offer Resell Rights
[YES]Can offer Master Resell Rights
[YES]Can resell Private Label Rights
[YES]Can be edited
[YES]Can put your name as the author
[YES]Can be broken down into articles
[YES]Can be used as web or e-zine content
[YES]Can be added into membership sites
[YES]Can be sold in any format
[YES]Can be packaged
[YES]Can be offered as a bonus
[YES]Can be sold on auction sites
[YES]Can be published offline
[YES]Can be given away (in any format)