Salespage Snapshot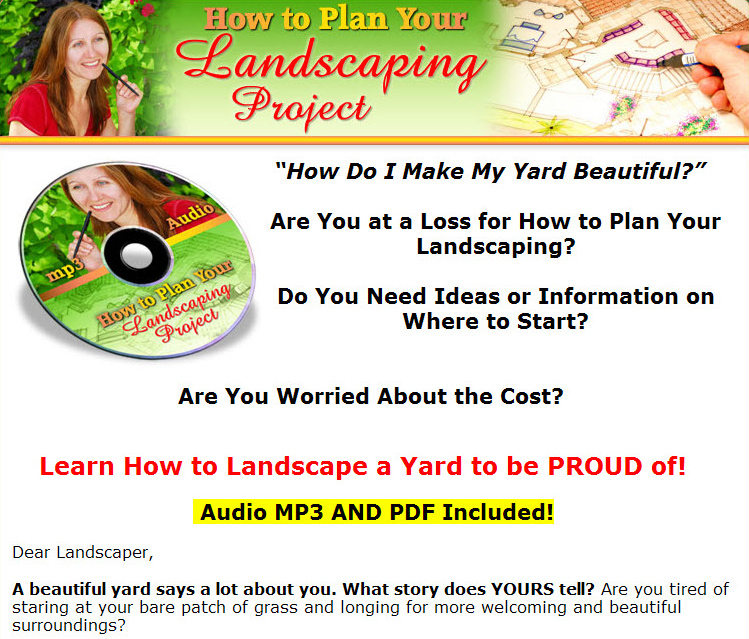 >> Click Here To View Sales Page...
PLR Ebook With Audio Table Of Contents
What Do You Want Your Landscaping to Do for You?    4
How to Find a Landscape Style that Suits Your Life and Home    6
How to Create a Realistic Landscaping Budget    8
What Work Can You Do Yourself?    10
When Should You Hire Professionals for Projects?    12
Tips for Planning Walls and Fences    14
Tips for Planning Pathways    16
Tips for Designing Patios and Decks    18
How to Create a Drainage System for Your Landscaping    20
Tips for Designing a Planting Pattern    22
How to Select Trees and Shrubs for Your Yard    24
How to Incorporate Colorful Plants in Your Design    26
Tips for Choosing Groundcover and Grasses    28
Tips for Creating a Low Maintenance Landscape    30
Common Landscaping Mistakes and How to Avoid Them    32
PLR Ebook With Audio Sample Content Preview
What Do You Want Your Landscaping to Do for You?
Before you start any landscaping work, it's a good idea to sit down and think about exactly what you want from the finished product. No matter what sort of state your backyard is in and no matter what size it is, you obviously want to change it or you would have no landscaping plans at all.
You may want to create an oasis of greenery in a tiny backyard, so that the birds and butterflies can have a place of refuge. If so, there will need to be many native bushes and shrubs and perhaps dense prickly trees or shrubs where small birds can nest in safety. Water and extra food can be provided if necessary.
If you live in suburbia crowded around with other houses and backyards, your landscaping plans can create a private place to escape from the crowds. You might not want to worry too much about encouraging wildlife, just so long as you can relax in private yourself. Tall shrubs or vines planted along the boundary will screen out other homes and give you the privacy you seek. The addition of a water feature will provide coolness and tranquility. Unless you love gardening, grow those shrubs and tress that are easy to maintain and have a long flowering season for the best effect.
You might prefer to make your landscaped area work for you in providing fresh fruit and vegetables for the family table.  In this case trees will need to be kept to a minimum, as vegetables need full sun to grow successfully. Fruit trees can be grafted with two or three varieties on one base to give a variety of fruit. You might like to make every square meter of your yard count in the productivity stakes, but make sure there are adequate pathways throughout so you don't have to tread in mud during those rainy days.
On the other hand, your landscaping plans may include clearing out all the trees and bushes that are growing there so you can get a good view of the harbor or river. In this case, try growing just a few trees – or even just one – in a position so that it frames the view rather than blocking it. This will give you the best of both worlds – your view and some cool greenery to rest the eyes. A small area for annuals or some pretty shrubs will add some bright color to the green for a visually pleasing effect…
Other Details* Sales Page:
Included, HTML
* File Format:
MS Word Doc, PDF
* Number of Pages:
33
* Included Graphics:
Ecovers, PSD, JPG
* Download File Size:
39,439 KB