Salespage Snapshot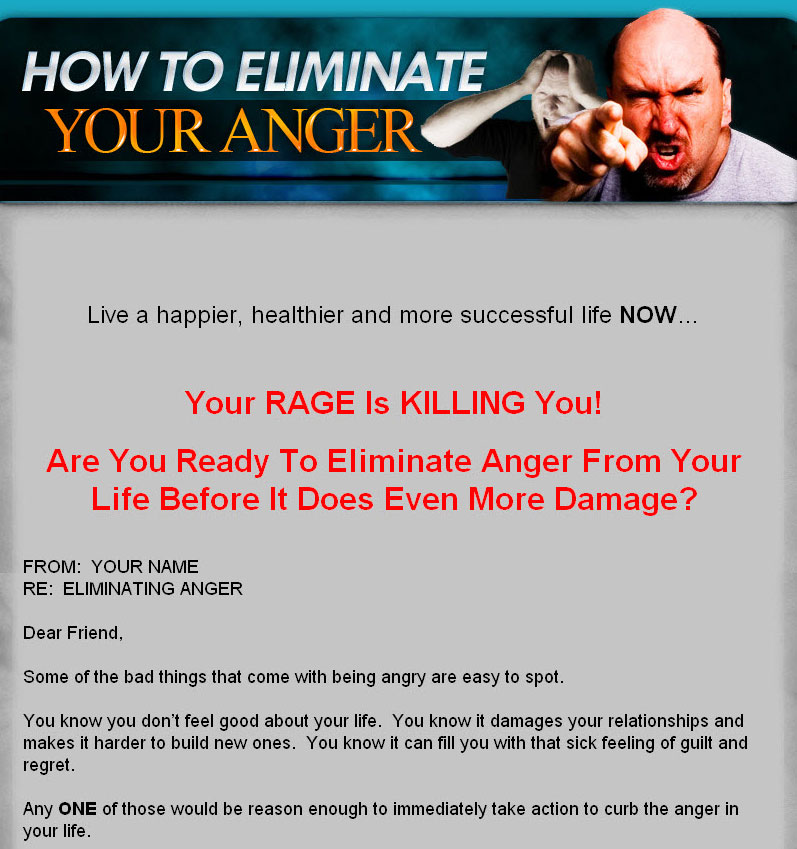 >> Click Here To View Sales Page...
PLR Ebook Table Of Contents
Chapter 1: Defining Anger    2
Chapter 2: What the Experts Say About Anger    5
Chapter 3: What Causes Anger?    11
Chapter 4: The Physiology of Anger    18
Chapter 5: Jealousy – Another type of Anger    22
Chapter 6: Anger As Rage and Hate    28
Chapter 7: Anger and Bullying    32
Chapter 8: Managing Your Anger    41
Chapter 9: How To Deal With Someone Else's Anger    48
Chapter 10: Conclusion – Handling Our Own Inner Anger    55
Ebook Sample Content Preview
Chapter 1: Defining Anger
Before we can truly understand anything it has to be defined first. Anger is an emotion. There are many definitions to describe the emotion of anger.  For starters anger is a strong feeling of displeasure and hostility. If we were to look at some of its definitions it would be described like:
1. A strong feeling of displeasure and belligerence aroused by a wrong; aka wrath
2. A strong passion or emotion of displeasure or antagonism, excited by a real or supposed insult or injury to one's personal self or others, or by the intent to do such injury
3. A feeling of great annoyance or antagonism as a result of a real or supposed grievance
Words associated with anger include: rage, furry, wrath, resentment and indignation. Although we use the term mad for angry; mad is anger and resentment but also connotes a lapse in insanity. All these words including anger indicate a degree of negative displeasure.
Rage and furry denote intense, explosive often destructive behavior. Wrath is the type of anger associated with seeking revenge and justice. Resentment is usually a smoldering anger that builds based on some sort of grievance that is held with the person who is doing the resenting. Indignation is righteous anger at something unjust,  something wrong or plain evil.
Other Details* Sales Page:
Included, HTML
* File Format:
MS Word Doc, PDF
* Number of Pages:
61
* Included Graphics:
Ecovers, PSD
* Extras:
5 Part Autoresponder Email MEssage Series
* Extras:
5 Articles
* Extras:
Anger Keywords
* Download File Size:
19,774 KB