Salespage Snapshot: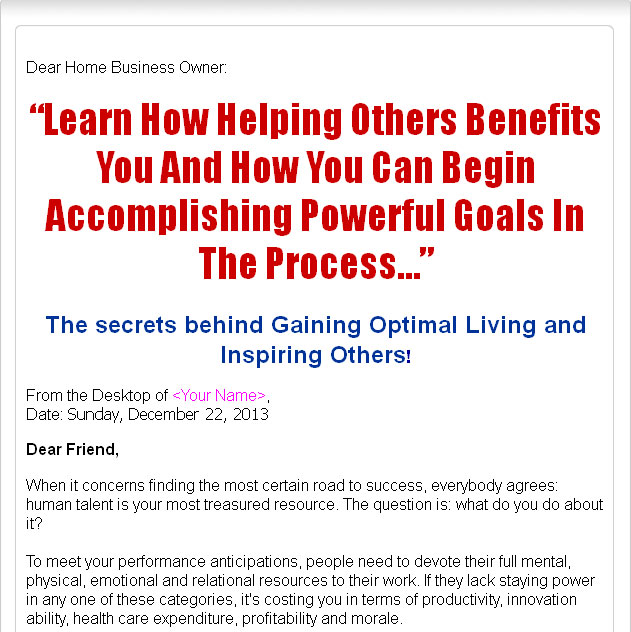 >>> Click Here To View Full Sales Page…
Table Of Contents
Chapter 1:
Why We Face Health Problems Today
Chapter 2:
The Solution
Chapter 3:
What Is an Ideal Diet?
Chapter 4:
Benefits of Eating Right
Chapter 5:
Losing Weight by Eating Right
Chapter 6:
Eating Right Is Not the Only Thing
Chapter 7:
Managing Food, Family and Friends
Chapter 8:
Your Motivations for Eating Right
Chapter 9:
How Not to Become Obsessive about Eating Right
Chapter 10:
Eating Right and Managing Your Life
Sample Content Preview
Makes You Healthier
We could write a whole compendium about the health benefits of eating right and still it wouldn't quite cover what benefits really exist. The most significant benefit is that you gain control over your weight. By eating right, you also make sure that your metabolic functions – most notably your immune system and your digestive system – keep working right. You are also protected from various chronic diseases, right from cardiovascular diseases like atherosclerosis and high blood pressure to diabetes.
More Money for You
Eating healthy means you spend a lot less. Your bills at the supermarkets reduce drastically and you don't plunge further into credit card debt if that is already a problem with you. Also, you save a big bundle on all the healthcare expenses you would need if any problem surfaces because of your food binging habits.
Less Toxic Foods in Your Body
Many foods today are toxic because of the synthetic chemicals present in them. When you are trying to eat right, you are much less likely to get these toxins into your body because one of the basic tenets of eating right is that you shouldn't eat anything that is synthetic. Also, when you eat less, you will also be able to reduce on vices such as smoking and alcoholism. A glass of beer is almost synonymous with a night out with the boys. When you eat less, you won't want the beer too. Similarly, you will not want that one (or more) mandatory smoke that you tend to have after every full meal.
More Active Lifestyle
When you eat better, you will find that you can do your work in a much better way. You can exercise more, travel more, play more, work more and thus make your life more productive. That sure beats being a fat slob and lounging around on the couch the whole day, doesn't it? You can also be more involved with your friends and family and that certainly enriches your life.
Better Social Life
Forget about feederism and fat fetishism, people who are overweight do not look appealing. There's a strong social taboo about weight on the wrong places of the human body. If you are trying to find a partner, your flab could literally come in the way. Not just that, people who cannot control their eating habits and hence their weight are looked down upon by society as being people who cannot control their basic urges. This kind of psychology does exist, though very few people will speak about it. When you eat right, you will find that such problems disappear.
Summary
Most of you who have downloaded this eBook will want to read about this part. So here goes – how do you lose weight by eating right?
Losing Weight by Eating Right
You can easily find a lot of information about eating right to lose your weight. But there are some things that are more important than the food itself. Let us tackle those things first. Without these, your weight loss would be a wasted effort.
Motivation
No one can effectively lose their weight without the right motivation. You have to have something in mind as your goal; that is what keeps you determined. This goal could be the need to look better (read, slimmer), or to be healthier, or to be more physically active, anything. Then you have to set your mind upon this goal. It is this aim that you have to think about. When you are sure about where you want to reach, you are able to chalk out your path in a much better way.
Support and Encouragement
Though there are people who have lost weight all by themselves, things are made much simpler if they have family and friends to support them. They should keep encouraging them, not ridiculing them, and then the system works. There are people who have lost weight just because they can be more productive in their family life. This can be a very strong feeling and can work highly in losing weight.
It is also very effective if you can go on a weight loss program with someone else. Even a little competitive edge helps. In fact, competition can work nicely. There's nothing better than the need to show someone that you can do something.
The actual eating regimen comes later.
Now, don't get swayed by the various food fads that you see on the Internet. These are absolutely not necessary. What you need is your own determination and some effort in choosing the right foods.
It is best to prepare a complete health plan and stick with it. You will find one such health plan here:-
http://www.joyfullivingservices.com/idealdiet.html
If you are looking for a plan for a child, then here is a good resource:-
http://www.vegsource.com/attwood/stages.htm
These diets can work very well and you won't need a fad diet to help you. You can be your own fitness guru.
Summary
There are other things you need to lead a complete life. Merely eating right is not enough.
Eating Right Is Not the Only Thing
You must have heard time and again how important it is to supplement your dietary habits with various other healthy lifestyle aspects in order to enrich your life. Diet is one part of our lives – a very important part too – but it is not the only thing. Exercise is the first thing that comes to mind when we speak about a supplement to diet. We already know the great importance of physical exercise. If you are going to eat right but still you are going to stay a couch potato, then there's very little benefit that you are going to get out of your newly improved eating habits.
Other Details
- 1 Ebook (DOCX, PDF), 43 Pages
- 1 Salespage (HTML)
- Ecover (JPG)
- File Size: 791 KB