Salespage Snapshot: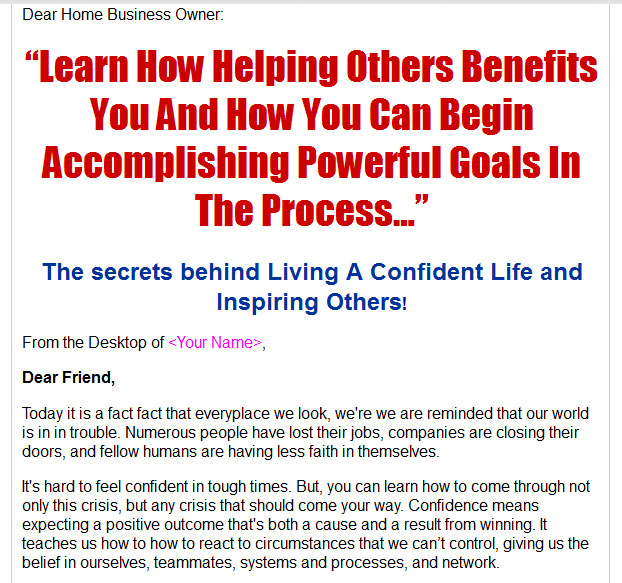 >>> Click Here To View Full Sales Page…
Table Of Contents
Chapter 1:
Talking with Anyone – What Do You Need?
Chapter 2:
What Does "Breaking the Ice" Actually Mean?
Chapter 3:
Asking Him or Her for a Date
Chapter 4:
Approaching Your Job Interview as though You Own Them!
Chapter 5:
Public Speaking – How to Appear and Be Confident Onstage
Chapter 6:
Scoring a Hit with Your Very First Lecture
Chapter 7:
How to Speak with Your Business Clients and Always Win!
Chapter 8:
Speaking With Famous People and Celebrities
Chapter 9:
Being a Leader… How Communication Helps
Chapter 10:
The 3 Ingredients for Any Kind of Successful Public Communication
Sample Content Preview
What Does Breaking the Ice Actually Mean?
One of the terms that we use very often in our colloquial talk is 'breaking the ice'. If there is a really sexy girl in college or a handsome hunk and you manage to get a few words out of her or him for the first time, you say you have broken the ice with them. If there is someone superior to you at work and you have always been aloof and then suddenly you get them to talk with you, you say that you have broken the ice. So, does breaking the ice just mean getting on communicating terms with someone new? Or is there more to it than we generally imply?
I would say breaking the ice means getting the person interested in you. It is not just about getting them to use their vocal cords; it is about getting them interested in you at least to a little extent so that they feel it worthwhile to say something in response. When you have broken the ice with someone, they most usually speak something in response to what you are saying. This means that what you told them has held their interest.
Think about the term itself. When ice is ice, it is solid. It is stubborn and hard. But when you break it, it becomes pliable at once. It becomes fluid and starts moving. It doesn't take it long to become warm water. But as long as it is ice, it will continue to be hard. So, when you break the ice with someone, you are actually turning someone who is cold toward you into a warm, responsive person.
In other words, breaking the ice is the beginning step to any conversation.
How do you get that to happen?
All the rules I have stated in the first chapter work. You can use them, all at once, to make speaking with unfamiliar people a definite possibility. But you have to take the initiative here. Don't assume everyone to be frank and friendly and free-spirited. For most people, you will have to break the ice. This may be the route to a potential friendship or business collaboration or maybe even a relationship.
Think about it.
Break the ice more often than you do.
Summary
It is considered to be a very difficult thing to do. Asking someone for a date. Probably because there are just two definite answers here – 'yes' and 'no'.
Asking Him or Her for a Date
Let me make clear here, right from the start. In this chapter, and in all the chapters that follow, what I am going to tell you is how to start talking with people. Or, rather, how to get people talking with you. However, no one can guarantee the results of such communication. There are many factors at play when you talk. No one can tell you what will happen as a consequence. But at the same time you have to know that most fruitful opportunities are lost just because people don't start the communication. So, when you learn how to talk with people, how to break the ice, you are already improving your playing field.
People think approaching someone for a date is a very difficult task. However, if you go about it the right way, you will at least be able to open the conversation and know if it is a 'yes' or 'no'.
Here are the steps you can use to go about it.
1. Be confident. Think how you will open up the conversation. If the boy or girl you are approaching has some common link with you, you could have something to talk about in that context. Otherwise, you could speak about the situation in which you find each other. Like, if you see him or her sitting at the food plaza in a mall and eating alone, you could walk up to him or her and ask, "Hello, could I join you? I have seen you eating alone here often." Yes, being honest works here. If you have seen them, you have seen them.
2. Always keep taking the hints. If they like you, it will be an immediate 'yes'. A reluctant 'yes' will mean that you have to work on it. A 'no' means you have to move elsewhere.
3. If you are sitting with them, keep foraging for topics to talk about. Don't worry; the communication lines are open now. You now have to observe the hints. If they like something, talk about it. Don't downgrade it right away. That could mean a polite excuse and the end of the conversation.
4. Plan in advance where you will ask them if the situation for a date seems to form itself. Ask them casually. Ask them, "Have you been to China Joe? I hear that's a good Chinese place to eat." If they say they haven't, ask them if they are interested in Chinese food. Basically, get to know them. Chances are, if they like you they will say 'yes' to accompany you even if they don't like Chinese.
5. Start small. Don't plan an elaborate date right from the start. They will be more at peace to accompany you at a fast food outlet first than at a seven course buffet restaurant. Also, for the first date choose a place where you can get some privacy but not too much privacy. That might scare them.
Most importantly, stay confident. It isn't going to be the end of the world if they say 'no'. If at any point in the conversation they refuse, don't be depressed. It is their loss, not yours! Tell yourself that and move on!
Summary
A lot pegs on a job interview. It could be a life-changing experience in many situations. It is no wonder that more than half the people are scared to death about facing interviews.
Approaching Your Interview as though You Own Them!
So you got that all-important call for the job interview that you were rooting for. Now, everything depends on how the interview goes. Enough to put pressure upon your shoulders, right? But do you think you are going to nail that interview if you go with all that pressure?
You must approach your job interviews with care. You have to show them that you know your stuff, but at the same time you must not come across as brash. You have to walk a fine line here – not seem insolent but at the same time you must not seem submissive either. The impression you generate during your job interview stays with you throughout your career life.
Here is how you must prepare yourself.
1. Tell yourself that you have got this interview. Let it seem real to you. Now, you have to become practical about it. You should not let this chance pass you by.
2. Repeat this several times – "They called me because they found something good in my résumé". This will help boost your confidence like nothing else can. You will realize that there's some quality about you that they liked.
3. The day you go for the interview, don't work yourself too much. Dress subtly, and do some breathing exercises before entering the interviewing hall. Yes, this helps.
4. Introduce yourself to them with a firm handshake if within reach. If not, make good eye contact which shows them you aren't nervous.
5. You must have already researched on what they ask during interviews. Prepare your pitch well. The advantage here is that you don't have to break the ice, because they will speak with you first. They will ask you to walk them through your résumé. You should have this ready. Focus on the positive points and make sure that they hear them, but don't dwell on a particular area too much.
6. If there is something quirky about your résumé, they will definitely ask you about that. Keep a reply ready. You must know that it is the most fruitful if you could be honest in your replies.
7. Most times, they will ask you your opinion on something. This is the clinching point actually. Make sure you say something creative. Don't hold back, and don't cross any lines. Remember that this question might come out of the blue, when you think everything has relaxed. Be prepared for such assaults.
8. They may also ask you your strengths and weaknesses. Again, be upfront and honest. Don't overemphasize your plus points. Don't dwell too much on your weaknesses. Act as though they are quite commonplace, everyone has them.
You have done your best. Now, wait for them to decide whether they can take you. If the call doesn't come, you can at least seek solace in the fact that you did not make a mistake.
Other Details
- 1 Ebook (DOCX, PDF), 44 Pages
- 1 Salespage (HTML)
- Ecover (JPG)
- File Size: 589 KB