Home Decoration PLR Autoresponder Email Series v2 Features:
* 52 Weeks Pre-written Newsletters
This isn't just ANY private label content. These newsletters are written to effectively promote best-selling affiliate products for an entire year. All the work is done for you.
* List of Top Affiliate Programs
Comes with high-paying, high conversion affiliate programs from Clickbank, Commission Junction, Shareasale, and others – just sign up! Once you've got your affliiate links, you put them into the content and bam – your newsletters are branded and ready to make you money!
* Opt-In Template For Each Niche
Pop in YOUR autoresponder information, and you're ready to upload this page to any domain and start collecting leads!
Opt-In Template Preview: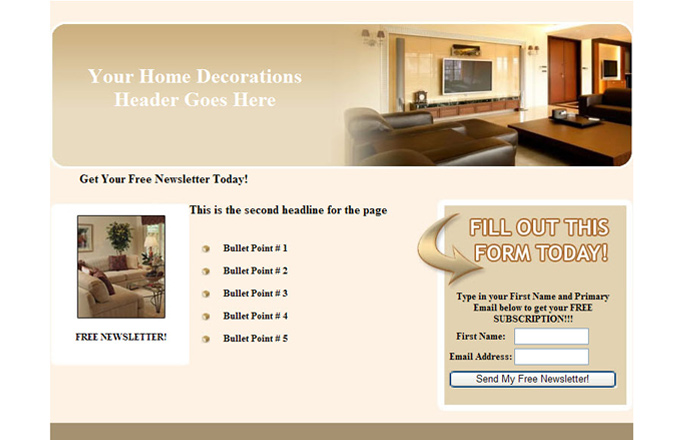 Autoresponder Message Titles:
– Arranging Furniture
– Collectibles For Decoration
– The Art Of Home Decoration
– Child Room Decor
– Guest Room Decor
– The Woman's Touch
– Kitchen Decor
– Home Identity
– Mirror, Mirror On The Wall
– Coffee Tables
– Using Area Rugs In Home Decoration
– Design Tips
– Organic Home Decor
– Using Plants And Flowers In Home Decor
– Porch And Patio Decor
– Wallpaper And Borders In Home Decor
– Home Office Decor
– Using Shelves In Home Decor
– Little Boy Room Decor
– Budget Home Decor
– It's All About Style
– Bathroom Decor
– Playroom Decor
– Rags-to-Riches Decorating
– His And Hers Decorating
– Floor Decor
– Japanese Room Dividers
– Window Decor
– Fountains In Home Decor
– Using Candles In Home Decor
– Choosing Home Decor Colors
– Nursery Decor
– Using Wall Clocks In Home Decor
– Using Tapestries In Home Décor
– Accent Tables
– Decorating An Apartment
– The Bachelor Pad
– Choosing A Curio Cabinet
– Interior Shutters
– Bedroom Decor
– Hallway Decor
– The Teenager Bedroom
– Lamps, Lighting, And Home Decor
– Switch Plate Covers
– Small Room Decor
– Country Kitchen Decor
– Ceramic Tile In Home Decor
– Little Girl's Room Decor
– Wall Art
– Dining Table Decor
– Landscaping
– Wall Arrangements
Sample Affiliate Program Preview:
Home Decorators
The Home Decorators Collection is "one of the nation's leading online home decor retailers." Earn 7% commission on an average order value of over $340 ($23.80) or more. Your earnings are increased with 10% commission on new lighting arrivals and 20% on featured items.
Better Homes & Gardens
Receive commissions by selling a variety of home and garden related items. Commission structure is as follows: Earn 30% for magazine subscription sales; Earn 10% for product sales; Earn 20% for eProject sales; Earn 20% for Annual Book sales.
WalMart
The Walmart.com Affiliate Program allows you to refer customers from your website to Walmart.com and earn commissions from qualifying sales. Program administered through LinkShare. You must first sign up for a LinkShare account, then create your Walmart Affiliate account.
MASS Wholesalers
MASS Wholesalers is formerly known as Gifted Treasures. Their main goal is to offer consumers affordable yet unique gifts from varied countries. Their focus and fascination with exotic rarities has driven the company thus far; Affiliates many choose between promoting the entire site or picking and choosing the product pages that best suit a site. Commission of 10% for every sale generated.
CedarStore
The Cedar Store "Offers the Best Quality Outdoor Furniture, which means more people buy from us – earning you more commission." Earn up to 8% for each sale; 30 Day Cookie Duration.
Uncommon Goods
This site combines the treasures of a specialty boutique, the great finds of a craft show, discoveries from a faraway bazaar, along with some enduring classics. The Uncommon Goods affiliate program adds to that a great line of unique products. Earn 10% commissions on all orders; 30-day cookie duration; a dedicated, helpful affiliate team and a well-designed, high-converting website.
Other Details* No Of Messages
: 52
* File Format
: TXT
* Included Graphics
: eCover [PSD, JPG]
* Extras:
Squeeze Page
* Extras:
Affiliate Programs [PDF]
* Download File Size:
2,143 KB