Squeeze Page Preview: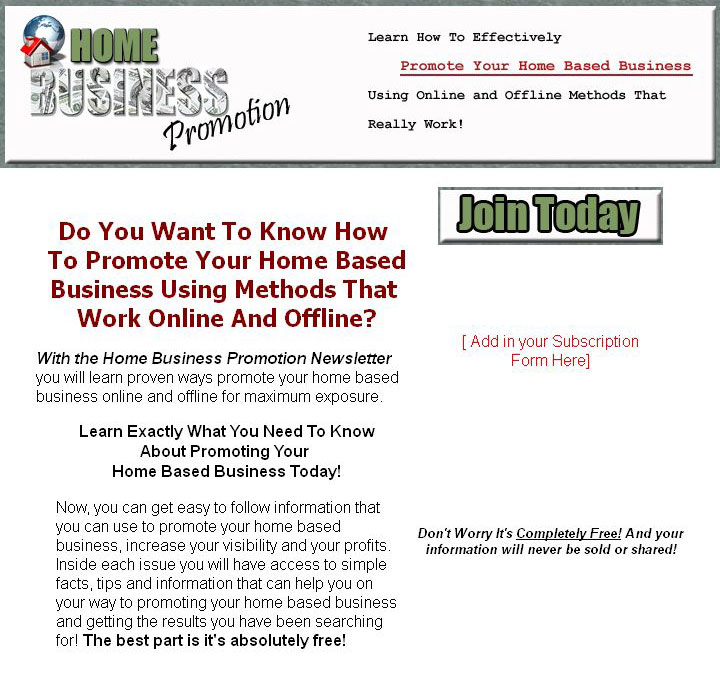 >>> Click Here To View Full Squeeze Page…
Features:
* 12 Issues Full Of Great Content
– Just add in your contact info and plug it in to your favorite auto responder. Each issue contains 500 words or more!
* One Ready To Go Squeeze Page
– Just add in your opt in form, upload to your server and your done!
* One Ready To Go Thank You Page
All ready to remind your subscribers to check their email and confirm their subscription. It even has built in revenue!
* 4 Researched Click Bank Products
These are top selling products on Click Bank that I've personally researched and chosen for each series.
* Extra Copy And Paste Article Content
You will get:
– Extra titles
– Extra opening paragraphs
– Extra closing paragraphs
– Extra fill in paragraphs
(these would make great tips that you add in to your follow ups system for more frequent contact with your readers)
Sample Content Preview
Message # 1
Subject line: Your First Home Business Promotion Monthly Issue
Hello "autoresponder code here",
Welcome to the first Home Business Promotion issue.
In each issue of Home Business Promotion Monthly you will learn
valuable information on how you can successfully promote your
home business.
In this first issue we will go over some of the first steps that you
should take to start promoting your home based business.
If you have made the decision to start your own home based
business, then you must know that it is going to be a lot of hard
work. Once you have everything in place it is time to start
promoting your business. This is the most important part of your
business. You have got to get your business out there and let
people know that you exist if you want to make any sales.
So where is the first place that you should start to promote your
home based business?
First of all, you should get a website. The good news is, websites
are very easy and affordable to obtain these days. Simply think
up a domain (dot.com) name that will showcase your business.
For example, let's say your name is Sally and you have a custom
sewing business from home. You may want to register the domain
sallyscustomsewing.com. This will brand you because you are
using your own name. If your name is quite common, you may
want to come up with something more original that people will
connect right away with your business.
Now that you have determined what your domain will be go to
WHOIS.com and plug in your domain name. This free service
will tell you if the domain name is available for purchase.
Next, you need to find a website hosting service. There are a
ton of them available on the Internet these days and some are
very affordable. The more popular ones for beginners are
Hostgator, Hostmonster and GoDaddy. Do some research to
see what kind of services that each one offers and you can
determine which on is right for your business. With most of
these web hosting services, you can purchase your domain
name through them. So you will be purchasing a domain name
and a web hosting account.
Now you have the basic items that you need for your online
promotion. You need to build a website or have someone
build it for you. Things to include on your website would be an
introduction page that tells a little bit about your business and
what you are offering. An about me page that reveals important
information about you. This is the page that gives you credibility.
Here you will reveal any specialized training or interests that
you may have. You will also need a page that lists the services
or products that you offer with pricing. If you offer a service, it
is a good idea to include testimonials from prior satisfied
customers to increase trust in your business.
This is one of the first steps to promoting your home business.
There are many more steps that will be revealed in future
issues. Make sure you look for your next one soon. We will be
talking about the basic starting points for offline home business
promotion.
Thank you again for joining,
"your name here"
"your email address"
"your URL here"
Other Details
- 12 Part Autoresponder Email Messages (TXT, DOC)
- Squeeze Page (HTML, PSD)
- Ecover (PSD, JPG)
- Affiliate Programs List
- File Size: 1,597 KB