Features:
* 52 Weeks Pre-written Newsletters
This isn't just ANY private label content. These newsletters are written to effectively promote best-selling affiliate products for an entire year. All the work is done for you.
* List of Top Affiliate Programs
Comes with high-paying, high conversion affiliate programs from Clickbank, Commission Junction, Shareasale, and others – just sign up! Once you've got your affliiate links, you put them into the content and bam – your newsletters are branded and ready to make you money!
* Opt-In Template For Each Niche
Pop in YOUR autoresponder information, and you're ready to upload this page to any domain and start collecting leads!
Opt-In Template Preview: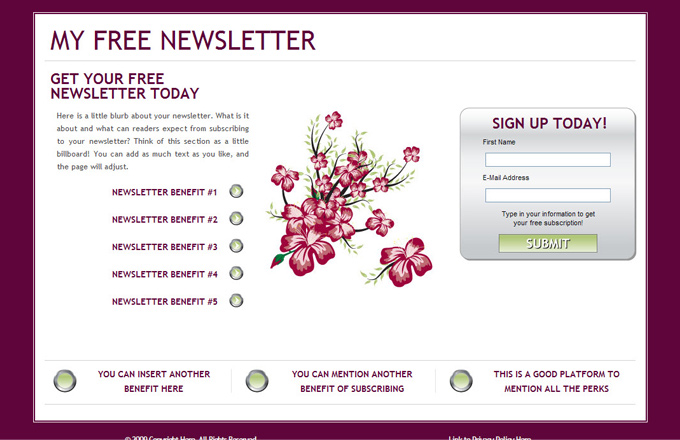 Autoresponder Message Titles:
– Candlemas Or Groundhog Day
– Easter Music
– May Day
– Easter Movies For Kids
– A Disney Spring Holiday
– The First Day Of Spring: Vernal Equinox
– Father's Day
– The Equinox
– Easter Candy
– Chocolate Easter Bunnies
– Spring Cruises
– Easter
– Passover
– Famous Spring Quotes And Proverbs
– Spring Holy Days
– Cancun For Spring Break
– The Easter Parade
– Easter Baskets
– Easter Activities For Children
– Earth Day
– The Easter Lily Legends
– Easter Egg Hunts
– Spring Superstitions And Sayings
– Arbor Day
– Greeting Cards For Easter And Passover
– The Shamrock On St. Patrick's Day
– The Colors Of Spring
– The Legend Of The Leprechaun
– Top Spring Break Destinations
– Mardi Gras
– The White House Easter Egg Roll
– Spring Planting Rules And Rituals
– Holi: The Fire Festival
– Carnevale Festival
– Easter Dinner
– April Fool's Day
– Easter Gifts
– Valentine's Day
– Ash Wednesday
– Spring Holidays In The Sun
– Spring Vacations
– The Easter Bunny
– Good Friday
– Cinco De Mayo
– St. Patrick's Day
– Easter Eggs
– Mother's Day
– Faberge Eggs
– Lent
– Spring Festivals And Attractions
– Spring Break Holiday Safety Tips
– Spring Break
Sample Affiliate Program Preview:
PrintableGamesAtoZ
Printable GamesAtoZ has games for all types of occasions, including Easter, St. Patrick's Day, and Valentine's Day. Affiliates earn 35% commission.
Paper
Paper is the number one provider of holiday-related paper products specializing in the online sale of party decorations, arts and crafts, games, books, scrapbooking, stationery, gifts, and accessories. Two-tier program pays 15% commission on personal sales, 25% on second tier; 30-day cookie; datafeed available.
Amazing Clubs
Amazing Clubs is the first choice of thousands of consumers for great gift-of-the-month clubs, including clubs for wine, beer, chocolate, coffee, flowers, cheesecake, cookies, etc. Pays $10.00 commission with a three-month EPC of $33.78.
Flora 2000
Flora 2000 delivers "Premium Flowers Worldwide." They offer excellent coupons to affiliates for all major holidays and other occasions. Commission is 15%. Average sale is $61.00. They have a seven-day EPC of $29.62 and a 365-day cookie duration.
GreatArrivals Gift Baskets
"Gift Baskets include only the finest quality gourmet items and are offered to consumers at prices 25%-40% off that of most competitors. Earn 10-14% commission on all sales that come from your site. An excellent resource for holiday and spring gift ideas.
zChocolat – French Chocolate Delivery
Offers world premier chocolates, with worldwide express gift deliveries. Offers a 20% commission; 45-day cookie. Commission structure consists of three tiers: Make $1.31 for each new registered member plus, 20% commission on the first order or a 8% ongoing commission on all present and future orders.
Other Details* No Of Messages
: 52
* File Format
: TXT
* Included Graphics
: eCover [PSD, JPG]
* Extras:
Squeeze Page
* Extras:
Affiliate Programs [PDF]
* Download File Size:
2,565 KB