Salespage Snapshot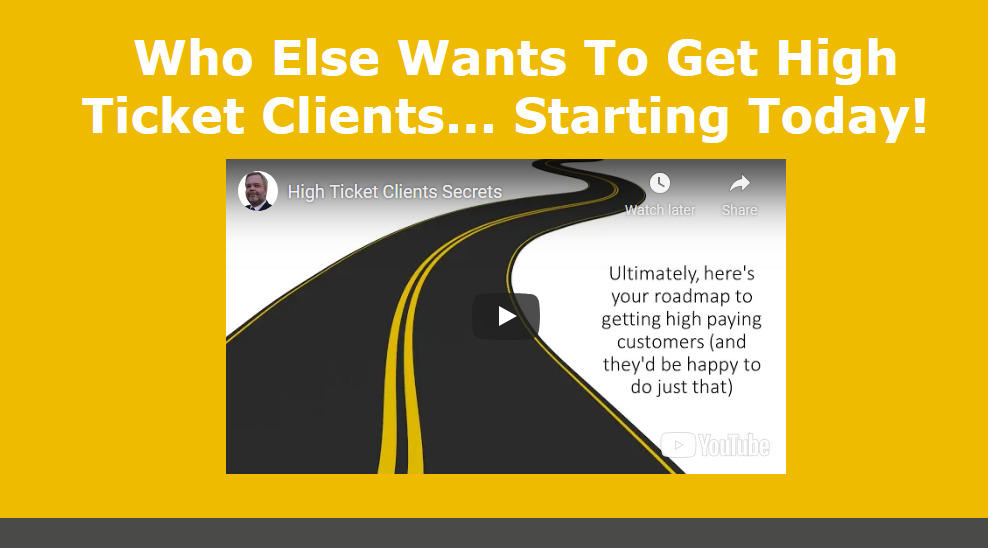 >> Click Here To View Sales Page...
Table of Contents
Legal Notice……2
Table Of Content……3
High Paying Client Secrets……. 6
Chapter 1: Why Go For High Paying Client……7
Chapter 2: What It Takes to Close High Paying Clients…8
Belief System 8
The Power Of Belief….. 9
A Belief That Empowering You.. 10
Chapter 3: How To Position Yourself As An Expert…….11
Define Your Expertise 11
Create An Expert Intro For Yourself.. 12
Share Your Credibility Story…….12
Testimonials……. 13
Marketing Approach.. 13
Chapter 4: How To Identify And Qualifying The Right Clients……15
Targeting The Right Segment Of The Market….15
Determining The Qualifying Criteria..16
Money…. 16
Needs……16
Desired Outcomes..16
Expectations…16
Commitment & Determination….. 16
Distraction……17
Chapter 5: The Sales Process. 18
Opening…… 18
Purpose of the Call.18
Setting Expectation & Establish Credibility… 18
Understanding Client's Needs & Building Trust19
Discovering Their Situation….19
Discover Their Dreams Or Goals….19
Building Trust. 20
Educating Client. 21
Pre-Presenting Framing….. 22
Step 1: Qualifying & Assess Their Commitment… 22
Step 2: Reconfirm the Goals.. 22
Step 3: Assess Their Financial Budget… 22
Step 4: Invite Them to Watch the Video Presentation.23
Presentation…….23
Pre-Closing. 25
Closing 26
Chapter 6: Sales Objections…28
Common Sales Objections. 28
Lack of Need…28
Lack of Urgency……28
Lack of Trust… 29
Lack of Money29
Common Mistakes….. 29
APAC Model……. 29
Acknowledgement. 30
Probing… 30
Answering…….30
Closing…. 30
Chapter 7: How to Price Your Product & Service..31
Pricing Strategies31
Cost Plus Pricing….. 31
Value Based Pricing32
Factors To Consider… 32
Know Your Competition.32
Know Your Cost……33
Know Your Customers… 34
Know Where Your Market Is Headed….34
Monitoring Your Pricing…..34
Chapter 8: How To Deliver The Results After The Payment Is Made…36
Develop A Business Blueprint….36
Understanding Your Client's Business Situation……. 36
Develop A Weekly Steps Action Plan 37
Monitor And Review The Progression…….38
Sample Content Preview
we are going to believe. Instead, our beliefs are often the misinterpretations of past events.
As an illustration, let's take a look to this analogy of belief. Think of a belief as a tabletop. Without any legs, the tabletop won't even stand up by itself, right? So, what if belief has legs? Here is when you want to believe in something, you have the references to support the idea. The references are the specific experiences that back up the belief where by in this case, the legs are the supporting evidence. These are the legs that make your tabletop solid; and thus, it makes you certain about your beliefs.
To put it another way, I am going to give you an example just for you to get the idea of belief. Let say, if you believe that you are not good at Mathematics, you are probably have a lot of references to back it up. Maybe you have answered wrongly in class for several times, you failed the last two tests; or maybe your mother said something like this "I'm afraid you got my genes in the math department, my dear.", and it could be many other reasons that you could refer to make a stand on your belief. So, based on the references above, you can find experiences to back up almost any belief that you hold on to.
The Power Of Belief
Let us see how strong the power of belief is. It is either your belief helps you or hurts you; or either it can empower you or cage you in forever. This short story will show you the effects of beliefs. Elephant keepers have an interesting way of keeping their elephants from running away. They tie them to a wooden peg with a rope. It doesn't make sense on the surface, since a rope like that has no hope of holding a grown elephant. But ask any elephant keeper and he will chuckle and explain: "When a baby elephant is born, the herder ties it to a peg with a rope. At this point, the rope is strong enough to hold the elephant. The baby elephant quickly learns that trying to escape the rope is futile. And he keeps that learning with him, even as he grows up and the rope becomes far too weak to hold him."
One day, the circus accidentally went on fire, and the elephant died. He was enormous, and could have easily ripped the pole out of the ground to run away to safety, but there was a SELF-LIMITING BELIEF in his mind that told him he would not be able to do it, and so he did not even try. Like the elephants, we often form beliefs that might be useful at first, but then hold us back in life, long after the original reasons are gone. This can be concluded by a quote by Anthony Robbins – "Beliefs have the power to create and the power to destroy." Back to the famous quote on belief from the Star Wars series which I have mentioned earlier, the lesson to be learned could be related to a scene where Master Yoda uses the force to lift the entire crashed ship out of the swamp, moves it through the air and gently places the ship on firm land as light as a feather. Luke Skywalker stammers "I… I don't believe it." and the Jedi Master replies "And that is why you fail."
A Belief That Empowering You
Again, I would like to highlight it here, despite the question of whether we could achieve the targeted goal or strategy, it is normally our skepticism or doubt that restricts us from fully dedicating which eventually becomes a self-fulfilling prophecy when things fail to work out as we thought they would. Our beliefs somehow affect how we apply ourselves and will eventually give impacts to our success. So, how to turn your self-limiting belief to a belief that empowering you? When there is a little voice say that you're not good enough or you are not able to do it, turn it to this: "If I could help someone to get the result for themselves faster, easier and more efficiently than they could do it for themselves, that's all the credentials I need."
Chapter 3: How To Position Yourself As An Expert
In making any purchasing or money related decision, every client wants to be working with an expert, someone who has a definite and legit solution to their problems. Nobody wants to be paying someone who may end up wasting their time and money because of insufficient capability and knowledge.
And as a marketer, you have to stand out among the crowd to attract clients. You are just one of the millions fishes in the infinite ocean of alternatives. So what makes you different from other marketers in the business? What does it take to make clients opt for your service or product over somebody else? You become the expert.
You establish a brand that everyone seeks for because you're the best go-to expert. Define Your Expertise
A lot of people tend to say "but I'm no expert."
Yes, sometimes, it is true. You probably aren't the best there is.
But often, it is just the wariness and low confidence playing the mind. It's funny how even after spending years in a field and producing consistent results, people would still be wary to stand up and claim themselves as true experts.
Think about it. If you are not confident in your expertise, how and why would any client be willing to pay you big money for business?
So don't be wary about what you're good in. Be bold and clear. Stand up and own it. Speak of your expertise to people, tell clients what you're good in, why and how did you become the expert in what you're doing, also what's in for them if they pick you instead of others.
Think about it, would a client rather work with someone who says, "Well, I guess I help people, um, get more traffic and something like that," or someone who says, "I am an online traffic expert"?
Be definite and confident. Own it. Your clients would appreciate it as it installs confidence in their decision to work with you as well.
Create An Expert Intro For Yourself
Come up with things that can introduce your expertise to the clients. Videos, articles, interviews, or even live talks – just anything that you can reach out the people and introduce yourself.
An expert intro will help to establish your credibility. It is a very powerful tool to convince your clients that you are indeed who you say you are.
In your intro, you can state your area of expertise, your tag line – any catchphrase or slogan that you can use to advertise yourself, the name of your website, your service or product etc.
Make sure it is one that will clearly work to inform clients about your expertise and what can it bring to your clients, how you can help them and why should they choose you.
Share Your Credibility Story
It is extremely essential to provide stories or past experiences that can further prove and justify your claim as an expert.
Therefore it is important that you share story to enhance your credibility. It works as a connecting device between you and your audience. It helps to establish authority and trust, then it motivates them to take action.
Do this step by step. You can begin by sharing story about how you struggle to succeed, this will draw rapport as people can relate to you.
Later then you can describe your qualifications and experiences, what are the sources of your deep knowledge. This shall work to demonstrate why you know more than other people in the market, things like certifications, degrees, years of experience, first hand trial-and-error and etc. should do the job.
Lastly, you can share your personal stories of finally achieving success, as well as the stories of your successful clients and customers, how did they achieve success through doing business with you.
Testimonials
Another person's comment or opinion about you is a very powerful tool. Most people would trust a third party's words more than the person's words. Because we believe in majority and we find social proof more trustworthy and legit.
So if you are not already receiving some volunteered testimonials to review your credibility, you can start asking people to do so. Send an email to your list to request for their feedback on their experience working with you.
If you are willing to go to a further extend, you can also offer free coaching sessions to people who in return willing to be part of a before-and-after experience case to be featured as a social proof testimonial on your site or blog.
Marketing Approach
How you sell and communicate to your clients will affect your positioning and credibility also.
A lot of marketers are still using the old selling approach where they talk about themselves. For example, "Look at how good I am, pay me money and I'll do it."
If you are always talking about yourself, how good you are whenever you engage in conversation with clients, you will be perceived as pushy and a fake wannabe expert.
An expert selling approach is to talk about how you can help them to get the results they want. For example, "You need help? Here's some ways I can do to solve your problem. Let's do this. And also this. Now how did that work for you? Great, why don't you try this next? Let me know if there's still problem."
Clients are simply looking for people who can solve their problems. The amount of money they're willing to pay you will be in direct proportion to the amount of confidence they have in your ability to get them results.
Other Details
- 1 Ebook (PDF, DOC), 42 Pages
- 1 Salespage (HTML)
- 8 Ecovers (PNG)
- Checklist, Mind Map, Landing Page, Email Swipes, Sales Video, Report
- Year Released/Circulated: 2021
- File Size: 22,124 KB
License Details:
[YES] Can sell and keep 100% of the sales
[YES] Can edit the sales letter and graphics
[YES] Can be bundled into another paid package and sell at a higher price
[YES] Can be used as a bonus to another product you are selling
[YES] Can be sold in a Dime sale event
[YES] Can be added into a PAID membership site
[YES] Can pass on the Resell Rights privilege to your customers
[NO] Can be given away for free
[NO] Contents of the product can be edited, modified or altered