Squeeze Page Preview: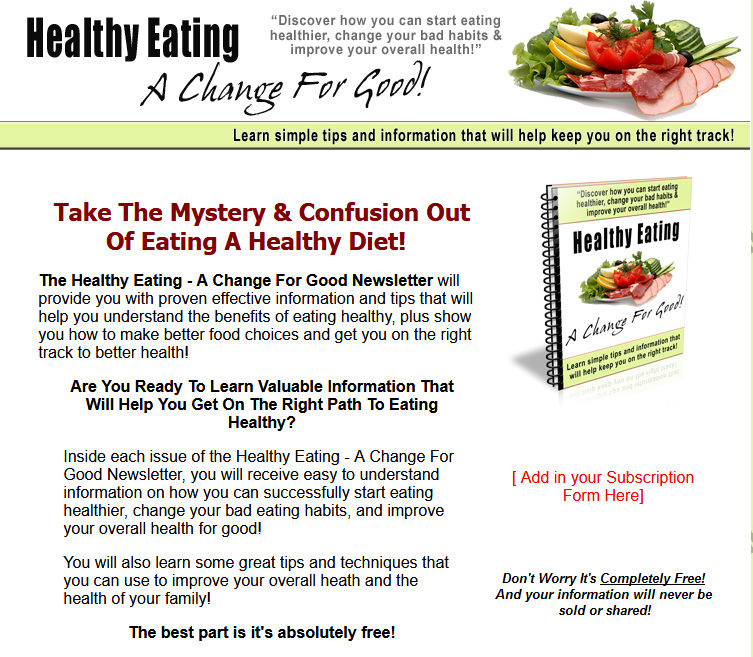 >>> Click Here To View Full Squeeze Page…
Features:
* 12 Issues Full Of Great Content
– Just add in your contact info and plug it in to your favorite auto responder. Each issue contains 500 words or more!
* One Ready To Go Squeeze Page
– Just add in your opt in form, upload to your server and your done!
* One Ready To Go Thank You Page
All ready to remind your subscribers to check their email and confirm their subscription. It even has built in revenue!
* 4 Researched Click Bank Products
These are top selling products on Click Bank that I've personally researched and chosen for each series.
* Extra Copy And Paste Article Content
You will get:
– Extra titles
– Extra opening paragraphs
– Extra closing paragraphs
– Extra fill in paragraphs
(these would make great tips that you add in to your follow ups system for more frequent contact with your readers)
Sample Content Preview
Hello "autoresponder code here",
In the last issue we talked about what it means to become a healthy
eater. In this issue we are going to go over some common myths that
could lead you off the path to eating healthier.
Did you know that not fueling up with the right nutrients can affect how
well your body performs and your overall fitness benefits? Even though
healthy eating is important, there are myths that can hinder your
performance if you listen to them.
Below, you'll find some myth busters on healthy eating.
– Working out on an empty stomach.
If you hear a rumbling noise in your stomach, the rumbling is trying to tell
you something. Without listening to them, you are forcing your body to
run without any fuel. Before you exercise or do any physical activity,
always eat a light snack such as an apple.
– Relying on energy bars and drinks.
Although they are fine every once in a while, they don't deliver the
antioxidants you need to prevent cancer. Fruits and vegetables are your
best bets, as they are loaded in vitamins, minerals, fluid, and fiber.
– Skipping breakfast.
Skipping breakfast is never a good idea, as breakfast starts the day.
Your body needs fuel as soon as possible, and without it, you'll be
hungry throughout the day.
– Low carb diets.
Your body needs carbohydrates for your muscles and the storing of
energy.
– Eating what you want.
Eating healthy and exercising doesn't give you an all access pass to
eat anything you want. Everyone needs the same nutrients whether
they exercise or not, as well as fruits and vegetables.
– Not enough calories.
Although losing weight involves calories, losing it too quickly is never
safe. What you should do, is aim for 1 – 2 pounds a week. Always
make sure that you are getting enough calories to keep your body
operating smoothly. If you start dropping weight too fast, eat a bit
more food.
– Skip soda and alcohol.
Water, milk, and juice is the best to drink for active people. You should
drink often, and not require on thirst to be an indicator. By the time
you get thirsty, your body is already running a bit too low.
Changing how you eat is always a great step towards healthy eating
and it will affect how your body performs. The healthier you eat, you
better you'll feel. No matter how old you may be, healthy eating is
something you should strive for. Once you give it a chance, you'll see in
no time at all just how much it can change your life – for the better.
Make sure you look for your next issue soon. We will be talking about
healthy fat intake.
Until then,
"your name here"
"your email address"
"your URL here"
Sample Extra Titles
What You Don't Know About Healthy Eating May Shock You
The Dirty Truth on Healthy Eating
The Healthy Eating Trap
The Low Down on Healthy Eating Exposed
Dirty Facts About Healthy Eating Revealed
The Undeniable Truth About Healthy Eating That No One Is Telling You
What Everybody Else Does When It Comes To Healthy Eating And What You Should Do Different
The Idiot's Guide To Healthy Eating Explained
Unknown Facts About Healthy Eating Revealed By The Experts
The Hidden Truth on Healthy Eating Exposed
The Secret of Healthy Eating That No One is Talking About
The Unexposed Secret of Healthy Eating
The Healthy Eating Diaries
Healthy Eating – An Overview
The Ugly Side of Healthy Eating
An Unbiased View of Healthy Eating
What's Really Happening With Healthy Eating
The Ultimate Guide To Healthy Eating
5 Simple Facts About Healthy Eating Explained
What To Do About Healthy Eating Before It's Too Late
The Secret For Healthy Eating Revealed in 5 Simple Steps
The Ultimate Solution For Healthy Eating That You Can Learn About Today
Be The First To Read What The Experts Are Saying About Healthy Eating
And More…
Sample Extra Paragraphs
Fat intake for the elderly should be limited, not eliminated. You can limit
fat by choosing lean meats, low fat dairy products, and food
preparation methods that don't include frying.
————————————
Don't be tricked into buying yogurt covered by nuts or raisins, as the
coating is normally made of sugar and partially hydrogenated oils.
————————————
When it's possible, you should avoid eating large meals at night. When
your body gets ready for sleep and slows down, it also burns calories at
a much slower pace. Never eat bread before bed, and make sure to
avoid the butter. Choose fish or poultry for your meal instead, and
include vegetables as a side dish.
————————————
Water in the body decreases with age, so many older folks will become
dehydrated very easily. Sometimes they won't feel thirsty, while other
times it's too much work to pour a glass a water. With this in mind, it's
recommended that they drink at least 1 ounce of water for every 2.2
pounds of weight.
————————————
Like oranges, potatoes are very high in vitamin C. The fact is, one
medium potato contains 45% of the vitamin C that's recommended for
good health. Potatoes are also high in fiber and carbohydrates and
contain more potassium than a banana.
————————————
Preventing malnutrition and dehydration are your most important factors
during first trimester. When you are pregnant, you need to consume
around 300 calories more than usual every day. The best way to go
about doing this is listening to your body when you are hungry. You
should try to eat as many foods as possible from the bottom of the food
pyramid.
————————————
You can prepare potatoes by boiling them, steaming them, or even
roasting them. If at all possible, you should avoid putting potatoes in
the refrigerator or freezing them, as cold will turn the potato starch to
sugar and cause them to turn dark when they are cooked.
————————————
Because they don't eat meet, vegetarians will often wonder how they'll
get enough protein. Although you may not realize it, the average
American actually consumes more protein than he actually needs. For
the lacto-ovo vegetarian, dairy products are an excellent source of
protein. Vegans on the other hand, get their protein from nuts, seeds,
and soy products.
And More…
Other Details
- 12 Part Autoresponder Email Messages (TXT, DOC)
- Squeeze Page (HTML, PSD)
- Ecover (PSD, JPG)
- Affiliate Programs List
- File Size: 10,700 KB