Salespage Snapshot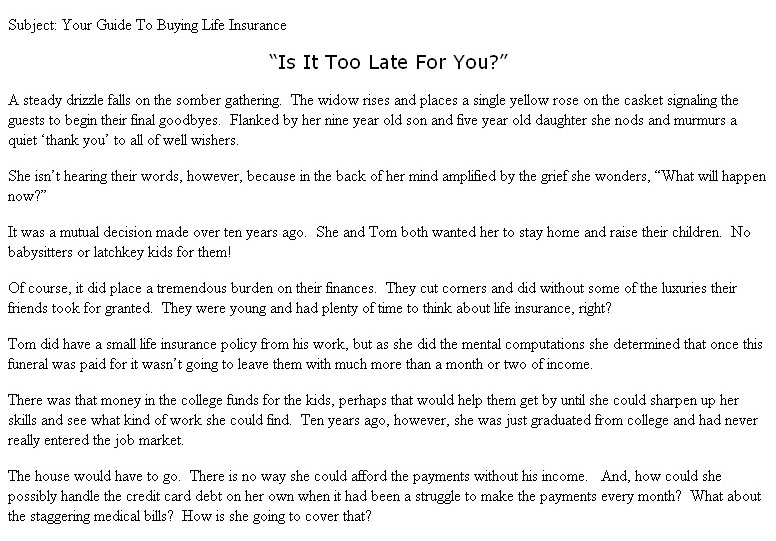 >> Click Here To View Sales Page...
Ebook Table Of Contents
About Buying Life Insurance
Who Needs Life Insurance?
Permanent Life Insurance
Term Life Insurance
What Are Annuities and How Do They Work?
What Are Policy Provisions?
What Is A Rider?
How Are Premiums Determined?
Explaining Dividends
What Are Non-forfeiture and Settlement Options?
What Are Policy Loans?
What Is Underwriting?
Qualified and Non-Qualified Retirement Plans
Life Insurance and Taxes
Government Plans
Ebook Sample Content Preview
About Buying Life Insurance
Everything You Need to Know About Insurance on Your Life
Parents take out life insurance on themselves "to protect their children." A husband kills his wife so he can take the insurance and make himself rich. What's the fuss all about? Why does insurance lead to so much goodness, and yet so much trouble? What is life insurance?
Life insurance (also known as life assurance in the United Kingdom) is, put simply, a financial package designed to protect those who depend upon you for monetary support. A life insurance policy is a legal contract. Within it are terms and conditions of the risks assumed. Any misrepresentation by the policy holder or the insured will be grounds for nullification of the insurance.
To understand the concept of life insurance, you have to know the parties involved. In general, there are three:  the insurer, the insured, and the policy holder.
Other Details* Sales Page:
Included, HTML, MS Word Doc
* File Format:
MS Word Doc, PDF
* Number of Pages:
65
* Download File Size:
192 KB