Salespage Snapshot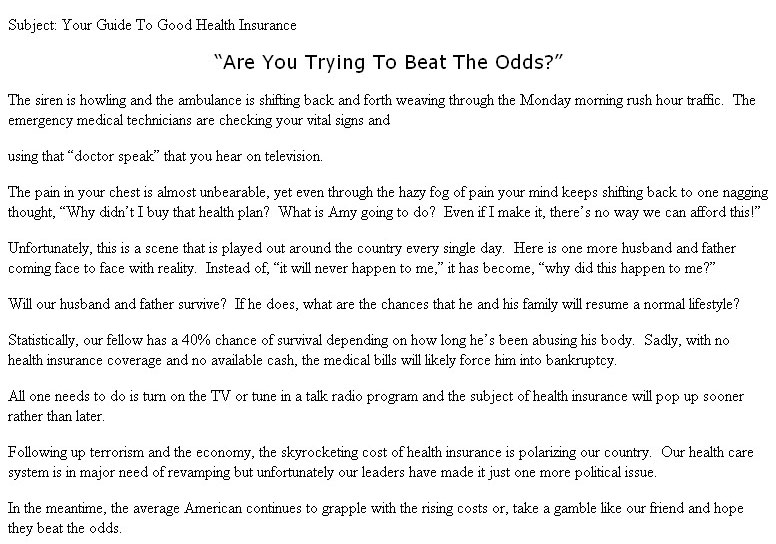 >> Click Here To View Sales Page...
PLR Ebook Table Of Contents
INTRODUCTION
DIFFERENT TYPES OF HEALTH
INSURANCE POLICIES
DISABILITY INCOME INSURANCE
MEDICAL INSURANCE
HEALTH INSURANCE PROVIDERS
GROUP HEALTH INSURANCE
FINDING THE BEST VALUE FOR YOUR NEEDS
GLOSSARY OF TERMS
Sample Content Preview
INTRODUCTION
If you want to spark a spirited debate at your next social gathering, just try bringing up the subject of health insurance.  You will undoubtedly set off a firestorm of opinions.
Years ago, acquiring your first health coverage was almost a right of passage.  You began your career and you were automatically enrolled in your employers health plan after your first 90 days of employment.
That still takes place today but the health care industry has metamorphosed into a gigantic monster gobbling up resources everywhere it travels.  Rates keep going up at an astounding pace and more employers are cutting back on their plans or doing away with their health benefit packages entirely.
Naturally, no one document will tell you everything you ever wanted to know about health insurance.  When it comes to health insurance there is no "one size fits all."
However, what will do is provide with enough knowledge to weigh the options and make informed decisions regarding your own circumstances.
The most important tool you can have when looking for good health insurance is knowledge.   Unfortunately there aren't too many places where you can obtain that knowledge without having to spend months wading through the small print.
So, before discussing the various plans that are available,  we must first grasp an understanding of the complex nature of health insurance.  Therefore, our first chapters are written specifically to help you understand the terminology and different components involved so that you can make those informed decisions and present it in plain English.
Other Details* Sales Page:
Included, HTML, MS Word Doc
* File Format:
MS Word Doc, PDF
* Number of Pages:
48
* Download File Size:
189 KB