Salespage Snapshot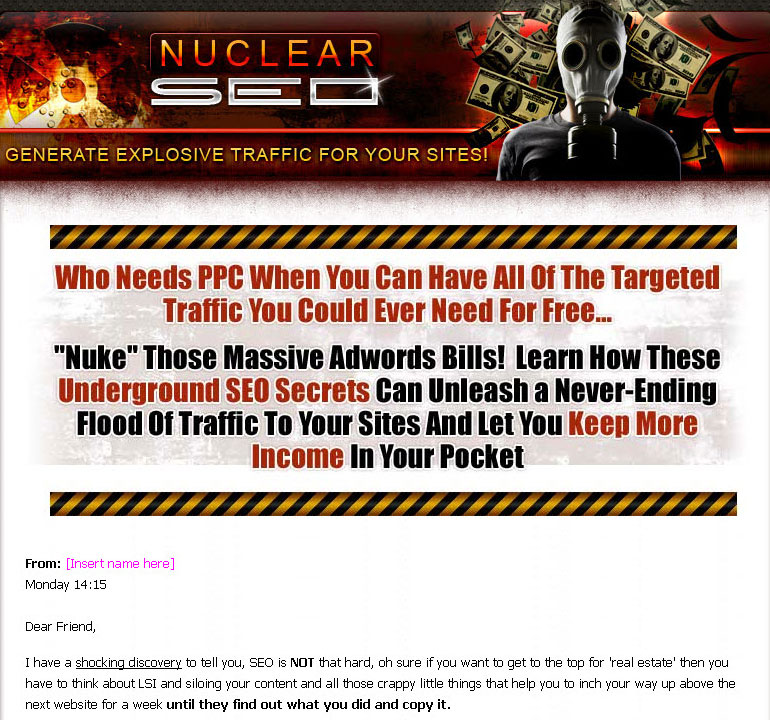 >> Click Here To View Sales Page...
Ebook Table Of Contents
1.  Introduction
2.  What colour hat should I wear?
3.  Blog or not?
4.  Duplicate content penalty
5.  Keyword research
6.  Checking the competition
7.  Setting your site up for success
8.  Linking secrets
9.  Getting links
10.  How to make your links more powerful
11.  Getting into high-powered directories
12.  Keeping things fresh the easy way
Ebook Sample Content Preview
Introduction
Welcome to this guide on one of the most misunderstood and mysterious topics that exists in the internet marketing world, Search Engine Optimisation.
What is SEO? Wikipedia has it as:
"Search engine optimization (SEO) is the process of improving the volume and quality of traffic to a web site from search engines via "natural" ("organic" or "algorithmic") search results"
Which means improving the position of your webpages in the search engine results to grab gobfuls of traffic and make money!
Let's face it – the higher you are in the search engine rankings the better, the fabled number 1 spot is where you want to be as some people say you can get as much as 60% of all the traffic by just being in that position. Of course your page description and title tag come into play too, I know I don't always go to the site in first position if the title tag of another site grabs my attention more, or just seems more relevant.
This guide is going to be concentrating mainly on Google SEO, Google is the behemoth of the search engine industry with reportedly about 65% of all searches being performed through them. That leaves Yahoo with roughly 20%, MSN with 10% and all the other ones share part of a 5% pie. So you can see why most people aim to get rankings in the big G, then Yahoo and MSN can be a secondary targets to aim for.
Google uses sophisticated algorithms to rank the search results and they are constantly adapting them to try and weed out any of the attempts to 'game' the system and get inappropriate rankings. No matter how much people claim to know the secret of getting to the front page of Google, the reality is that we are all either guessing or testing and making assumptions, we are all in the dark about what Google really wants, but we can make educated guesses!
Other Details* Sales Page:
Included, HTML
* File Format:
MS Word Doc, PDF
* Number of Pages:
38
* Included Graphics:
Ecovers, PSD
* Extras:
Book Preview
* File Format:
MS Word Doc, PDF
* Number of Pages:
6
* Extras:
5 Part Autoresponder Email Message Series
* Extras:
Banners, PSD
* Extras:
Blank Header & Footer
* Extras:
Squeeze Page
* Download File Size:
9,820 KB