Salespage Snapshot: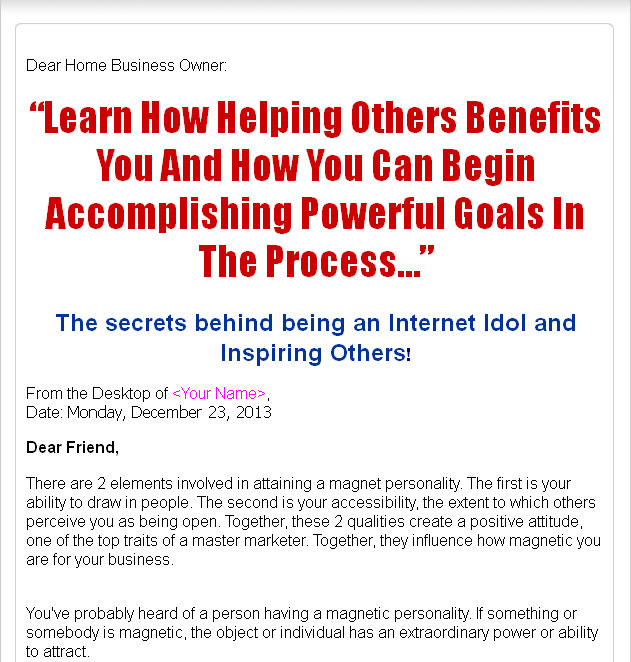 >>> Click Here To View Full Sales Page…
Table Of Contents
Chapter 1:
Concepts of Turbo Traffic Generation
Chapter 2:
Affiliate Marketing
Chapter 3:
Blogging
Chapter 4:
Distributing Press Releases
Chapter 5:
Using Facebook and Twitter
Chapter 6:
Using Hubpages and Squidoo
Chapter 7:
Video Marketing
Chapter 8:
Link Exchange Programs
Chapter 9:
RSS Feeds
Chapter 10:
Building Joint Venture Partnerships
Sample Content Preview
Using Facebook and Twitter
If you are a frequent user of the Internet, you would have surely heard of Facebook (www.facebook.com). Basically Facebook is a social networking website where millions of users log in daily. It's one of the biggest social networking websites on the Internet. People use Facebook for many purposes like for friendship, dating, business, finding job opportunities, promoting their products and much more. Many people also use Facebook as their fulltime income source using affiliate marketing and ads.
Facebook has many applications which you can use to promote your business or service or build network. Most big companies have a profile on Facebook which helps them brand their product or service. They also use this to get connected with their product user which helps them know about the product review and build loyal customer base.
Twitter (www.twitter.com) is also known as a micro blogging platform which helps you to get contacts for your business in any kind of niche. It is similar to Facebook but it's easier to use and inform your contacts instantly. Followers are the most important if you are using Twitter for business purposes. The more followers you have, the more exposure you will have about your business. If you tweet something about something related to your business and someone tweets you back, then the followers can see that offer too and in this way thousands of people can get exposed to your offer.
So, the more followers you have the more business you can get. Start tweeting today and get a huge list of followers and see your business growing. The potential of this social media marketing is very high, so take your first step toward it.
Summary
What are Hubpages and Squidoo?
Using Hubpages and Squidoo
Hubpages and Squidoo are one of the easiest ways to promote your business platform. They are free as well. As Hubpages and Squidoo rank very well on the search engines, you can easily make money in any niche and promote your business appreciably.
If you just provide quality contents, unique and useful content on this sites then your site will be guaranteed to make money easily and get top rankings in search engine very fast. Hubpages and Squidoo are known as authority sites, so you can easily get ranking as search engines gives more importance to authority sites then other websites.
We personally prefer Hubpages capsules then Squidoo modules. That is because our Hubpages gets better ranking, traffic and makes us more money and sales than Squidoo, but if you plan to use Squidoo instead Hubpages, it does not make much difference really. You can work with any platform you like and you feel easy to use.
If you have your own website or a blog, it is more difficult to promote as when you just start to promote, your site is not an authority site. But when you use Hubpages or Squidoo, you are using their authority website status.
If you don't know how you can earn online from home with Hubpages and Squidoo, here is some idea about it. The first step is to select a niche which is more profitable and you know something about. You can do some research on the niche if you don't know much about it.
You can use long-tail keywords which can be used to target traffic to your website. You can use the Google External Keyword tool to do some research on those keywords. The next step is to write an article on your niche of around 300 to 500 words with great information filled in it.
Add some images or even videos from YouTube to make it more user-friendly and interesting for your visitors. Do these steps and see the business rolling in.
Usually your page will rank quite well on its own, but you can always help it out with traffic by sending a few links its way. One of my favorite ways to get traffic to my hubs and lenses is to write articles that point a link back to my page.
And that's really all you need to know about how to promote your site the quick and easy way.
Summary
Be an Internet celebrity.
Video Marketing
Frequent Internet users are usually acquainted with how videos operate on the Internet. In any case, here is some information on how to use them to build traffic to your website.
Nowadays, video marketing is very much in demand. If you want to learn how to format a PC, what would be better – a book or a website that gives you the information, or a video that actually shows you how to go about it? That's the reason people prefer videos on the Internet. They are instructional. For business owners, they are a great way to credibly promote their wares.
There are many good video websites where you can go and post your videos. YouTube and Google Videos are dominating this market. There are many videos and more than 100 million people have viewed their videos. Just see the potential of the video marketing – even if only 1 % of the people visit your website, you get free targeted traffic. Here the main benefit is that once you upload videos, you don't have to do anything else but just sit and watch the traffic coming in.
YouTube, Google Videos and many other similar sites are free to use for viewers and advertisers; this makes it a win-win situation for both. We get free marketing and visitors get good informative content.
Most of the companies are turning to this marketing method to increase traffic to their website and create brand awareness. Search engines are also giving more importance to videos. If you search keywords like Internet marketing, etc., you will find that many videos emerge on the top ranking.
So don't wait for long and start your Internet marketing campaign today. Just create a video, upload it to top video websites and see how popular your website turns out to be.
Other Details
- 1 Ebook (DOCX, PDF), 40 Pages
- 1 Salespage (HTML)
- Ecover (JPG)
- File Size: 766 KB