Salespage Snapshot: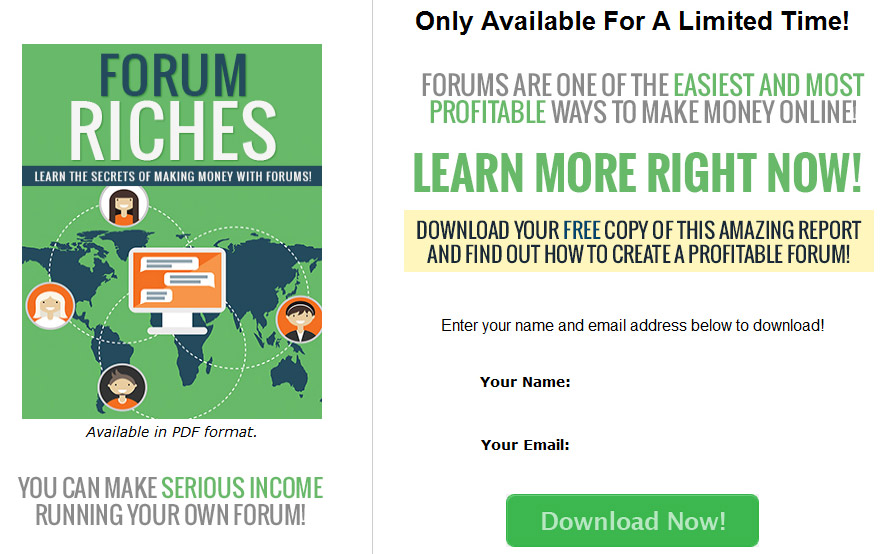 >>> Click Here To View Full Sales Page…
Table of Contents
Table of Contents 3
Introduction 5
Forum Software 6
Initial Posts 8
Getting Traffic 10
Moderation 12
Avoiding Problems 14
Making Money 15
Conclusion 18
Resources 19
Sample Content Preview
Initial Posts
Once your forum is up and running, you need posts.
No, not traffic. Posts. Sound odd that you need posts before you even get traffic?
Just imagine going to a forum with no posts. Would you want to be the first one to start a conversation, not knowing if anyone will ever even see the post, much less respond?
Most people wouldn't want to do that. They prefer to jump into threads that are already active rather than start a new thread, especially if they see very little activity on a particular forum.
The biggest attraction to get people to sign up to a new forum is activity, so you need a few users posting on a regular basis in order to get others to join the forum and participate.
The best way to accomplish this is to hire people to post for you. You could do that on a place like Fiverr, or you could use a service that specializes in forum posts, such as PostLoop.com.
> http://www.postloop.com
PostLoop.com is a broker that has a large number of people ready and willing to posts on your forum for pay, and it really doesn't cost much. Most of the users are students, disabled individuals, stay-at-home parents, etc. They really don't need to earn a great deal of money, so you can get posts very inexpensively, and usually very quickly.
The site even screens applicants to be sure they can post intelligent discussions and use proper spelling and grammar. They don't have to be perfect, but they have to be at least as good as the average forum user, so don't worry about getting a bunch of incoherent posts from people who barely speak English or just paste a bunch of translated nonsense.
You want your forum to look busy, so it's a good idea to have at least 10-15 individuals posting, and to have at least 10-15 different topics in each area of your forum, as well as several posts in each thread. You want the forum to look as busy as possible.
You, as an owner, should also be active. Make sure users see you posting often, because they want to know you care about the forum before they invest their time into it.
Once you have a good number of posts and your forum looks active, you can start looking for real users for the forum.
Getting Traffic
Okay, your site is running, and you have a good number of initial posts to get the discussion rolling. What next?
It's time to find some people to come post on your forum, and that can be easier said than done. Not only do you have to find people who are interested in the subject of your forum, but you also have to find a way to convince them to start posting!
One of the easiest ways to start doing this is to raid other similar forums. Look for people who post often and seem pretty knowledgeable on the subject, and people who rarely, if ever, have conflicts with other members. The last thing you want is a bunch of rude personalities chasing off other potential members!
NOTE: Before you do the following, be sure to check the forum rules to be certain you won't get banned for it!
Send those people a private message and let them know you have started a forum, and that you are extremely impressed with their posts and you would be very pleased to have them post on your forum in addition to their current forum.
You might also set up a gamification system in which top posters are given prizes each month or are entered to win a nice prize. This is a great way to encourage users to stay active!
Another way to get traffic is to create a blog in your niche and link to your forum from as many spots as possible, potentially mentioning your monthly prize(s) in order to get more people to click.
Ads are a near sure-fire way to attract new posters. Facebook ads are particularly effective if done correctly, and you can even mention your prizes in your ad to attract attention. Ads are easy to target in most niches, so you can locate the people who are most likely to be interested in your forum.
Moderation
Moderation is a critical element of running a forum, and it can be very time-consuming if you choose to do it all yourself. You don't necessarily have to read every single post on the forum every day, but you need to be ready to act quickly if you receive any complaints about a particular post or user.
What type of complaints are you likely to see?
• Arguments, name calling, and other personal attacks
• Spam
• Pornography or other offensive or illegal content
• Hate speech or threats of violence
• Plagiarism (yes, it can happen on forums)
In order to keep your visitors happy and returning, it's important to take care of any of these issues quickly. Allowing tempers to flare further will only end up in the potential of additional members becoming involved and taking sides, and even more users possibly leaving the forum.
You should institute a clear policy for repeat offenders. You might, for example, give three warnings before a ban, unless the user commits such a bad offense they must be banned immediately. Always consider the severity of the issues before deciding whether or not to ban a user. Every member is important unless they are causing nothing but problems.
If you find you cannot keep up with moderation on your own, you have two choices. You can hire one or more people to moderate the forum, or you can ask for volunteers from your member base.
Before inviting someone to be a moderator, there are a few things you should consider:
• Are their posts always helpful?
• Are their posts always fair and kind?
• Do they get along with other members easily?
• Have they been posting long enough to be trusted?
You want your moderators to be fair and impartial at all times, and you want to be sure you can trust them not to make decisions that could hurt the forum, or worse, to damage it on purpose. For this reason, you might want to avoid volunteer moderators until your forum has been active long enough to have members who have enough history on the forum to be trusted.
Avoiding Problems
Forum members can be very quick to abandon a forum if there are a lot of problems, so it's vital that you keep a close eye on potential issues so you can cut them off before they chase away your key members.
Moderation is one of the essential keys to avoiding problems, but there are a few other issues to be on the lookout for.
First, make sure you keep your forum software updated. Hackers are constantly looking for new ways to exploit different software, and they could find a way to hack your site. If you keep your software updated with the latest patches, you'll be less likely to suffer such a breach.
Also, be sure you use a good hosting company. If your server goes down a lot, users will grow frustrated and abandon the site. This is one reason the traffic at Reddit has declined, because the servers have had issues and people have grown tired of the downtime.
It's important to listen to your members and give them what they want whenever you can. If you make changes to the forum that upset a lot of users, be sure to apologize, politely explain your position, and then reverse your decision if you can. If you aren't able to, you should explain why, and let them know you'd have preferred not to make the change, but it was absolutely necessary. Communication is essential if you want to keep members happy!
Other Details
- 1 Ebook (PDF, DOC), 19 Pages
- 7 Part Autoresponder Email Messages (TXT)
- 1 Squeeze Page (HTML, PSD)
- File Size: 7,628 KB