Squeeze Page Preview: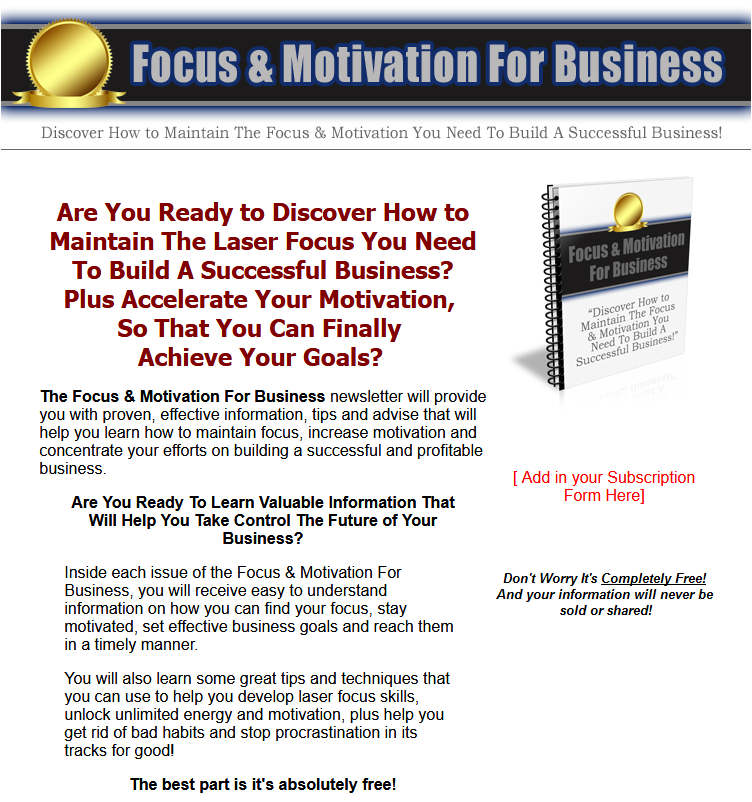 >>> Click Here To View Full Squeeze Page…
Features:
* 12 Issues Full Of Great Content
– Just add in your contact info and plug it in to your favorite auto responder. Each issue contains 500 words or more!
* One Ready To Go Squeeze Page
– Just add in your opt in form, upload to your server and your done!
* One Ready To Go Thank You Page
All ready to remind your subscribers to check their email and confirm their subscription. It even has built in revenue!
* 4 Researched Click Bank Products
These are top selling products on Click Bank that I've personally researched and chosen for each series.
Sample Content Preview
Hello "autoresponder code here",
In the last issue we talked about how getting to know yourself better can
help you stay focused and motivated. In this issue we are going to talk
about setting realistic goals and keeping track of your progress.
Goal setting is an extremely important part of maintaining focus and
staying motivated, especially when it comes to running your own
business. After all, if you don't have any goals how will you know where
you're going?
Setting goals not only gives you direction, it helps you grow your
business. By setting and working towards goals it gives you a sense of
purpose and allows you to create a clear half for your business
development.
As we have discussed before when it comes to setting goals it is
important to be realistic. It's best to start off by setting small, reachable
goals that lead up to your long-term goal. This process of breaking up
your goals down into short manageable chunk's will help you stay
focused and motivated along the way.
For each goal or milestone you want to reach write-down the necessary
steps you need to take to achieve it. It's also a good idea to set a time
limit, with a start and end date for each individual goal as well as the
tasks involved in reaching it.
Setting up a project calendar is a great way to keep track of your
progress. A simple way to do this is by using Microsoft Word, or if you
don't have Word on your PC or Mac, you can use the free application
Open Office which is found at: www.openoffice.org. Both of these have
free templates to help get you started creating your goals and planning
your projects.
When creating your project calendar be sure to allot plenty of time to
complete each task properly. Be sure to include milestones that you
feel
are worth and as you reach them make sure you take time to celebrate
because you made it one step closer to your ultimate goal.
Don't get discouraged, because there will be times when you cannot
reach your deadline in a timely manner, in this case simply sit down and
evaluate your timetable and extend your projected end date
accordingly.
Now let's go over a few quick tips that can help you set and reach your
business goals more effectively:
– Create an action plan
In order for you to achieve your goal, you have to start with a few basic
questions. By asking yourself these questions you will be better able to
create an action plan that puts you on a clear path to your objectives.
Start by asking yourself:
– What is my ultimate dream?
– Why do I want to achieve this dream?
– What is the goal that I would like to reach first?
– What are the steps I need to take to reach this goal?
– How quickly do I want to reach this goal?
Once you have created your action plan keep it in a place where you
can review it on a regular basis. Don't create and then tuck it away in a
drawer never to be seen again. By keeping it in a prominent place
where you can look at it daily, it will help you stay focused and
motivated on achieving your business goals
– Keep track
Once you have created your plan, schedule periodic checks to track
your progress and make any necessary revisions. This can be once a a
week or once a month, depending on what works best for you. The
main reason behind having a good goal tracking system in place is that
it holds you accountable helps ensure you are progressing on schedule.
For this you can simply use a, calendar, a day planner day planner or
choose from one of the many online or mobile goal tracking Apps
available.
Let's quickly go over a few online tools you can check out:
Get Goaling – This tool lets create specific action plans for your goals
and track them by the amount of action you've taken as well as by the
due date. http://www.getgoaling.com
GoalBot – It helps you learn how to set and achieve your goals the right
way. You can use it to create detailed plans. It also allows you to
browse through other people's goals so that you can get inspiration
while setting your own goals. http://goalbot.org
42goals – This simple tool is great for setting and tracking daily goals.
The user interface is easy to navigate and it has some nice predefined
templates that make it easy to get started. http://42goals.com
WeekPlan – It lets you set goals for the week aw well as for long term
goals. you can also use it to create a daily task list that will help you
reach your goals more effectively. http://weekplan.net
Achievr – Is a web-based tool for setting and tracking goals according
to the S.M.A.R.T (Specific, Measurable, Achievable, Relevant, Time
Bound) criteria. You can use your Facebook or Google account to sign
in and get started right away. http://www.achievr.biz
These are only a few of web-based applications I found helpful. There
are many more available and you can find them by doing a search
online for "goal tracking tools". You can also find apps for your
smartphone, tablet, IPhone or iPad by browsing through your app store.
Having a clear plan of action, setting realistic goals and keeping track
of your progress is no doubt one of the best way to maintain focus, stay
motivated and make your business extremely successful!
Make sure you look for your next issue soon. We will be talking about
more about setting smart (S.M.A.R.T) goals for yourself and your
business.
Until then,
"your name here"
"your email address"
"your URL here"
Other Details
- 12 Part Autoresponder Email Messages (TXT, DOC)
- Squeeze Page (HTML, PSD)
- Ecover (PSD, JPG)
- Affiliate Programs List
- File Size: 502 KB