Salespage Snapshot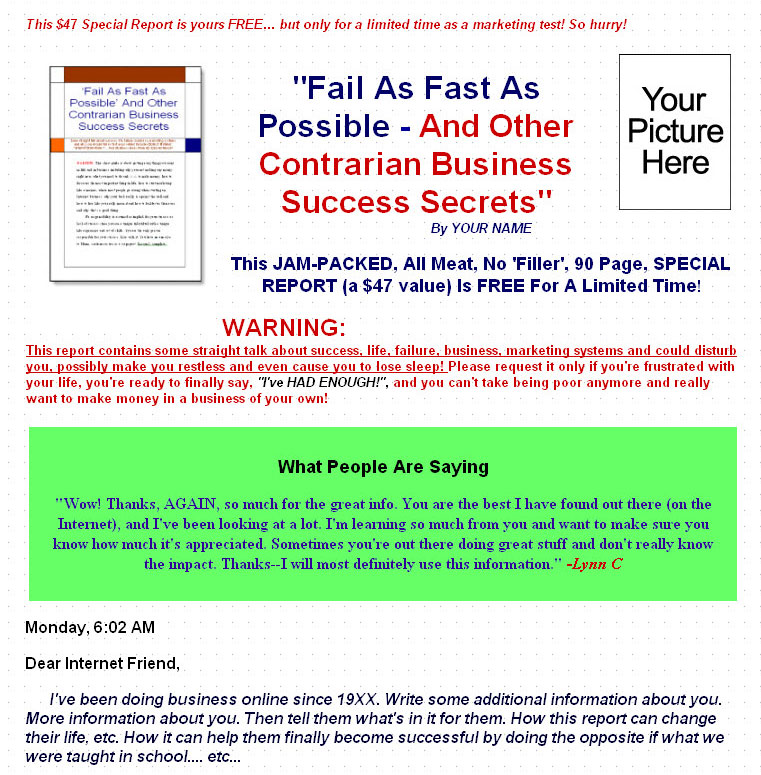 >> Click Here To View Sales Page...
PLR Ebook Sample Content Preview
Introduction
I Learned How To Succeed By Failing
Making money in a business of your own is not easy, but it is simple -once you know how. I'm going to give you several plans (see the Bonus section starting on Pg 35) that will help you make as much money as you want.
Why?
Because once you've completed these 8 Chapters and the Bonus Section, Internet Brainstorms!, you'll believe it is simple and that you can do it. If I can help you get what you want now you'll have lots of money to spend with me later  😉
You probably realize — starting a business online or offline is not easy to do! That's why I prepared this report – to help you as much as possible.
In other words, an online biz is not as easy as everyone, especially those online 'gurus', say it is.
So what can I offer you?
Well, you see, I've learned a lot about being a failure.
I can hear you saying, "You've learned a lot about being a failure"??
Yep. So how does that help you?
You see, I think you need to learn about 'failure' and what to avoid, before you can be successful. Does that make sense? In fact, I teach a core principle of success in my other business training information products that goes something like the following. In fact, I believe it IS THE KEY to success in business:
"Fail as fast as you can, so you know FINALLY what REALLY works."
You've probably never heard anything like that before… and that's why you're not successful as you'd like to be – yet.
But here's the key that opens the door to this powerful technique:
Fail with as little money and time wasted as possible. Then when you do find something that works you have both the time and money to pursue it to make you rich.
You see this is a HUGE secret. What happens when most people fail… at anything?
They STOP. They don't go forward anymore. They just stop taking action because the failure hurts so bad.
That is why success is so rare! No one thinks about success this way… if you knew that one failure brings you just one step closer to succeeding, wouldn't you want to fail as fast as possible too? Most people will want to fail faster!!
See what I mean? It all depends on your point of view. Don't ever let a little failure stop you. Learn from it and keep going, success is just around the corner!
I'm not a 'guru' or anything, just a regular guy that failed a lot before I finally found success online. But I failed more often than I succeeded.
Hey! Even professional baseball players FAIL more than they succeed at hitting the ball… they fail 6 out of 10 times! But 4 times out of 10 they hit the ball and a batting average of .400 is considered very successful in baseball!
How much success have I had online? I don't like to tell… but just to encourage you I've made as much as $62,000 in ONE month online and as much as $43,000 in 3 days. That's no guarantee you will do as well or that you'll make any money at all. But I will teach you everything I know about making money online for the reason I stated above:
You'll have so much money that you won't blink when I ask you to buy my latest product because you know what I teach really works 
I started with nothing and still spend a lot less than most businesses on advertising and marketing. Most of my marketing is guerrilla style marketing which cost me nothing.
Dan Kennedy once said that, "if you can't make money WITHOUT money, you can't make it WITH money" – and that is 100% true. So you don't need much money to get started online, you only need the right information.
If that sounds like the kind of business you'd like to start, I can help you, BUT only if you are willing to learn.
So my question is: What do you say? Are you willing to learn?
If you'd like to hear more about the REAL secrets to success online… stay tuned.
And remember as you read this, believe it or not…
Other Details* Sales Page:
Included, HTML
* File Format:
MS Word Doc, PDF
* Number of Pages:
91
* Included Graphics:
Ecovers
* Download File Size:
499 KB